TD Economics recently published its second quarter Provincial Economic Forecast. Below is the executive summary of that report. The full report can be found here.
With provincial economic data for May flowing in, we are just now getting a true sense of the extent of economic declines suffered from coast to coast in the second quarter. In short, no province will be spared from an unprecedented contraction in activity and jobs.
Re-openings and recovery
As provinces push ahead with their phased re-openings, focus is shifting to the shape of the recovery. Although all provinces are expected to return back to the growth track starting in the third quarter, a number of smaller provinces (i.e., New Brunswick, PEI, and Manitoba) are likely to outperform, reflecting both a more moderate hit from the pandemic and a faster restart.
In the larger provinces, B.C.'s progress in tackling the pandemic positions it well to perform better than the others this year. Quebec's economy has likely suffered the most initial damage from COVID-19, but has begun the long healing process. Meanwhile, Ontario will likely underperform, partly given its go-slow approach to re-opening.
Canada's oil-producing provinces have seen their fortunes improve recently, with an easing in lockdowns complemented by rising oil prices. That said, capital spending plans will remain weak amid uncertainty related to the path of global oil demand. We expect Alberta and Newfoundland & Labrador to register the weakest GDP showings this year, with Saskatchewan faring somewhat better.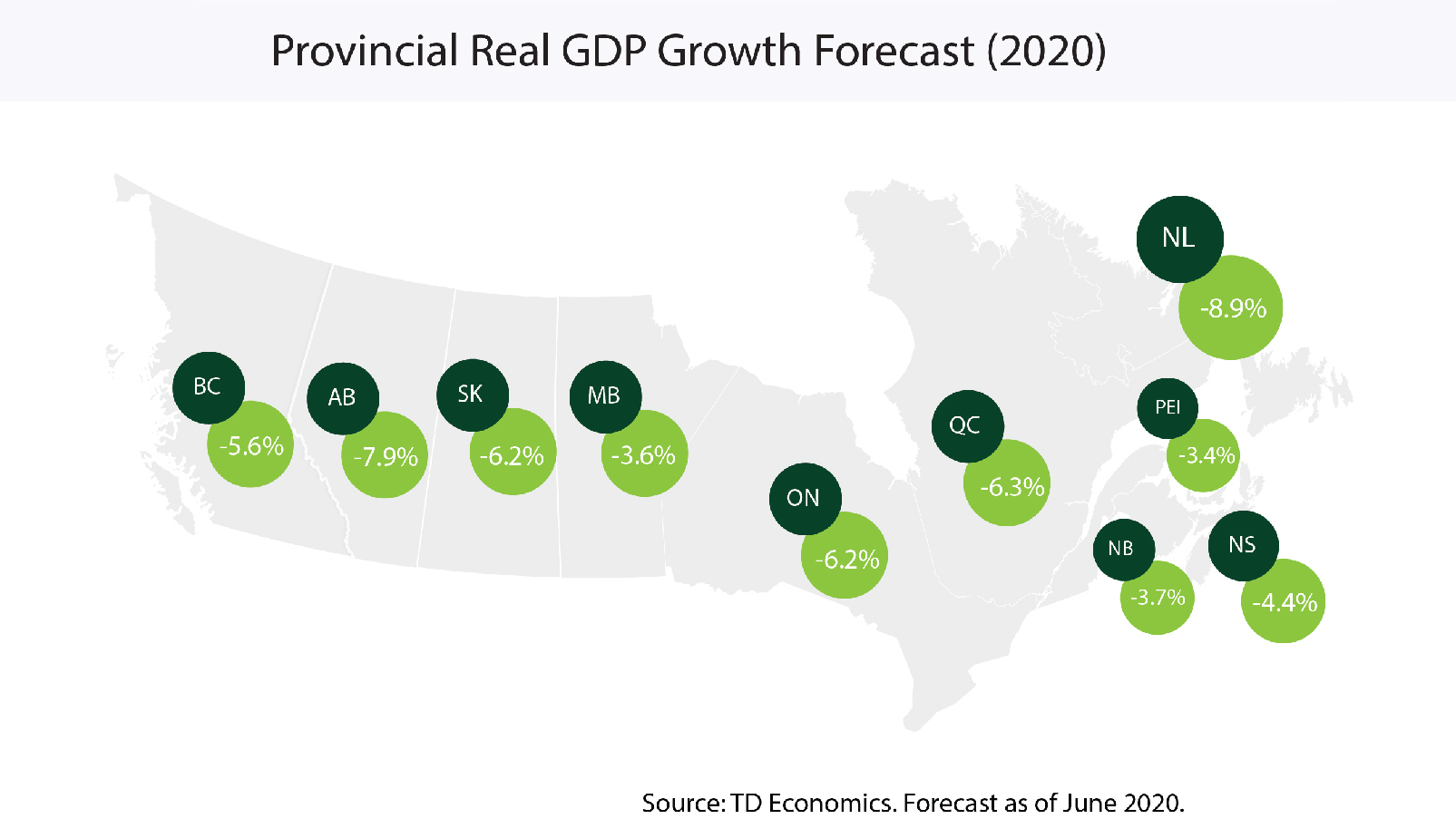 Unemployment rates across Canada
The Labour Force Survey for May highlighted the tough slog ahead in provincial job markets. A number of provinces recorded a rebound in jobs last month. However, unemployment rates still moved broadly higher on a bounce-back in participation rates. Partly owing to a still-challenged business environment, unemployment rates are likely to end 2020 2.9-5.7 ppts above their pre-virus levels.
We've downgraded our near-term expectations for housing markets across the country. Tighter lending conditions, a slow recovery in job markets, and soft population growth will dampen home sales, prices and housing construction moving forward.
In 2021, a rebound in growth rates conceal ongoing moderate recoveries from the crisis, while some permanent scarring leaves unemployment rates on the elevated side. The largest provinces are expected to record some convergence on the smaller provinces. However, ongoing soft oil market conditions in Alberta will likely leave it on its back foot.
For more details, read the full report here.
Contributing authors: Beata Caranci, Omar Abdelrahman, Rishi Sondhi and Derek Burleton.