COVID-19 has come with its fair share of surprises, including for some Canadians who had to dip into their retirement savings plans in 2020 to offset financial strain posed by the pandemic.
For some Canadians, tapping into their retirement savings plan last year – such as their RRSP (Registered Retirement Savings Plan) or RRIF (Registered Retirement Income Fund) – was the right financial decision for them, even if doing so meant paying more taxes this year.
"If you were like one of the many Canadians who had to withdraw from their retirement savings plan for financial relief last year, there's a possibility you'll owe taxes this April," said Tannis Dawson, Vice President of High Net Worth Planning at TD Wealth.
READ MORE: Working from home? Filing your taxes will be different this year
So, what are the tax implications for anyone who chose to withdraw from their retirement plan?
"When you withdraw from an RRSP, a withholding tax is immediately charged," Dawson said.
"The withholding tax rate differs – anywhere from 10 to 30% – depending on how much you withdrew from your plan and the province you reside in. But it's important to know that the withholding tax often isn't enough to cover the total tax you'll owe, as this will also depend on which tax bracket you fall into the year you withdrew."
But not everyone who withdrew from their retirement savings plan will be subject to taxes.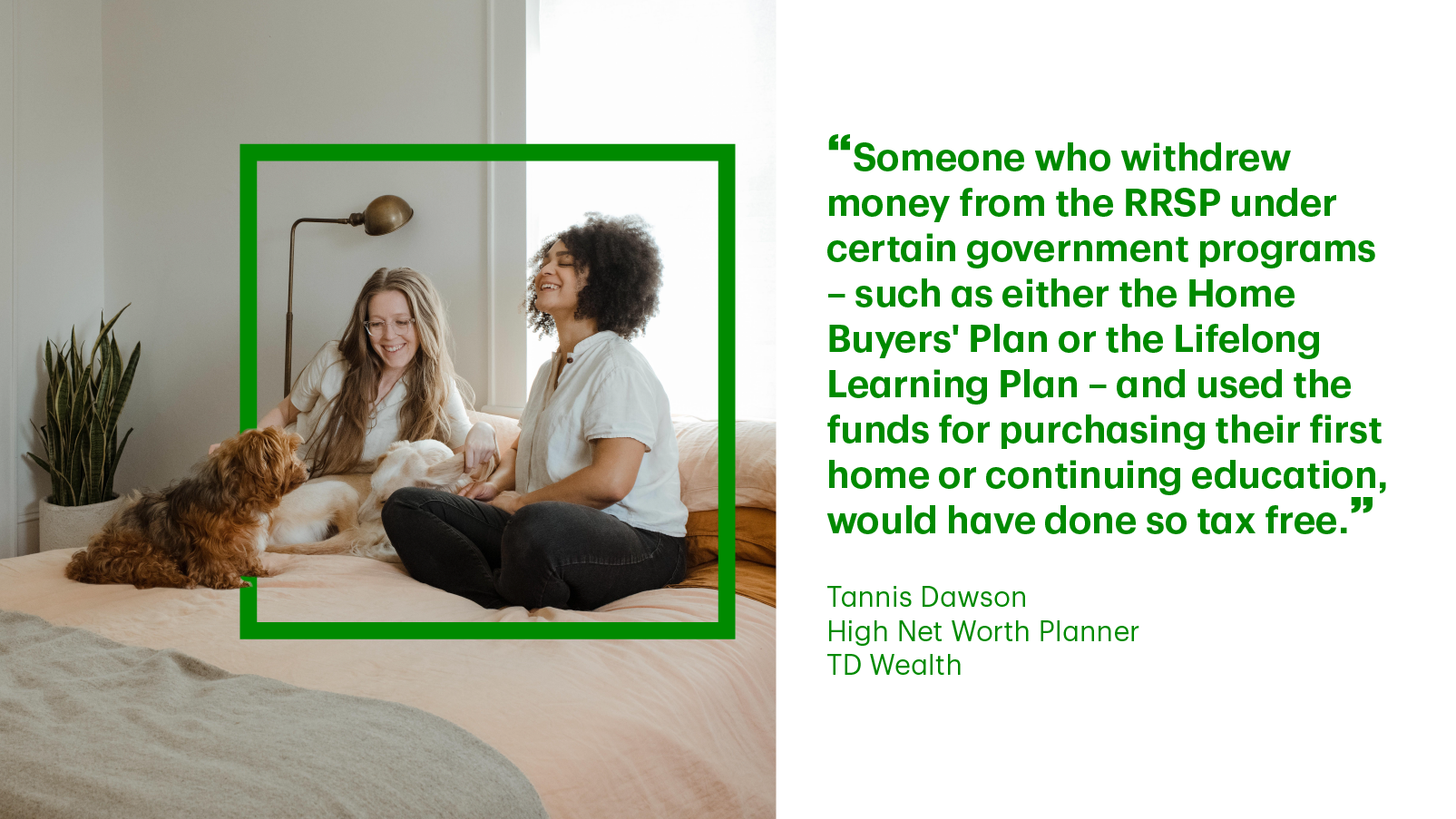 For example, someone who withdrew money from their RRSP under certain government programs – such as either the Home Buyers' Plan or the Lifelong Learning Plan – and used the funds for purchasing their first home or continuing education, would have done so tax free, Dawson said. (Both of these programs are subject to specific eligibility requirements and conditions)
And not everyone who withdrew from their retirement plan did so out of necessity or to get financial relief.
Since some Canadians may have earned less in 2020 compared to other years, some may have chosen to opportunistically withdraw from their RRSP or RRIF for the tax benefits of withdrawing in a year when they were in a lower tax bracket.
For anyone who's anticipating a lower-than-normal income for 2021 and considering withdrawing from their retirement plans this year, Dawson flags that the Canada Revenue Agency may require you to start making tax instalment payments in subsequent years.
"People should be mindful that you'll not only have to pay taxes on retirement plan withdrawals in April, but the CRA may also require you to pay installments which are usually required in September and December respectively which would be applied to your taxes the following year," said Dawson. This requirement to pay instalments depends on the amount of tax you owe in April in excess of amounts withheld at source (e.g. payroll withholding, or tax withheld on RRSP withdrawals).
READ MORE: How benefits like CERB may affect your taxes

"Some Canadians might be assuming their income will be lower than average this year, so they might consider reducing the amounts they currently pay in tax installments," Dawson said.
"If you're in this scenario, do your best to estimate your earnings accurately for the year. Because, if your assumptions are incorrect and you actually earn more, you'll likely have to pay more tax when you file the return. CRA may charge penalties for not paying the required installments during the year." As an alternative, you may want to consider paying the first couple installments in full and then reduce the last 1 or 2 once you have a better idea of your income for the year."
To help ensure you're making the right decisions for you, Dawson recommends planning ahead as much as you can. You may want to consider getting advice from a tax professional to help you manage your tax owing and to avoid potential penalties and interest.
Questions?
For more information on tax filing, visit the Canada Revenue Agency website or speak to a tax professional.
Want to connect with a TD Wealth advisor to discuss how you can implement tax-efficient strategies? Visit the TD Wealth website.
---
The information contained herein has been provided by TD Wealth and is for information purposes only. The information has been drawn from sources believed to be reliable. The information does not provide financial, legal, tax or investment advice. Particular investment, tax, or trading strategies should be evaluated relative to each individual's objectives and risk tolerance.