#TDThanksYou is an annual campaign to enrich the lives of our customers, colleagues and communities by personally recognizing and thanking customers and colleagues in exciting and unique ways. We salute the de Moya Foundation for their efforts this National Disability Employment Awareness Month that starts October 1. The de Moya Foundation has provided training in life and job skills for more than 100 young adults with disabilities and then worked to partner them with more than 50 local business organizations.

Lileana "Lily" de Moya has a resume that includes a B.S. in nursing and an M.S. in Special Education. She has also been active in the operations and on the boards of two nonprofit organizations supporting the families of South Florida's Miami-Dade County. She's served on numerous advisories councils on youth with special needs. In 2015, she established The de Moya Foundation and is its President and CEO.
While her achievements are many, the achievement she's most proud of is to be the mother of her two grown sons, Jorge, and Alex. Jorge de Moya is the foundation's marketing director, while Alex de Moya serves as vice-president of its 20-member advisory board. For Alex, that job is in addition to his workdays with The De Moya Group, South Florida's leading highway construction company.
"Alex was also the inspiration for our foundation's inception," Lily explained. "He's a young adult with unique abilities, one of many millions across the U.S. who are too often labeled as 'people who can't.'
"But Alex has proven that with the right training and ongoing support, not only for individuals with unique abilities but also for their employers, they are 'people who can' — they can be productive members of society, who can make meaningful contributions both at work and in their personal lives."
Lily's work with The de Moya Foundation is being honored by TD Bank as she is a 2022 #TDThanksYou recipient as a customer.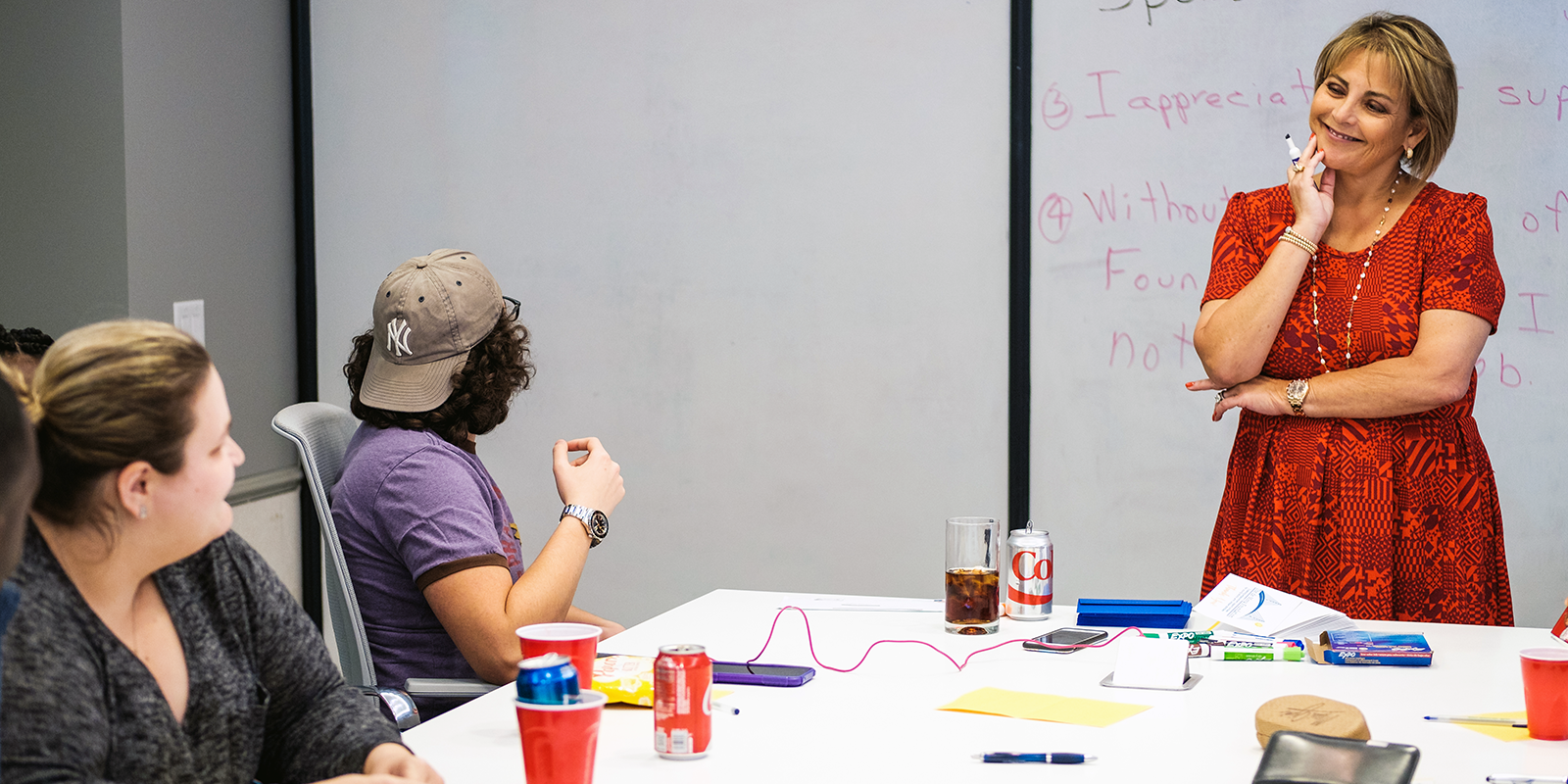 Family roots of caring
When Alex was two years-old, Lily noticed communicating was difficult for him. In time, his developmental challenges became more apparent. Determined to help him overcome those, Lily enrolled in the University of Miami's special education advanced degree program.
"We raised Alex with the firm belief — in himself and across our entire family — that he would be able to accomplish anything he put his mind to," she said.
After Alex graduated from high school, he told his parents he wanted to attend college. At the time, programs to support students with developmental disabilities were non-existent, so Lily put her special education expertise to work and developed a certificate, non-degree program at Florida International University.
"I wanted to make sure that all I did for Alex I could do for others," she said. "I'd become a fierce advocate of special-needs children, which ultimately led me to start The de Moya Foundation."
A different kind of foundation
Most family foundations make grants of money to help other nonprofit groups operate, but The de Moya Foundation is different.
"We're a working foundation," Lily said. "We provide a wide range of training in life and job skills for more than 100 young adults with unique abilities, then work to partner with more than 50 local business organizations, ranging from law firms to healthcare and hospitality providers to schools."
What's most unique about the foundation's approach is the extended support it provides the young adults it serves in meaningful work situations plus the training and support given to the employers.
Employers as clients, too
"Our approach from the beginning has been that the employer needed to be our client, too," Lily said. "We have to train their staff to build awareness and sensitivity while giving them strategies on how to handle certain challenges. Young people with autism, for example, do things differently than other employees — and sometimes better."
Kerri Ann O'Sullivan, Principal, Somerset Academy Silver Palms, a K-8 public charter school in Homestead Florida, hired the foundation-trained Carlos Ottley as a School Support Assistant in 2017.
"The de Moya Foundation trained our staff in what to expect and how to handle the new position we created for Carlos," Kerri said in a YouTube video created for the foundation. "I don't think it would've been fair to Carlos or to our staff if we didn't have that training, which I think that is extremely important."
According to Lily, supported employment services for people with special needs through government agencies only lasts for 90 or 150 days.
"What makes us unique is our support levels of both employees and employers," she said. "From the beginning, we stay with them every day they're employed. If we're not on-site, we're touching base by text, email, or a phone call. That's why, practically speaking, our employer retention is 100 percent.
The surprise meeting
The de Moya Foundation has worked with the TD Charitable Foundation in the past. But when Jorge and Lily headed to a meeting on June 23rd with the bank, they were stunned to learn Lily was a 2022 #TDThanksYou recipient.
Lily was moved to tears. "It so heartening to see companies like TD Bank take this issue seriously and acknowledge that young adults with unique abilities can make meaningful contributions to society," she said. "When they tell me, they've gone out to buy Christmas presents for the first time, we know we've bridged their dreams to reality and made a difference in their lives."