This week, TD issued three reports highlighting how the Bank is accelerating its environmental, social and governance (ESG) efforts.
The reports cover a number of ESG topics and show how the Bank is helping to tackle major societal changes, including climate change, socioeconomic inequality and the effects of the global COVID-19 pandemic.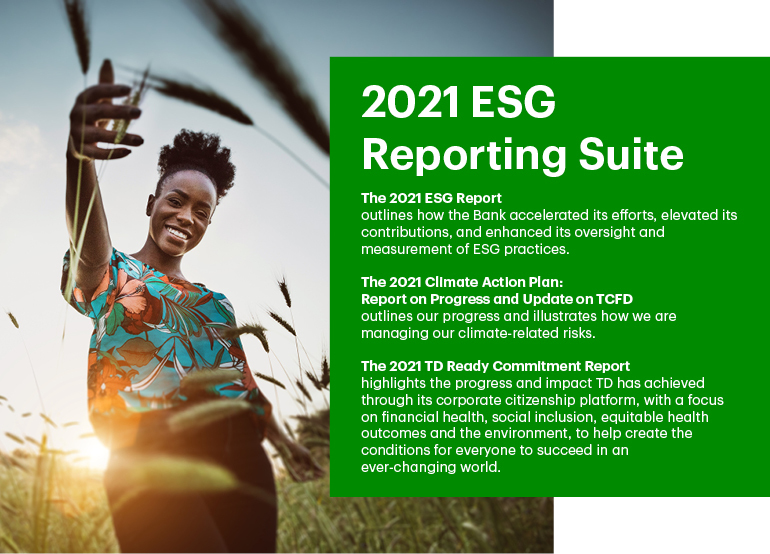 The three reports are:
The 2021 TD Environmental, Social and Governance (ESG) Report, which outlines how the Bank accelerated its efforts, elevated its contributions, and enhanced its oversight and measurement of ESG practices.
The 2021 TD Climate Action Plan: Report on Progress and Update on TCFD Managing Climate-Related Risks and Opportunities, which outlines our progress and illustrates how we are managing our climate-related risks.
The 2021 TD Ready Commitment Report, which highlights the progress and impact TD has achieved through its corporate citizenship platform, with a focus on financial health, social inclusion, equitable health outcomes and the environment, to help create the conditions for everyone to succeed in an ever-changing world.
On March 9, as part of the Bank's ongoing environmental commitments outlined in the TD Climate Action Plan, TD announced 2030 interim financed emissions targets for two high-emitting sectors: Energy and Power Generation. Financed emissions extend beyond the Bank's own operations and include emissions from companies to which the Bank provides and facilitates capital.
Companies in the Energy and Power Generation sectors were prioritized because of their significant contribution to current global greenhouse gas (GHG) emissions. They are also key to transitioning the global energy supply toward low-carbon solutions.
"We will make an impact and drive progress toward net zero, both in our own operations and by supporting our clients as they work to reduce their emissions," said Janice Farrell Jones, SVP, Sustainability and Corporate Citizenship at TD. "Contributing to a more sustainable future isn't just the right thing to do, it's the right foundation for future growth, for TD and for the broader economy—and tackling climate change is central to this. Our interim Scope 3 targets represent our next phase of progress in our Climate Action Plan."
For more information or to read the full reports, please visit the new [ESG Hub] on TD Stories.
Below are a few highlights from the reports.
TD announces 2030 interim financed emissions targets for Energy and Power Generation
In 2020, TD announced its global Climate Action Plan and became the first major bank in Canada to announce a target to achieve net-zero GHG emissions by 2050.
As part of the Bank's commitment to develop targets and chart progress along the journey, TD has announced 2030 interim financed emissions targets for two sectors: Energy and Power Generation.
Key 2030 portfolio targets include: (from TD's "Advancing Our Climate Action Plan: Methodology for TD's Interim Financed Emissions Targets" paper)

29% reduction from 2019 baseline in the carbon intensity from energy.
58% reduction from 2019 baseline in carbon intensity from power.
TD helps communities build their resilience
TD contributed more than $125 million directly to the non-profit and charitable sector through The TD Ready Commitment, the Bank's corporate citizenship platform that targets $1 billion in total philanthropic giving by 2030. This includes signature initiatives such as the annual TD Ready Challenge and Housing for Everyone competitions.
Through the 2021 TD Ready Challenge, TD committed $10 million in grants to organizations with scalable solutions to help K-12 students affected by pandemic-related learning loss in math and reading.
In the United States, the 2021 Housing for Everyone competition will provide US$5.8 million to 33 organizations to increase and expand resident services. Since the grant competition started in 2005, TD has awarded more than US$37 million to support approximately 500 affordable housing initiatives.
Strengthening diversity and inclusion
For the sixth consecutive year TD was included on the Bloomberg Gender-Equality Index, which recognizes companies committed to transparency in gender-data reporting.
TD has made a broader and longer-term commitment to increase women in roles titled Vice President and above in Canada to 45% by 2025.
TD is on track to deliver on our 2020 commitment to double the representation of Black executives by the end of 2022.
TD is also more than halfway to delivering on its broader and longer-term commitment to increase minority executive representation across the Bank by 50% by 2025, at which time these communities will represent more than 25% of TD leaders, with a specific focus on Black and Indigenous talent. As of October 31, 2021, representation is currently at 18.5%.
Want to learn more about Community?