Many Canadians are already experiencing, or could soon be facing, unemployment due to the impact of COVID-19. If you have been let go from your job or your work has been disrupted due to the COVID-19 pandemic, here are some steps you can take:
1. Find out if you are eligible for the new federal emergency response benefit
This is an extremely challenging period for all Canadians, especially those who have had their income directly affected by COVID-19. To help Canadians manage financially, the Government of Canada has stepped in with the new Canada Emergency Response Benefit (CERB).This taxable benefit will be available to eligible Canadians who are financially impacted by COVID-19, including workers who cannot contribute to employment insurance (EI), such as self-employed or contract workers. If you qualify, you can receive up to $2,000 a month for up to four months from the federal government. Visit the Government of Canada website for complete information on the Canada Emergency Response Benefit, including who is eligible and how you can apply.
2. Revisit your budget and cut back where you can
It's vital to revisit your budget at a time like this. But if you haven't created a budget, it's never too late to start. Begin by separating your non-discretionary monthly expenses (such as your mortgage, utility and car payments) from your discretionary costs (like your online shopping, entertainment and cable subscription). Compare the sum of the non-discretionary expenses with your anticipated cash flow or immediately available savings to determine how much residual funds are available for those discretionary expenses (you do have to treat yourself occasionally, after all). If your budget looks tight, start to cut back on the discretionary items as much as you can to prioritize your critical expenses. If you have a little more room to work with, put aside as much as you can in savings – just be sure that these funds are easily accessible should you need them immediately.
Read More: What you need to know about mortgage payment deferrals
3. Consider streamlining your debt repayment by consolidating your loans
Paying off debt with new debt may seem counterintuitive, but it's a strategy that can help you manage interest accumulating across each of your independent loans, such as your credit cards or student debt. By consolidating your debt with a low-interest personal loan, it will not only be easier to manage your cash flow, but it can help streamline your finances overall by keeping your debt in one place. Visit the TD Personal Loan page to learn more and start an online application.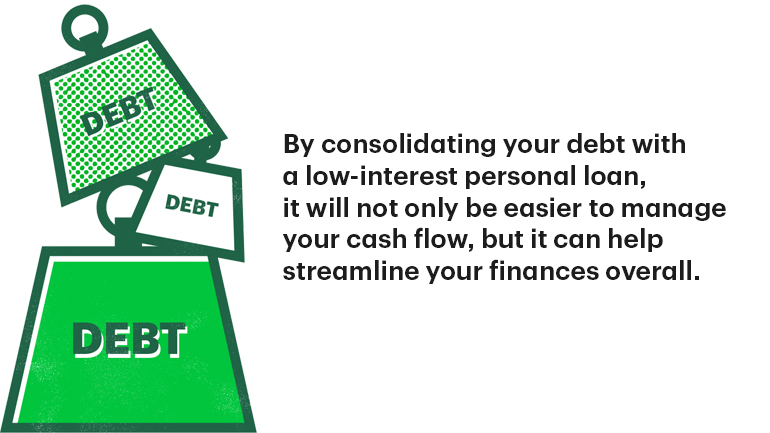 4. Explore loan payment deferral options
When you lose your source of income, debt repayment – such as your mortgage, credit card, student or auto loan – can become a major concern. But depending on your situation, you might be able to access relief offerings now available to eligible Canadians, including mortgage and credit card payment deferrals. It's important to note that deferring payments like your mortgage means interest will be capitalized (i.e., added to the outstanding balance) on each payment due date, meaning you will pay more interest in the long run. But if deferring your loan payments is something you must consider, and your loan providers are offering relief measures due to COVID-19, start by prioritizing your loan payments from most-to-least critical to determine where your funds need to be directed to most. From there, contact each of your loan providers to determine if you qualify for their COVID-19 relief offers.
To help Canadians during this difficult time, TD is offering mortgage payment deferrals and temporary reduction in credit card interest rates to eligible customers. If you are a TD customer experiencing financial hardship due to COVID-19, call TD Helps at 1-888-720-0075 to determine if you are eligible for a temporary reduction in your credit card interest rate, and visit the TD COVID-19 Financial Relief page to learn about the financial relief options available through TD.