This year, to mark TD Employee Appreciation Week, we are celebrating some special TD employees who have gone above and beyond to serve our customers, communities, and colleagues throughout the pandemic.
In our first instalment of this 'A day in the life' series, we would like to introduce you to Diane Burdiak, a Customer Experience Associate in Hamilton, Ontario, whose career at TD goes back more than 30 years.
---
Morning
It's early morning in downtown Hamilton, and Diane Burdiak is on her way to work with a bag of bagels and muffins, each one individually wrapped with great care.
Even though the din of rush hour has quieted over the past year, with so many people in downtown Hamilton working from home as a result of the pandemic, Burdiak's commute has remained business as usual.
Once she's parked, she makes her way along King Street towards the Jackson Square TD branch. Along the way, she hands out muffins and bagels to the homeless people on the street, many of whom she knows by name.
For as far back as she can remember, Burdiak has devoted significant time and energy to helping the less fortunate in her community. It's a virtue instilled in her by her father.
"My father lived on the streets at one point when he was young," said Burdiak. "As soon as he got back on his feet, he became devoted to helping others – my father taught me the importance of generosity and compassion."
Burdiak said her downtown branch has many customers who are homeless or suffering from poverty and trying to make ends meet.
"This is a downtown branch, so we get a lot of homeless people and folks who are struggling with everyday life. Sometimes they come into the branch and are just trying to withdraw five dollars to buy cream for their coffee, so you can imagine how hard their situation is."
Last year, when her children asked what she wanted for her birthday, Burdiak told them she wanted Tim Hortons gift cards to hand out to customers she knew were struggling. Burdiak received $100 worth of gift cards, some of which she has given to people on the street, and some of which she keeps on-hand at work to provide to customers she knows are having a tough time.
Burdiak remembers serving a girl one morning who was really struggling. "She had no money, she told me she hadn't eaten, and it was clear she was going through a difficult time. I could see her frustration. I handed her one of the gift cards and told her to get something to eat. I will never forget the tear in her eye when she thanked me," said Burdiak.
"It costs me nothing to be kind. To give someone a pair of mittens on the street in the winter takes nothing. Every small action has a huge impact."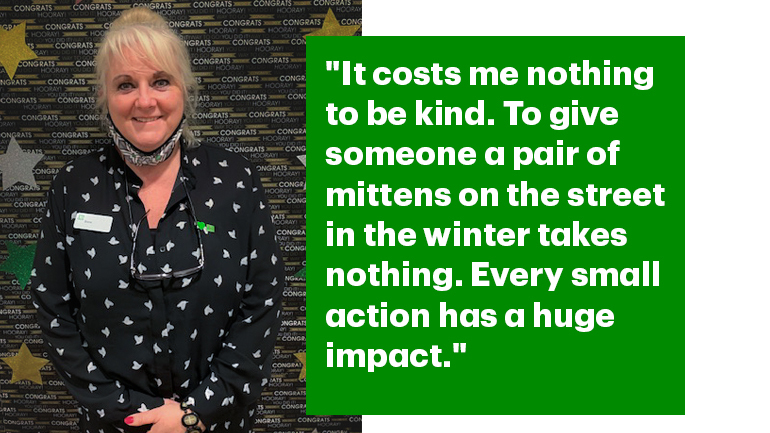 Afternoon
"Diane is kind and patient; she treats every one of our customers with respect, and she sees the good in everyone," said Derek Dias, Burdiak's Branch Manager.
"She is dedicated to helping people succeed in life and that often starts by taking the time to stop and truly listen to everyone – even those who are often overlooked or voiceless in our society. It's an honour and a pleasure to know someone like Diane, she makes a difference to the lives of her customers and community members."
Burdiak's willingness to go above and beyond for her community, carries over into the way she treats her customers throughout her workday.
"I always make sure to serve the sit-down kiosk first," explains Burdiak.
"Since these customers may be elderly and can't stand for very long or need special support."
Burdiak can recall from memory the names of her long-time customers and many of their individual needs. For customers who might have disabilities or mental health issues, she will sometimes prepare special information packages about their bills and other banking documents to help them keep track of their finances.
"Banking can cause people a lot of anxiety if they have any sort of physical or mental challenge," she said.
"I have customers with varying levels of literacy and over the years they've overcome their embarrassment and let me help them out because I am not just a bank teller to them, I like to think they see me as family."
"I think my customers come back to see me because they trust me," said Burdiak. "I even have people on the other side of the country who know me because of the help and support I provide to their elderly parents – it helps put their mind at ease knowing there is someone at the bank to help their loved ones with their banking."
Evening
Driving home after work, Burdiak can often be found making the rounds in her neighbourhood to deliver more food or clothes to those in need, like the set of matching Toronto Blue Jays hat, shirt and pants that she bought with her own money for a client living in a long-term care facility.
"It's a joy if some of my customers are able to come to the branch, especially during COVID," she said.
"It's just so lonely for so many people and I am glad I can be here to help them and listen to their stories."
Even after so many years of service, Burdiak says she is not ready to slow down any time soon.
"I'm glad that I've been able to keep working through the pandemic and get out of my house and stay connected to my TD family. I enjoy what I do and I'm not even thinking about retirement right now," she said.
And for the tougher days, she only has to look down at her wrist, which is adorned with a wooden bracelet presented to her as a gift by a customer, to be reminded of the impact she has on those in her community.
"It just helps me remember why I do what I do."