It will be critical for Canadians to build a more inclusive and sustainable future for all as they begin the process of recovering from the COVID-19 pandemic, TD Group President and Chief Executive Officer Bharat Masrani recently told a virtual audience at the Canadian Club Toronto.
In a wide-ranging fireside chat, Masrani said that while the pandemic upended everyday life for millions of Canadians, the lessons learned will influence our way of life in the coming years. Throughout the conversation, he emphasized the need to enhance and maintain Canada's competitiveness in a post-COVID world.
The pandemic has touched all Canadians – regardless of age, ethnicity, gender or abilities – and the ongoing crisis has accentuated the economic, racial and social disparities in communities across the country and around the world.
During the conversation, which was moderated by Melanie Burns, SVP, Talent Management at TD, Masrani acknowledged that the pandemic's human toll is very real and that Canada is by no means out of the woods yet. And while he noted that the next few months will continue to be challenging, Masrani expressed optimism for the future.
"We have a real opportunity to rebuild a robust economy," said Masrani, adding that "growth is good but inclusive growth is even better."
The discussion focused on how the pandemic accelerated many changes that were already unfolding and the critical role private sector organizations like TD, in partnership with the public sector and community organizations, will play in the recovery.
Masrani emphasized that corporations have a responsibility to go "beyond the balance sheet" and play a larger role in how they help shape society. In a post-COVID world, there need not be a trade-off between business performance and societal progress; value-creation and growth are now interconnected.
Masrani explained that as the recovery unfolds, it's critical that the support for the environment, marginalized communities, small businesses and for each other doesn't wane.
"These communities and groups make up the fabric of our lives, and play a critical role in our economy," he added.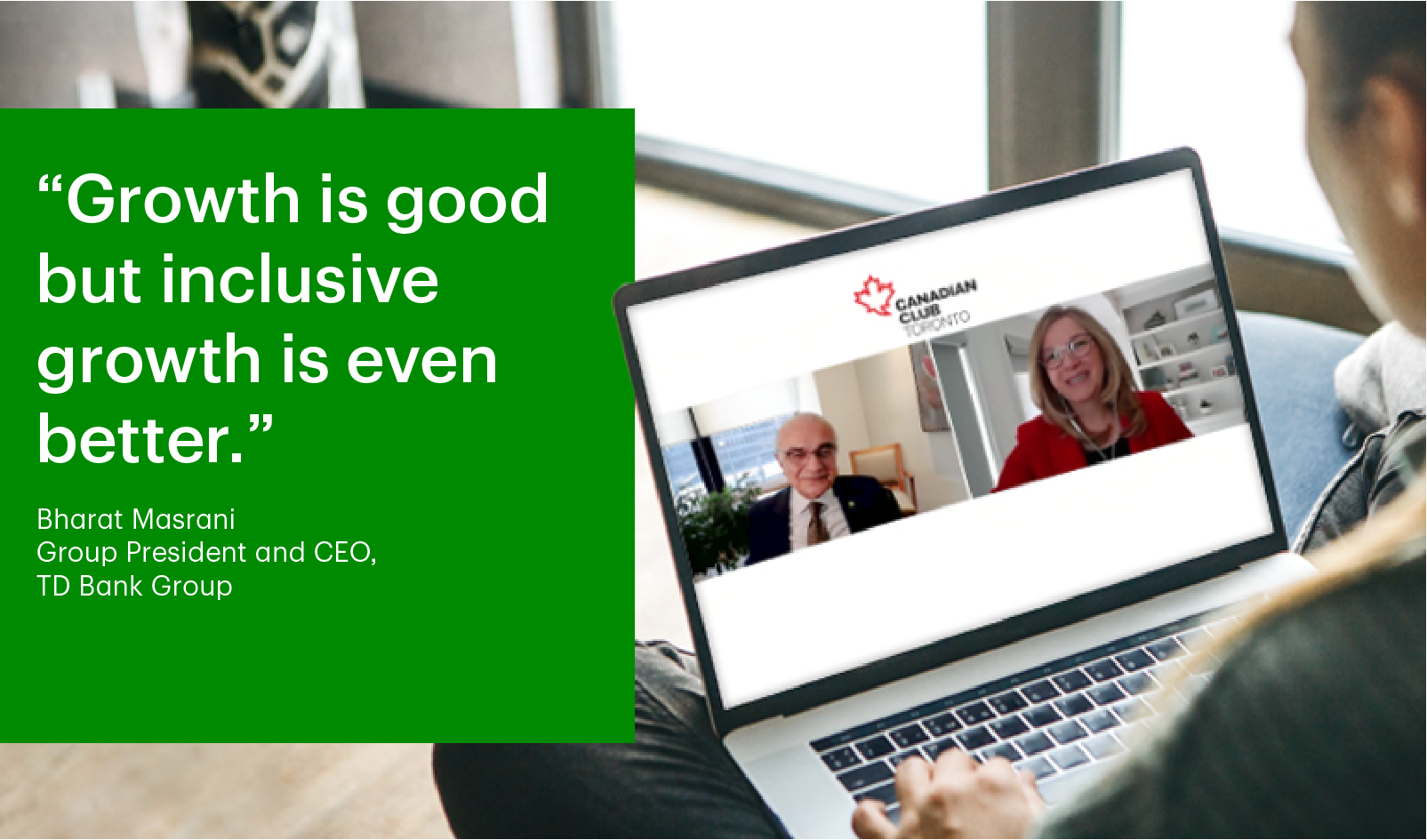 Over the next decade, the Canadian economy is expected to shift, with a greater emphasis placed on green initiatives, such as electric cars, renewable energy, sustainable manufacturing and eco-designed homes.
According to Masrani, in this new economy, Canada has a tremendous opportunity. Canada has the natural resources needed today, and the talent needed to lead the world in the coming decades.
On the topic of climate change, Masrani said that TD's Climate Action Plan isn't just a commitment to targeting net-zero carbon emissions, but a commitment to be a catalyst for change as well.
"As a society, we need to recognize that we are in a transition and through that transition, we need to support responsible energy development. We cannot get to a low-carbon world by flicking a switch. The private sector, the government and other entities and participants in the economy need to work together to create a better Canada and a better future for all."
The pandemic forced organizations of all sizes to transform and innovate. To reinvent themselves—in some cases overnight—and find new ways of digitally connecting with their customers.
As for TD, Masrani said he doesn't expect that customers will perform the bulk of their day-to-day banking transactions in branches, but that they will continue to want to meet in-person for advice about more complex needs, for example when they want to talk about buying a home, saving for retirement, purchasing an investment or seek advice on growing their business.
"Through the pandemic, it has become quite evident that human connections are critically important, for our customers and frankly our colleagues because at the end of the day we are in a relationship business – and relationships are built on trust."
Masrani also discussed that the level of digital uptake is an indication of how companies like TD were able to adapt to this new reality and continue to provide vital services.
"Financial service is an essential service, and I am proud of how the Banking industry, generally, and at TD in particular, was able to adapt to this new reality and provide digital capabilities for customers to connect."
Masrani encouraged Canadian business leaders to be a part of the solution and to be a voice for progress as they work toward recovery.
"As we think about the world post-COVID, it won't look the same as it did before the pandemic, nor should it," he said.
The pandemic exposed many vulnerabilities in Canadian society and had a disproportionate effect on women in the workforce, marginalized communities and vulnerable populations, including Black communities, visible minorities and Indigenous communities.
Masrani said that the key to an inclusive recovery will be to understand and support our most vulnerable sectors and populations.
"The pandemic has reminded us that we share common goals and can achieve great things when we come together; we are, after all, one Canada," he said.
"History has taught us that all crises are common in one respect: all of them have an end, and this one too will end."
---
To watch the discussion, visit the https://www.livemeeting.ca/meeting/bharat-masrani/.