Over the last two years of the COVID-19 pandemic, small business owners and entrepreneurs have been forced to navigate lockdowns, business closures, cancelled events and decreased sales.
But for Black-owned businesses, who already face systemic barriers that make it difficult for them to be successful, the pandemic made an already challenging situation worse.
In September 2021, in an effort to help address these concerns for Black-owned business, TD announced a $10-million commitment over the next five years to the Black Opportunity Fund (BOF). This donation is one of the largest contributions in Canada to a Black-focused, Black-led and Black-serving organization.
Established in 2020 by a team of Black Canadian professionals, the BOF is a charitable organization whose mission is to improve the social and economic well-being of Black Canadian communities, by establishing a $1.5-billion pool of capital to fund Black-led businesses, not-for-profits and charities.
"With the onset of the pandemic and the level of anti-Black racism we have seen over the last couple of years, it became evident to us that as a bank, we needed to do more for our customers, the community and our colleagues as well," said Camesia Smith, GTA Regional Manager for the TD Black Customer Experience Strategy.
Helping Black entrepreneurs start successful businesses
"We want TD to be the bank of choice for the Black community," Smith says.
"Our goal is to hear from communities directly to understand what they need from a financial institution to really help them on their financial or business journey."
Smith said the contribution TD made to the BOF, as well as the work of her team, are all part of the Bank's commitment to helping dismantle the systemic issues that continue to prevent Black people from being able to reach their financial goals.
This is an important commitment, as research has shown that members of Black communities in Canada face a number of challenges relating to employment and entrepreneurship, compared to non-racialized communities.
In a 2020 study[1] by TD which aimed to understand some of the financial impacts of COVID-19 on diverse communities (including people with disabilities, visible minorities, newcomers to Canada, those from the LGBTQ2+ community, and people from Indigenous communities), nearly 40% of Black Canadians surveyed said they experienced financial hardships, including a reduction in their income or job loss as a result of the pandemic, compared to just over one-third of the general population. Further, 17% of Black Canadian respondents said they were unable to cover the cost of their necessities in the months following the onset of pandemic.
What's more, according to a 2021 report from the Canadian Black Chamber of Commerce, only 30% of Black business owners surveyed felt 'quite' or 'very' comfortable talking to their financial institution about funding options to grow their businesses. The same study showed that 60% of Black entrepreneurs have not applied for any type of funding, with reasons ranging from a lack of awareness to not meeting funding eligibility requirements.
These are just some of the reasons why TD launched the Black Customer Experience Strategy last fall, in order to help strengthen the financial services and support provided by TD to Black communities.
As part of the new Strategy, the Bank's Diverse Business segment teams are being expanded with a focus on working to create better relationships with Black communities and businesses. The Strategy is also focused on training Black TD leaders, managers, and financial advisors across Canada to provide elevated financial advice and a tailored customer experience for customers from Black communities.
As part of its relationship with BOF, TD is committed to better understand and address the barriers that Black banking customers face by using insights from BOF. Both organizations are committed to reducing systemic bias and discrimination and believe that this work will help the Bank to build a more inclusive culture and support the specific needs and financial aspirations of Black communities across Canada.
"Our long-standing relationships with various Black community leaders and professional associations have provided us with invaluable insights on how we can better serve our diverse communities," said Al Ramsay, Vice President for the LGBTQ2+ and Black Customer Segments at TD. "We have embarked on a long journey, but we are committed to removing barriers that Black communities face – whether with respect to accessing financial advice or providing support for entrepreneurs."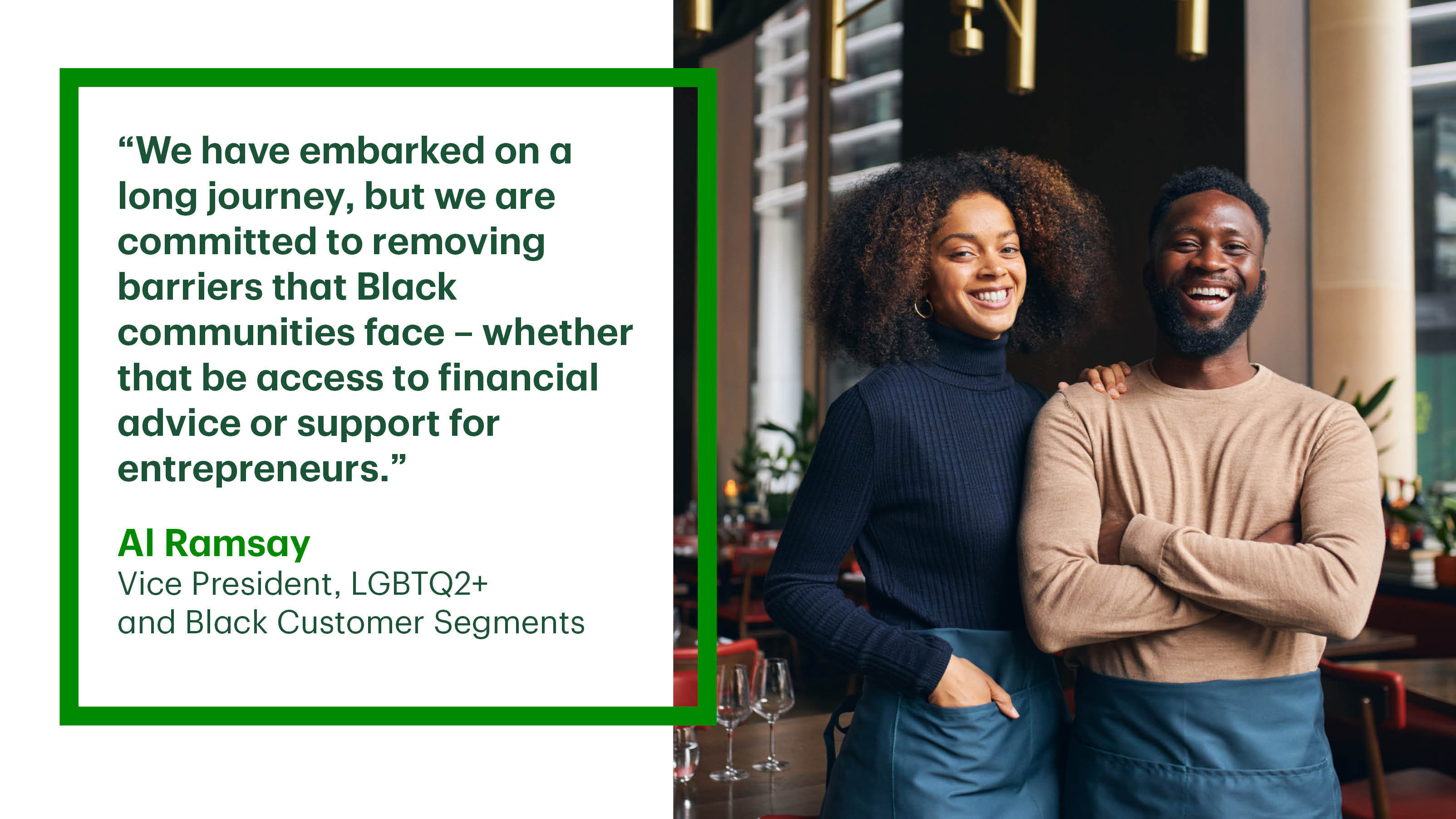 Identifying innovation in the face of the pandemic
In August of 2021, Smith volunteered to help judge a pitch competition for Black business owners who had been impacted by the COVID pandemic.
The prize was a series of grants offered by the Coalition of Innovation Leaders Against Racism (CILAR), in collaboration with Pitch Better and the BOF. Grant amounts ranged from $2,500 to $10,000, with more than 1,700 applicants, which judges had to narrow down to just 55 finalists.
"The program was designed to provide an opportunity for Black-led businesses that were significantly impacted by the pandemic, with a focus on those who demonstrated ways in which they were able to pivot and innovate in order to manage through the pandemic," Smith says.
Smith says it was interesting to see the amount of unique and creative ideas that were pitched, ranging from businesses in the food and beverage industry, the dating world, to childcare and mental health services.
One of the final recipients was Jemal Walker, owner of a GTA-based business that sends mobile mechanics to customers' homes or offices to repair their vehicles.
"We send licensed mechanics with more than 10 years of experience to your home or office to perform any of more than 300 services, ranging from oil changes to more complex engine work," he says.
"We just want to make sure that our customers get the best value from their vehicles, and our mission is to simplify auto repair for them."
After launching roughly three years ago, Walker's main focus for the business has been on innovation and trying to scale to become one of the largest mobile mechanic companies in Canada.
But in 2020, his business was hit hard by all of the uncertainty of the pandemic.
"During the pandemic, on the landscape was changing quickly," he says.
"We had to be strategic and reallocate our resources to help mitigate unforeseen exposures to remain stable."
Walker received a $5,000 grant for his business from the pitch competition, which helped get him back on track toward achieving his business goals.
"The timing of this grant could not be more perfect," he says.
"This allowed us to move forward with important deliverables, namely our marketing, while continuing to innovate and navigate through this pandemic."
According to Smith, Walker isn't the only one whose main roadblock to growing the business has been funding.
"You need capital in order to get off the ground, as well as to grow and innovate. So absolutely, funding is a huge part of any business success, and unfortunately the lack thereof creates a barrier for businesses and impedes their growth," she says.
Yet aside from funding, Smith says having support and a platform to have your stories told is also a vital part to a business level of success.
"It's really [about] bringing that awareness to the level of creativity within the Black community and having opportunities for business owners to showcase their talent, product or service and having that amplified. The same applies to seeking financing; business owners need individuals who understand them, their vision and are able to provide support."
Walker says participating in the competition has also been a big lesson in persisting with your idea, despite some of the setbacks that come with entrepreneurship.
"I think right now is the best time to start a business because we have so much support," he says. "We just have to take full advantage of it, and then things will fall into place."
---
[1] The Financial Impact of COVID-9 on Diverse Communities in Canada, 2020.