For much of the past 12 months, millions of Canadians have been isolating at home, restricted from seeing friends and family as a result of the COVID-19 pandemic. For many, that meant spending more time online: shopping, sharing on social media, working, or looking for work.
Unfortunately, that combination of social isolation mixed with increased online activities likely left many Canadians feeling more vulnerable to financial fraud.
According to a TD Bank survey for Fraud Prevention Month, more than half of Canadians polled (56%) reported feeling vulnerable to financial fraud. That marks a significant increase over 2020, when only 13% of Canadians surveyed reported feeling vulnerable to financial fraud.
A strong majority of survey respondents (84%) said they believe social isolation contributes to financial fraud vulnerability, while more than three quarters (78%) of respondents said that they have been targeted by fraudsters in the last year.
"Canadians' perception of how and why they may be vulnerable to fraudsters reflects the changes in how we live and work in a pandemic," said Tammy McKinnon, Head of the Financial Crimes & Fraud Management Group at TD.
"While isolation and loneliness may play a role, more Canadians are aware that as they spend more of their lives online, they need to be mindful of what they share and take steps to protect themselves."
Fraudsters exploiting COVID-19
For months, the Canadian Anti-Fraud Centre has been warning Canadians that fraudsters are exploiting the COVID-19 crisis to facilitate fraud and cybercrime. Fraudsters have targeted people claiming to be able to help them repay the Canada Emergency Response Benefit, claiming to be collecting money for charitable organizations, even tricking people into paying for counterfeit COVID-19 vaccines.
For the first 30 days of 2021, the Canadian Anti-Fraud Centre reported Canadians lost more than $10 million to fraud – a 42% increase over the same period last year – with more than 3,300 reported fraud victims.
According to the result of the TD survey, women are more likely to see loneliness and social isolation as a factor in feeling vulnerable (90%) while 78% of men would agree.
When it comes to isolation leading to vulnerability, those in the Generation X demographic were most likely (89%) to identify loneliness as a key component of vulnerability, higher than Generation Z (74%) or millennial respondents (79%).*
Could it be that Canadians are just too trusting? Nearly nine out of 10 Canadians (89%) would agree that's the case, while 81% stated that Canadians are just too busy to recognize the signs of a financial scam.
How are Canadians protecting themselves from fraud?
The survey found that a majority (78%) of Canadians reported that they have been a target of at least one type of attempted fraud in the last year – including attempts that were spotted early and avoided.
In the last year, Canadians were most likely to be contacted by fraudsters via phone (53%), with 36% of respondents calling out the "Canada Revenue Agency scam" or "CRA scam" specifically. The CRA scam typically involves a fraudster who purports to be from the CRA to alert a potential victim that they have unpaid taxes that need to be paid immediately, or they will be arrested.
Phishing or emails scams targeted 47% and fraudulent text messages were received by 40% of respondents.
But Canadians are taking steps to protect themselves from fraud, including:
• 79% would not give personal information to someone who calls them and claims to be from their credit card company, bank, or the CRA;
• 74% would never click on a link in an email that is unfamiliar to them;
• 72% would not send money to someone they met online;
• 60% shred their documents before discarding paperwork; and,
• 57% pay attention to media and information from their bank to help keep them well-informed.
"It's vital that we remain vigilant about protecting ourselves from potential fraud and it's encouraging the majority of Canadians use more than one tactic to help keep themselves safe," McKinnon said.
"Whether it's avoiding clicking on an online link from an unknown sender, or shredding documents before recycling, every action helps."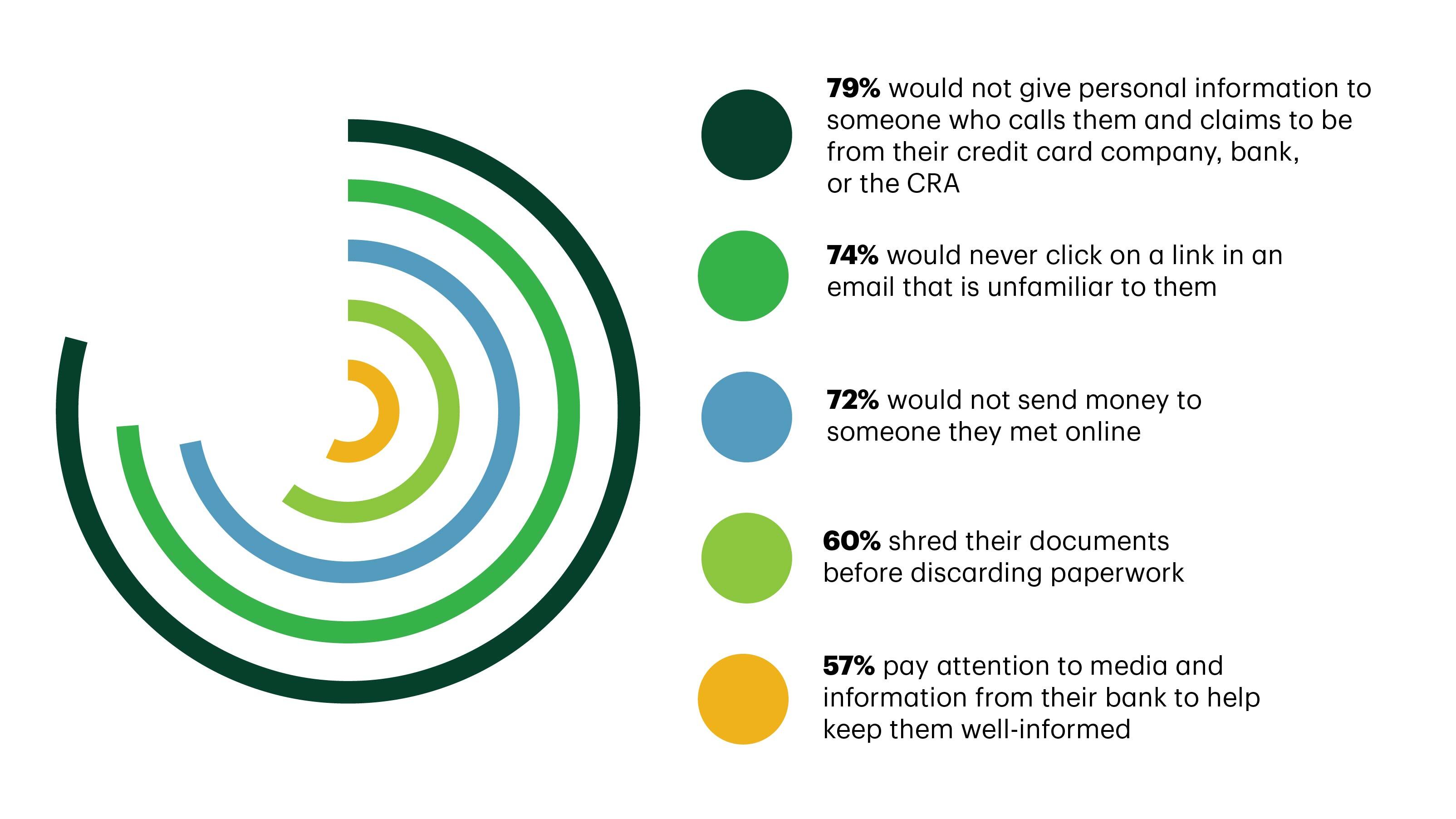 How you can protect yourself from fraud
For Canadians looking to better protect themselves and their loved ones from falling victim to fraud, TD offers the following tips and advice:
• Be cautious when it comes to your finances and verify if the request is real – If you receive a phone call claiming to be from a government agency or financial institution requesting confidential information, it could be fraud. Take time to research and verify whether it's real – call the number on the back of your debit card or use the organization's website to find authentic contact information.
• Have conversations with family and friends – Help protect your loved ones by educating them on the most common scams, such as emergency scams that attempts to coerce grandparents into sending money to a "grandchild" in distress in a foreign country.
• Pay attention to your fraud alerts –By using free services like TD Fraud Alerts, you'll receive text messages to notify you of suspicious activity on your personal banking accounts.
• Protect your PIN and passwords – The only person who should know your passwords and PIN is you, not even your family members. Your bank would never ask you for this information. Don't ever give out personal confidential information, whether in person, over the phone or online.
• Check your statements, online accounts and banking apps regularly – Taking these steps will help alert you more quickly to fraudulent transactions. Money management apps, like the TD MySpend app, can be helpful tools and provide notifications of spending transactions in real-time, making it easier for you to recognize fraudulent transactions fast.

About the TD Fraud Survey
*TD Bank Group commissioned Ipsos to conduct a national online survey of 1,001 Canadians aged 18 years and older. Responses were collected between February 19 and 22, 2021. Those categorized as Gen Z are 18 to 23; Millennials are 24 to 39; and Gen Xers are 40 to 55 years of age.