By: Mike Rizzi
Mike Rizzi is a Toronto-based lifestyle content creator with more than 350,000 followers. He was commissioned by TD Direct Investing to try out the TD Easy Trade™ app and share his personal experience. In this post, he explains how DIY investing with TD Easy Trade™ help­­ed him navigate the world of stocks, ETFs, and trading for the first time.
---
If you had told me a year ago that I'd be writing an article about investing and trading, I would have probably chuckled in disbelief. The reality is that for the longest time, investing felt like it was only for the financial experts and I personally felt like I had no business investing, let alone on my own as a self-directed investor.
A little background on me – I'm a 27-year-old freelance content creator who works and lives in Toronto with my partner, Christian, and our French Bulldog, Oscar. On the daily, I plan, produce, and edit social media video content for my online audience. I focus on short-form video content that spotlights hype in style, food, and LGBTQ+ culture. Until very recently, trading and investing weren't a part of my routine or something I was very interested in pursuing.
But like so many people my age, I'm working hard to establish myself and set myself up for the future. I've had countless friends say how successful they've become as DIY investors, but I always felt too intimidated to start investing. After all, I don't have a finance degree, which I've since learned isn't a prerequisite to invest, by the way.
Then I was introduced to TD Easy Trade™ and quickly realized that my perception of who qualifies as an "investor" was off the mark. With an app like TD Easy Trade™, you definitely don't need a finance degree to invest. In fact, you don't need to be an expert to start investing. You can be a complete beginner like I was with no prior investing experience.
Change your perception about investing
In the last couple of years, there's been a rise in DIY investing, with millions of Canadians opening accounts for the first time in 2020 alone. For millennials like me who appreciate a simplified way to start investing, TD Easy Trade™ is definitely worth checking out. The app is the next evolution of do-it-yourself investing offered by TD Direct Investing and makes trading both accessible and affordable for new investors like me.
Whether I'm watching the morning news or walking Oscar, I can browse TD Easy Trade™ from the palm of my hand. This mobile-only app – which is available on all iOS and Android app stores – has a streamlined, easy-to-use interface that makes the whole trading process simple and intuitive, even if you have no prior experience with investing (thanks, in part, to a little help from the how-to videos built directly into the app).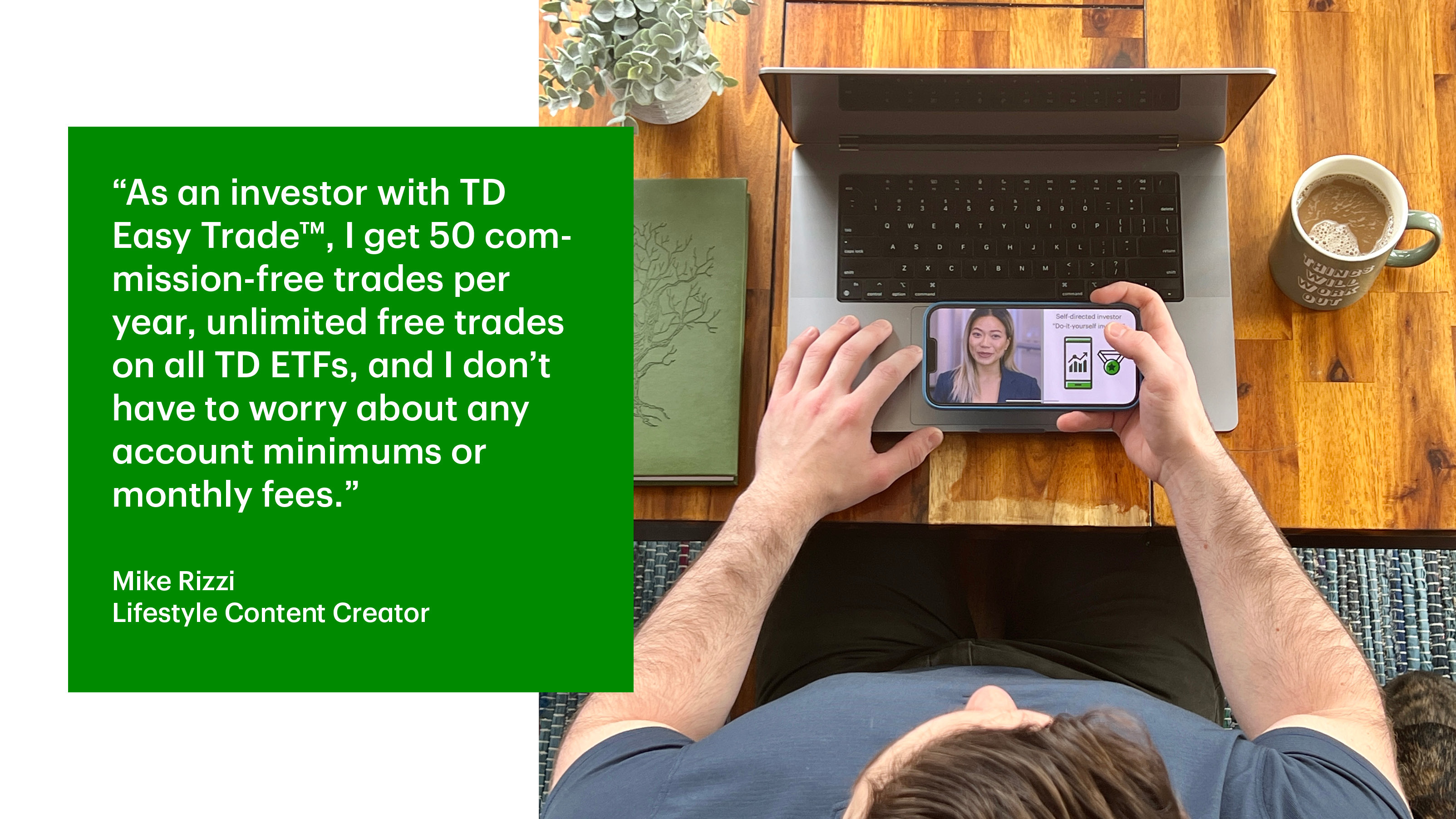 DIY invest with in-app learning
It's second nature for me — and I'm sure a lot of you — to learn new things by browsing through how-to videos. Accessing investing knowledge conveniently and efficiently is probably why I love TD Easy Trade™ – it includes a bunch of free educational videos to help new investors get foundational knowledge in trading stocks and buying ETFs.
One of the most important lessons I took away from the TD Easy Trade™ in-app learning is to avoid placing all my eggs in one basket by diversifying my investments. While these are straightforward concepts to some people, new do-it-yourself investors like me benefit from these accessible and helpful digital tools. But if you feel like you need a bit more hands-on help, TD Easy Trade™ users also have access to a team of industry-licensed investment specialists who can answer questions and provide support.
Start investing for what matters to you
Once you get the basics, TD Easy Trade™ is designed to create goals-based investment planning. First, you decide what kind of investor you are — conservative, moderate, or aggressive — and then set a financial goal. You can always adjust your goal down the line to suit your personal situation, and you can set up multiple goals to work toward simultaneously.
I'm sure many other 20-something or 30-somethings are at a similar crossroads in life. Whether it's a car, a home, or a once-in-a-lifetime travel adventure, we've all got something we could be saving for.
So, what are my goals?
My partner, Christian, and I are reaching a point in our relationship where we're having conversations about our future, including marriage, and buying a home. There's a variety of financial goals we have for ourselves, one of which is to collectively save $50,000 in the next 4 years for a down payment on a home. For my part of our saving and investment strategy, I selected a mix of moderate and aggressive ETFs, and a variety of stocks. I love how I have the freedom to customize my portfolio in a way that suits my lifestyle and can create a watchlist of stocks I want to keep my eye on.
As an investor with TD Easy Trade™, I get 50 commission-free trades per year, unlimited free trades on all TD ETFs, and I don't have to worry about any account minimums or monthly fees. Since I'm a freelance worker, my income fluctuates depending on the month, so having an abundance of flexibility built into TD Easy Trade™ makes it a perfect platform for my investing needs. Plus, I can easily view my investment balances through my TD online banking and transfer money between accounts with just a couple simple steps.
Just like that, I consider myself an investor
After using TD Easy Trade™, I feel empowered to continue investing and use the platform's goals-based interface to stay on track and reach my financial goals!
To learn more about TD Easy Trade™ and how it can help you reach your financial goals — no experience required to get started. Visit tdeasytrade.td.com to learn more!