The TD Direct Investing Index is designed to be an educational tool that seeks to measure the attitude and behaviour of self-directed investors in the prior month and present it in a format that is easy to read and understand. By looking at this historical activity, it can help us see how investors reacted to economic and financial market events. In this instalment, TD Direct Investing shares insights on investor sentiment based on the behaviour of self-directed investors in September. Highlights from September include the popularity of energy stocks – possibly driven by Boomer DIY investors in Alberta and Ontario – and a dip in the materials sector, which could be related to fears of a pull-back on economic growth in China. Read the full report below.
September 2021: Sentiment Jumps While Markets Slump
The end of summer brought volatility in markets, but that didn't stop DIY investors. With the S&P/TSX Composite and the S&P 500 down 2.5% and 4.8% respectively, we would have expected sentiment to follow. Au contraire. The September DII sentiment rose to +37, up from +9 in August. Remember, the sentiment score is on a range from -100 (most bearish) to +100 (most bullish). Investor confidence in September was the tale of two sectors: energy having the best of times; and materials with the worst.
September was fueled by headline events
The overall score for Energy rose to a high of +53 (from negative territory last month). Given all the action in the sector, it's no surprise that energy prices and sentiment rose. In addition to the active hurricane season (such as hurricane Ida in the U.S.), there were supply bottlenecks (most of Europe) and rising demand by consumers. Growing pressure from climate-conscious investors and governments for oil majors to green their business had appeared to lead to drillers' hesitancy and a lack of CapEx (capital expenditure) in fossil fuel production. It was a classic case of market demand outpacing supply, which in turn appeared to help drive higher stock prices and investors getting in the action.
Canadian companies Tourmaline (TOU), Enbridge (ENB), and Suncor (SU) were the drivers of Energy sentiment overall. When we look at the sector from the perspective of age demographics, it was Boomers who jumped on the Energy train. This investor group had the highest allocation to Energy stocks relative to the other age cohorts. When we look at the sector from a geographic perspective, home bias is apparent. Energy sentiment was pushed higher by investors in the energy producing province of Alberta. We also saw investors in Ontario positioned in Energy, surprising given that investors in this province typically hold a lower allocation in their portfolios. Nationally, we saw both Active Traders and Long-Term investors bullish in this sector.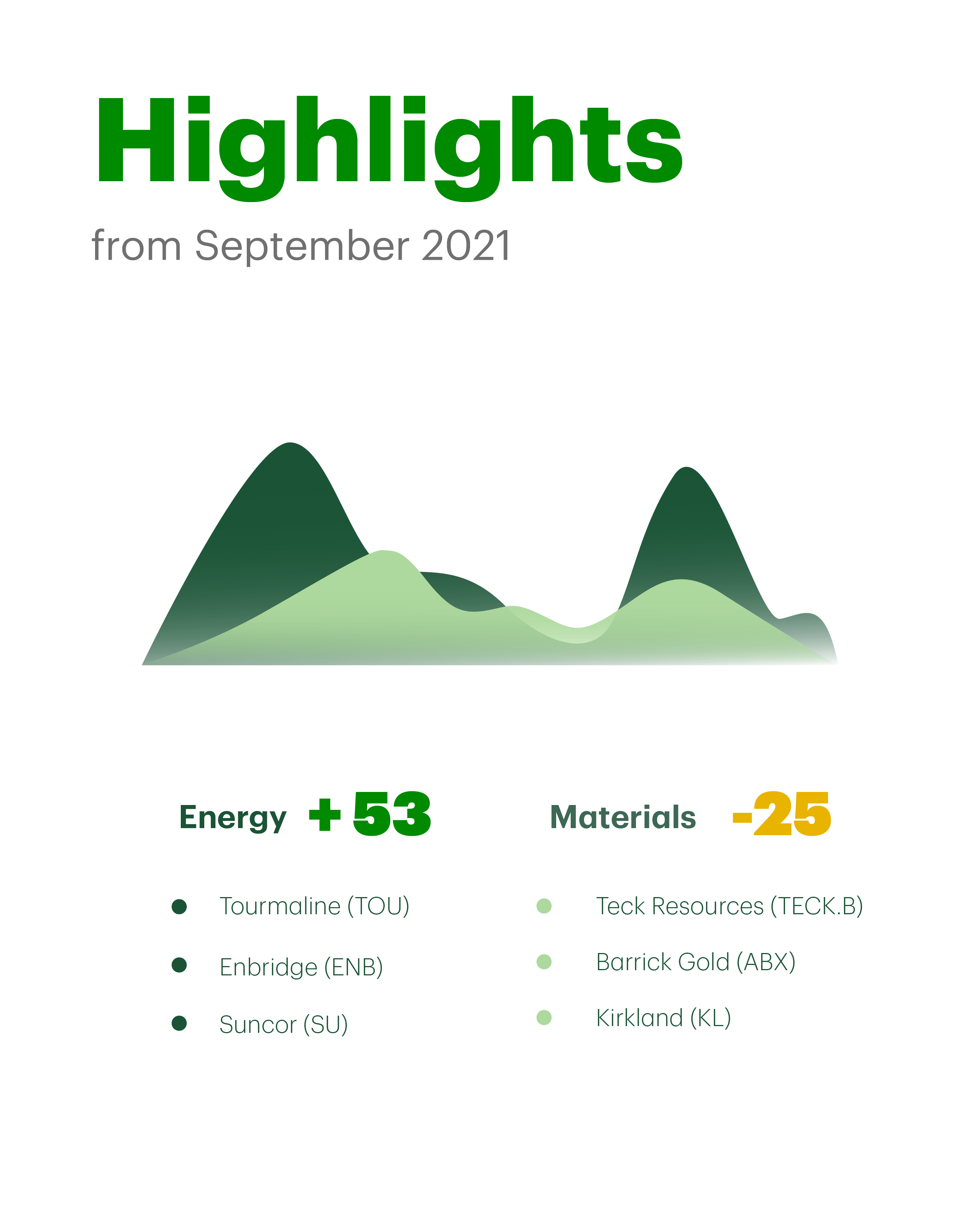 Materials lose their shine
The Materials sector was the main negative weight on the DII in September, dropping to a low of –25. With risks to China's economic growth rebound flooding the newswires on the back of the Evergrande fiasco, weakness in copper and other base metals were apparent. The largest investor group to exhibit negative sentiment were Boomers (-15), who had the highest allocation to Materials of any age group. Looking at the sector from a trading style perspective, Active Traders, who jumped on the run up in base metals, showed the biggest drop. Copper producer Teck Resources (TECK.B) was among the top net sold.
The materials sector was also weighed down last month by gold and gold equities. Gold bullion posted its worst monthly value decline (-3.3%) since June and equities were even weaker (-9.8%) with Barrick Gold (ABX) and Kirkland (KL) the top sold gold stocks.
What influences the influencers?
September really was a tale of two sectors, each battling to have the most influence on investor sentiment. Energy prices rose on supply and demand factors, while Materials prices dropped on fears of a pull-back on economic growth in China. And the winner is… Energy trumped Materials, winning the title for being the biggest driver of overall sentiment.
For monthly updates about market sentiment among self-directed investors, visit the TD Direct Investing Index.