For Fraud Prevention Month the TD Newsroom is sharing tips and information to help identify the most common fraud scams affecting Canadians. Follow along to help you recognize and report financial fraud.
---
Canadians continue to wrestle with financial fraud.
From online lottery scams and email phishing attacks to phony calls purporting to be from the Canada Revenue Agency, Canadians are exposed to fraudsters on multiple fronts. With new technologies comes new avenues for fraudsters to target potential victims.
Nearly one in three Canadians report having been personally victimized by financial fraud, with most individuals (83 per cent) losing up to $5,000, according to a February 2019 TD Fraud survey.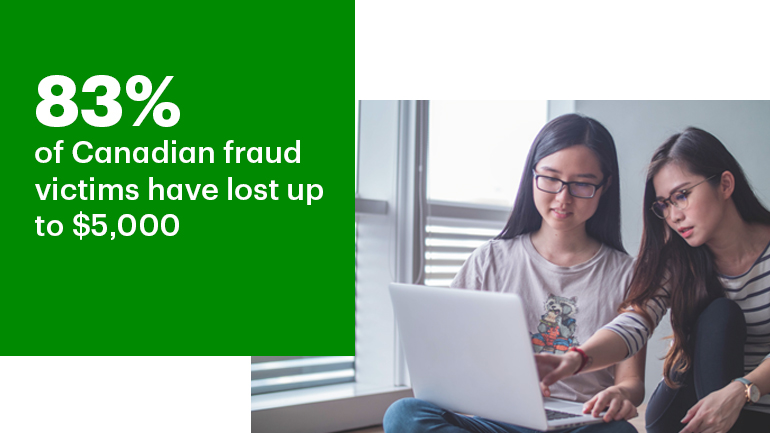 "Fraud doesn't discriminate – attacks can happen to anyone, through any channel, including phone, text and email, at any time," said Tammy McKinnon, Head of Financial Crimes and Fraud Management Group, TD Bank Group.
READ: How to spot the Canada Revenue Agency (CRA) scam
"As scams continue to evolve, it's important that we encourage conversations that increase Canadians' knowledge and understanding of financial fraud and equip our loved ones with the right tools and advice to help prevent it from happening."
While most respondents of the TD survey (59 per cent) said they felt confident in their own ability to keep their finances protected, they still worry about their ability to prevent their family members from falling victim to financial fraud. Despite these concerns, less than half (45 per cent) of respondents reported having had a conversation with their older family members about financial fraud.
When asked what concerned them most, nearly half of seniors (45 per cent) responded that their biggest worry was becoming a victim of identity theft. In contrast, millennials shared that having money stolen was their top concern (39 per cent).
READ: 5 ways to protect yourself from financial fraudsters
Though fraud attacks are becoming more sophisticated, the good news is that more than two-thirds (69 per cent) of Canadians are actively taking measures to protect themselves and adopting digital tools to combat technology-based frauds. Measures taken include:
Reviewing bank account statements often (79 per cent)
Not sharing passwords or PINs with anyone (79 per cent)
Not clicking on links, calling unknown phone numbers or taking any requested action for personal or financial information until they have verified it comes from a legitimate source (73 per cent)
Signing up for text message fraud alerts from their bank (41 per cent)
Enabling two-factor authentication for added security (40 per cent)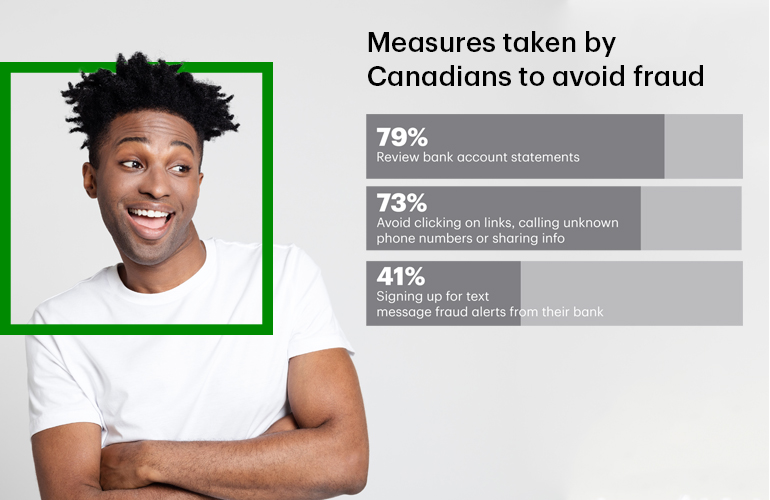 Despite taking steps to protect themselves, the survey found that four in 10 Canadians (41 per cent) are still committing a number of fraud faux-pas, such as writing their passwords down in a notebook or storing them on their phone.
"Our survey found that only a fraction (18 per cent) of Canadians consider themselves very savvy when it comes to being able to identify and detect financial fraud," said McKinnon. "Fraud Prevention Month offers a good opportunity to arm Canadians with information and reinforce resources to help them feel confident in spotting, avoiding and reporting financial fraud."
READ: How to spot the grandparent scam
For Canadians looking to learn how to help protect themselves and their family and friends avoid falling victim to fraud, TD offers the following tips and advice:
Pay attention to your fraud alerts – Banks are now using text messaging to communicate with their customers. By signing up for services like TD Fraud Alerts, you can receive texts that will notify you if TD detects suspicious activity made with your personal banking accounts – available at no cost.
Have conversations with family and friends – Seniors are increasingly being targeted by financial fraudsters. Help protect your family members by educating them on common scams, such as the 'grandparent scam' or emergency scam that attempt to coerce grandparents into sending money to their grandchild in a foreign country, or romance scams that use legitimate dating websites to extort money from someone looking for companionship.
Protect your PIN – The only person who should know your PIN is you – not even your bank should know it. Don't ever give out your PIN, whether in person, over the phone, online or by mail.
Be cautious and verify if the request is real – If you receive an email from a relative asking for funds because they're in trouble overseas, or if you receive an unexpected and too-good-to-be-true cheque, chances are it's fraud. Take some time to do a little research to verify the legitimacy of the request– it's always important to know who you're doing business with.
Check your statements, online accounts or banking apps regularly – Taking these steps will help alert you to fraudulent transactions faster. Money management apps, like the TD MySpend app, can be a helpful tool and provide notifications of spend transactions in real-time, which helps make it easy for customers to recognize a fraudulent transaction quickly.
TD Bank Group commissioned Environics Research Group to conduct a national online survey of 1,432 Canadians aged 18 years and older. Responses were collected between February 1-6, 2019.