Showing up for a therapy session at a hospital can be difficult enough for most people. Add in travelling to the hospital itself, making a long walk from the parking lot to treatment spaces, or being interrupted by a code call on the intercom mid-session, and the difficulty is heightened for some people despite the quality of care they would receive.
Knowing how these potential barriers could be impacting their clients, the long-term vision for therapeutic services at the Markham Stouffville Hospital in Ontario has always included an offsite clinic to improve access to mental health care for the community – one of the fastest growing in the country.
That vision was finally realized when Markham Stouffville Hospital's outpatient Wellness Clinic officially opened in a former TD bank branch in Markham. TD donated the remaining time on the bank's lease to the hospital so that it could open the clinic.
"Having a dedicated space designed specifically for this purpose has been our vision for a very long time," said Suzette Strong, CEO, Markham Stouffville Hospital Foundation. "Thanks to generous community support from TD, this vision is now a reality. For us, having this Wellness Clinic is transformational. It's the first time these programs and services are available offsite of the main hospital campus."
One door closes and another opens
As the hospital searched for the right space, TD was also making changes to its branch network in the Markham community. A new, full-service branch had opened nearby, and the Bank decided to close its location on Wooten Way.
READ: Caregiver stress: tips for taking care of yourself
When branches close or relocate, TD often works with the community to identify ways to use the vacated space for public needs. And when news of the Wooten Way branch's relocation spread, the wheels started turning for TD colleagues and the team at Markham Stouffville Hospital over what to do with the space.
"This has always been a place where our community has come for help and advice," said Rachael Wong, District Vice President for Markham, Branch Banking, TD. "Donating this space to become a place where the community can turn for help with other very important needs seems right."
The old/new space
The familiar 'Help and Advice' desk remains the main greeting point in the clinic, but the space has changed to accommodate the clinic's goals of recovery and support which has been enthusiastically received by the clinic's clients.
"Our clients tell us they love the new clinic space. They feel like it's their own," said Teresa Wong, Patient Care Manager, Outpatient Mental Health at Markham Stouffville Hospital. "It's open, welcoming, accessible and located right in their community with free parking (as part of the clinic site), plus transit right at the corner of the clinic. It's much more effective to get clients on board with the process of recovery when we are helping them recover in their own community."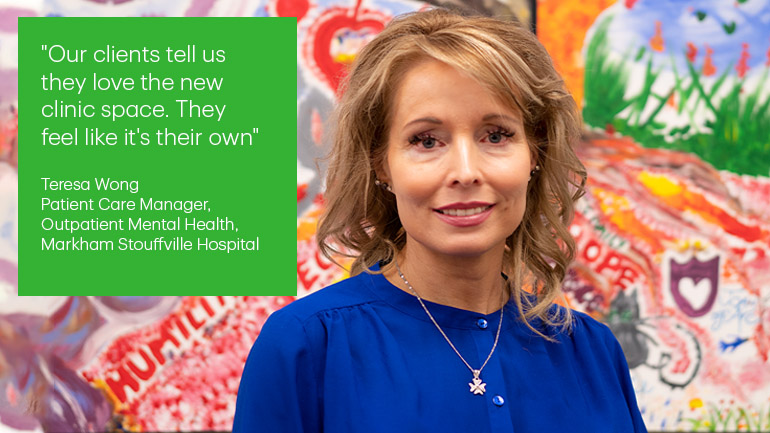 The clinic features two large, bright rooms that can be configured for different group therapy modalities, with large screens for presentations. There are also four offices where clients can receive one-on-one care coordination from clinic staff.
Programs designed with community needs in mind
There are two main programs offered at the clinic: Women's Wellness Services, and the BRIDGE program. The Women's Wellness Services are available to women who have been treated in any area of the hospital – e.g. oncology, surgery, childbirth – and is one of the only hospital services where patients do not require a referral from a doctor because they are already MSH clients.
"Our clients contact the Clinic team directly to enroll in the orientation process," said Ms. Wong. "They don't need a new referral to access care, which means they may be more likely to engage. Self-referral is another way that barriers are reduced."
The Women's Wellness Services offered at the clinic serve women aged 18 and up, in a variety of group-therapy programs including art therapy, mindfulness-based stress reduction, interpersonal therapy as well as postpartum depression/antenatal depression and cognitive behaviour therapy.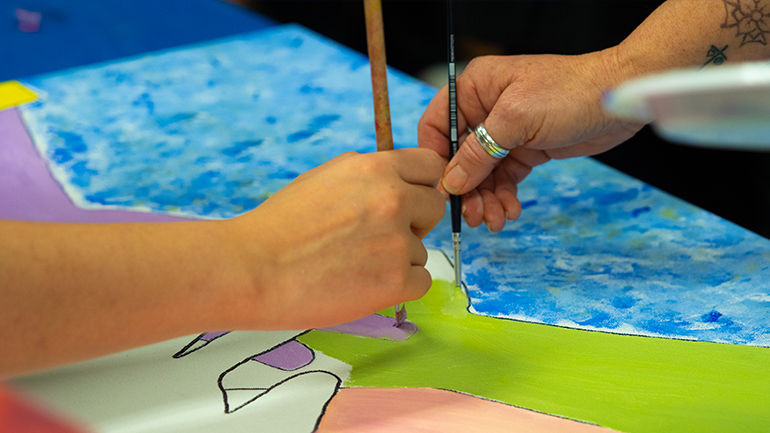 The BRIDGE program serves men and women who are discharged from the inpatient mental health programs, and are referred by the psychiatry team.
All programs are group therapy based, both because of the evidence-based results group therapy can achieve, as well as the ability to serve more clients throughout the year.
"We are honoured to care for these clients," said Ms. Wong. "The journey they are on is their own, but our patient-centred approach means we can confidently offer the very best in evidence-based care to help them on this path. Now we also have a beautiful home to do it in."
Want to learn more about mental health?