Rizwan Khalfan and his team know that when the time comes, and the pandemic is behind us, everything won't go back to the way it was before COVID-19. They also know that's okay.
Stay-at-home orders and social distancing measures enacted to help impede the spread of COVID-19 have resulted in many people embracing digital services in new ways to complete everyday tasks – including their banking.
For Khalfan, Chief Digital and Payments Officer at TD, that increased adoption of digital services has come with higher customer expectations, which has created fresh challenges for organizations aiming to offer highly-personalized experiences and advice.
That's where artificial intelligence comes in.
For TD, delivering on those expectations requires harnessing the power of AI to help the Bank innovate in ways that can help empower customers with highly-personalized, digital experiences.
"In our digitally connected world, we're thinking differently about how we can support our customers and we are creating highly-personalized digital experiences to help them feel confident about their financial decisions," said Khalfan.
Khalfan said the Bank's digital strategy is focused on helping to empower customers who are growing more and more confident accessing their banking solutions through digital channels.
For example, TD mobile app users have received digital nudges powered by AI that offer proactive insights that are personalized and contextual to the customer, including low balance predictions, whether a customer might want to look into accessing a government relief program, and notifications about upcoming recurring bills.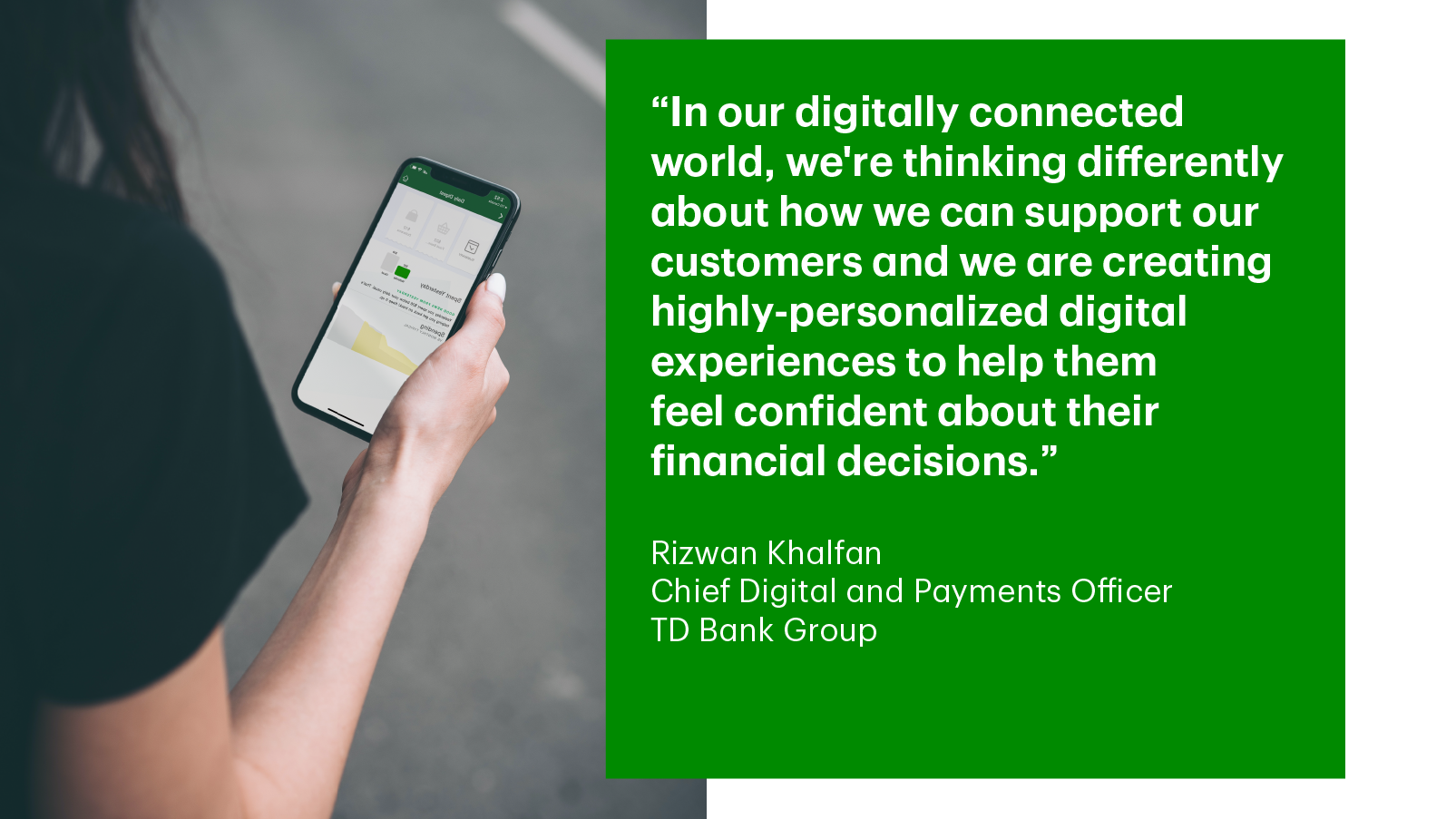 From Response to Recovery
Last March, organizations across industries scrambled to identify new ways to connect with customers and meet their evolving needs in an increasingly virtual environment.
For many this meant ramping up digital offerings in a matter of months. Khalfan estimates that by swiftly moving to innovate and digitize, the Bank's digital self-serve customer strategy was accelerated by at least two years.
"Now we're focused on maintaining this momentum to continue to deliver for our customers who have come to expect more when it comes to their digital experiences," he said.
It also meant that the Bank had to act quickly to address customer needs. In one such case, TD developed and deployed a virtual assistant within its U.S. mobile app that uses conversational AI to help customers get information about their finances and access commonly asked questions.
Using data from the TD Customer Care Center to understand the top issues customers were looking for help with, the new virtual assistant was created and deployed in just three weeks.
This innovation was recently recognized when TD Bank was named a Celent Model Bank for Supporting Customers in the Pandemic. Celent is a leading research and advisory firm focused on technology for financial institutions globally and honours financial institutions annually for outstanding technological achievements.
Today, more than half of TD customers are now considered by the Bank to be digitally active customers. At the same time, the Bank has seen more than one million digital enrollments since the onset of the pandemic, a number which includes both new and existing customers signing up for digital services.
In terms of effect, COVID-19 has impacted TD customers differently: in some cases it has caused some to struggle to meet their financial obligations, while some were able to increase their ability to save and may now be ready for a large purchase or want to invest.
"We know that each of our customers has a unique circumstance and we want to be there to help guide them with relevant insights and support and give them the tools to feel empowered to make decisions," Khalfan said.
Evolving customer expectations
TD is committed to leveraging technology in ways that will help customers in their unique situations – whether they are facing hardship or are in a positive position where they have more savings available.
In March 2020, as the COVID-19 Pandemic hit, TD saw a significant change in consumer behavior, which was sustained throughout 2020, with a dramatic shift towards customers looking for financial advice. In fact, Google data confirms there was increased consumer search activity related to financial advice, and between September and November 2020, Google reported an 88% year-over-year growth in Financial Advice searches.
At the same time, TD saw a substantial uptick in enrollment and engagement with tools like the Bank's AI-powered chatbot, TD Clari, and TD MySpend – a tool within the TD mobile app that helps customers track and categorize their purchases – as customers look to digital tools to offer greater insights into their finances to help them on their financial journey.
"There will always be the need to talk with an advisor for those big moments in life, like buying a house or planning for retirement, but we see an opportunity to build deeper relationships with our customers by offering day-to-day, in-the-moment advice " Khalfan said.
"For TD, the future of banking is about bringing together our people, our technology and our digital capabilities so that they are collectively delivering seamlessly and flawlessly – at the same pace at which customer needs are changing," he added.