Teri Currie was sitting at one end of a bell-shaped table, surrounded by current and former TD customers, when she saw the future slowly coming into focus.
It was early 2016, and Currie was in the middle of conducting customer focus groups across Canada. She had just taken over as Group Head of TD's Canadian Personal Bank and had set out to meet with as many individuals as possible to glean a better understanding of the business, its people, and its customers.
Her goal was to learn as much as she could about what the bank was doing well, and where it could do better. She was determined to protect and extend TD's legacy of success - built on a track record of putting the customer at the centre. TD had established a leadership position over the last decade by focusing on comfortable service, convenient hours and locations, and a recognition that above all else, the bank's biggest competitive advantage was and would always be its colleagues.
But she also wanted to determine how the bank should evolve for future success, how it could meet technology advances and changes in the market, all while evolving needs of customers.
So, she listened.
On this particular summer day in Montreal, she heard the stories of seven individuals. Some were current customers, some were customers of multiple financial institutions, and one woman seated to Currie's right was a former TD customer who had moved her business to a different bank.
Currie listened intently as the woman talked about how TD was the first bank she had joined after moving to Canada in the late 1990s. The woman told Currie about how she had opened an account with TD, but that afterwards, she felt the bank no longer noticed her. She told Currie about how the bank had never identified the additional services she required and had never reached out to try and learn more about what she actually needed.
"Proactively," Currie said, immediately recognizing how the woman wished TD had acted.
It wasn't long after that Currie began putting together the first pieces of the strategy to re-imagine the personal banking experience in TD branches, one that would focus on delivering highly personalized and connected omni-channel experiences while providing elevated advice to customers in the moments that matter.
Indeed, it was on that tour that Currie's 'Make It Personal' strategy came into focus. The effort to reimagine the bank through "Future Ready" followed over the next year and was launched across the Canadian Personal Bank this past November.
Getting Future Ready
"I consistently heard from our customers that they wanted us to know them better, to understand their needs, and to proactively offer them advice that would help them meet their goals and make banking simpler for them," Currie said.
"Our customers want, expect and need advice. And when we fail to give it to them, they will go somewhere else to get it."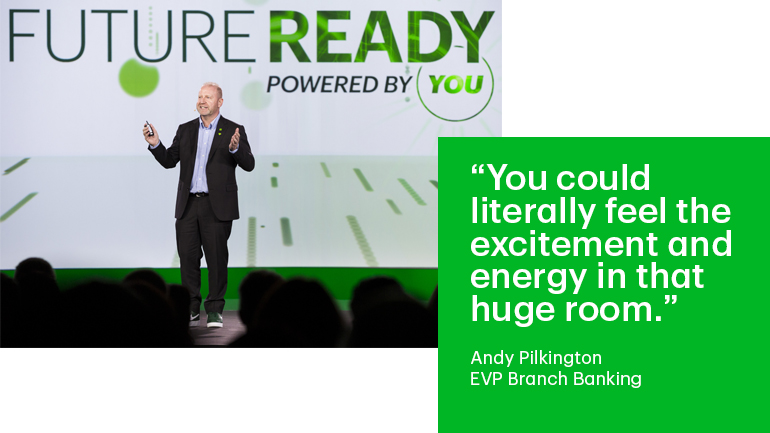 Future Ready arrives at a crucial time for TD and at a moment of significant flux for the entire Canadian financial services industry, primarily driven by changing customer preferences.
Canadians are thinking differently about their money. They're increasingly curious about innovations such as open banking, robo-advisors and emerging technologies like cryptocurrencies. Thanks to mobile applications and low-cost digital advice platforms, they're doing their own day-to-day banking and investing through direct investment platforms.
They also want the freedom to transact when and where they want to, in a way that is seamless and personal - regardless of the channel they've chosen.
"Our customers haven't met a channel to communicate with us that they don't like," Currie said. "So we will continue prioritizing our omni-channel strategy to deliver legendary, personalized, connected experiences to our customers regardless of how they come to us."
Why branches still matter
While there has been perception that the physical branches are going by the wayside, TD's research shows that Canadians of all ages still want their local branch for face-to-face advice and more complex transactions.
Today, one in three Canadians bank with TD. This strength in customer acquisition has been driven by a combination of convenient hours and locations, welcoming branches with a commitment to customer service and easy-to-use mobile applications. One area where TD is particularly focused is elevating the advice they offer customers to help meet their financial goals, and particularly their more complex financial needs.
Currie says that TD is committed to helping address the fact that four out of five Canadians don't feel confident about their finances.
"Customers are looking for financial advice that goes beyond just a recommendation on an account, card or investment," said Andy Pilkington, EVP Branch Banking, Canadian Personal Banking."They expect us to take the time to dive deep to understand their unique situation and offer personalized guidance and advice – and more often than not, they want that conversation to be face-to-face."
A key premise of The Future Ready strategy is centred on the idea that branches co-exist with the bank's other channels and digital platforms. Customers now expect convenience and personalized experiences in a multi-channel context, and want to be able to have their banking experience when and where they want, on the platform of their choice.
Building a new branch strategy for today and tomorrow
TD is transforming its branch strategy by giving its people more tools, more resources and less administration, so they can spend more time having important advice conversations with customers. It has also ramped up advice training and coaching and evolved how success is measured for branch employees.
New behavioral metrics encourage employees to deliver helpful, knowledgeable, and proactive advice - the kind of advice and personalized attention to detail that today's customers are increasingly demanding. This builds off TD's long-standing use of customer service metrics, called the 'Legendary Experience Index', to measure performance.
"When we launched Future Ready with our branch managers this fall – bringing together all 1,100 plus here Toronto for the very first time in our history - you could literally feel the excitement and energy in that huge room," said Pilkington.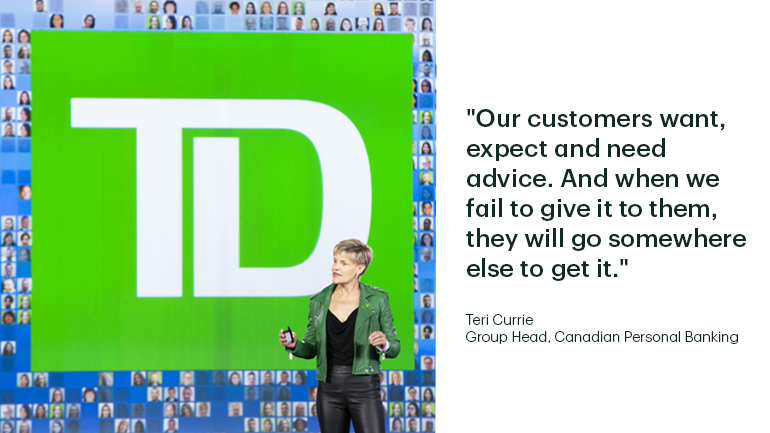 "We are in the customer service business, and our differentiation is really our 22,000 TD branch banking colleagues and their commitment to legendary customer service. We've just done a tour across the country with more than 20 stops, meeting in small groups with over 650 branch colleagues and what we heard consistently is that colleagues are excited about the investments we are making in our branches, and in more training and coaching programs."
Future Ready has helped create more differentiation and specialization by role, while at the same time establishing smoother career paths for branch employees.
What's more, the strategy includes a renewed focus on employees meeting customer needs.
Technology is key to TD's strategy, but isn't the whole strategy
Currie said that for TD to continue to be seen as a leader in the financial industry of the future, she knew the organization not only needed to continue investing in new technologies like artificial intelligence, big data analytics, and innovative tools, but also to become more human in a new era of personalization.
This kind of personal attention is critical for drawing new customers, especially young Canadians, into the TD customer family. Indeed, young Canadians – including millennials – are among the most coveted new customers for financial institutions across the country. These new customers represent an opportunity to form a lifetime customer relationship to take them through life's many stages – from buying a home to putting together an investment plan to save for retirement.
Branches are pivotal to attracting these new customers. Research shows that customers want the ease of digital combined with the expertise of a branch. Customers may be happy to pay their bills through an app, visit an ATM to get cash, or start a mortgage application online, but when it comes time to set up an RESP or actually get advice about a mortgage, they want to come into a branch. Today, 80% of transactions are performed digitally, and yet, 70% of TD customers have been in a branch in the last 90 days.
"Canadians, including digital-only banking customers, consistently tell us they want face-to-face interactions for their more complex needs," Currie said. "So as we think about our digital journey, branches are and will remain central to how our customers interact with us."