The COVID-19 pandemic has caused many relationships to evolve, change or dissolve – including relationships between companies and their customers.
In fact, roughly 84% of Canadian survey respondents are ready to break up with companies who can't keep up with their evolving needs, at least digitally speaking, according to the TD New Digital Customer Study.
Adjusting to a 'new normal'
It's no secret that the pandemic has changed the way many Canadians live, work, shop and save as they adjust to the 'new normal.' And now, according to the survey, 81% of respondents said they feel that if they've had to make all these lifestyle changes to adjust, businesses should have to do the same.
The industry at the top of their digital to-do list?
Financial services.
Roughly 87% of respondents said they are most likely to make financial transactions online, like e-transfers and bill payments.
"We saw our customer engagement and expectations surge with the onset of the COVID-19 pandemic," says Rizwan Khalfan, Chief Digital and Payments Officer, TD Bank Group.
"Now, the majority of our customers are regularly using our digital platforms to manage their day-to-day banking and learn more about their spending and saving. We know that our customers are expecting experiences that reflect how they have adapted during the pandemic and we're working hard to create new kinds of experiences across all our channels."
And according to the survey findings, the digital expectations of customers are here to stay. Indeed, 68% of Canadians surveyed say they plan to continue accessing digital platforms more than they did before the pandemic, and 74% say they want companies to prioritize virtual customer service as they introduce new digital offerings.
Offering personalized advice to customers – whether in person, by phone, or online – has always been a priority for TD. But as customers' needs changed after the onset of the pandemic, teams from across TD have been innovating in new ways to meet the expectations of the new digital customer.
Through platforms like the TD Ready Advice Hub where customers can access financial tools and education, and make appointments online, to the TD GoalAssist app and the new TD Global Transfer marketplace, TD has worked to create new connected experiences with customers, especially now when support and advice are needed most.
"Knowing that Canadians are relying on digital more heavily than ever before, we know that we will need to continue to innovate to match experiences with expectations. Using technologies like artificial intelligence, voice, chat, and video will be key to creating stronger connections with our customers across all our channels," said Khalfan.
So, what should companies be focusing on when it comes to connecting with their customers in the years ahead? Here's a breakdown of what's making or breaking the customer-company relationship, according to the TD New Digital Customer Study.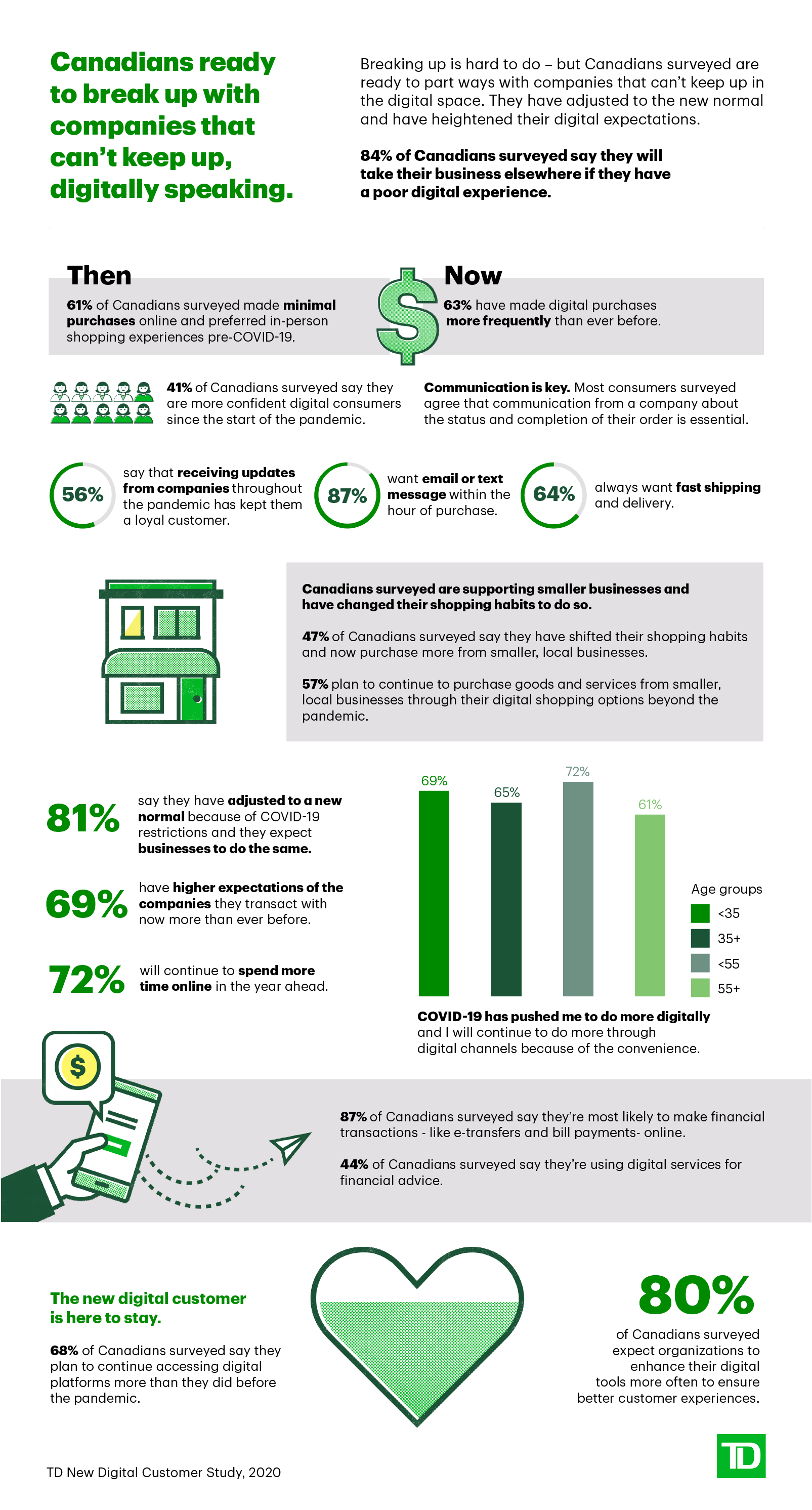 Click here for the accessible version.
About the survey: These are some of the findings of a Leger poll conducted between October 9 and 19, 2020, on behalf of TD. For this survey, a sample of 1508 Canadians and 1594 Americans aged 18+ were interviewed using Leger's online panel. The margin of error for each of these samples was +/- 2.5%, 19 times out of 20.
Infographic transcript:
Canadians ready to break up with companies that can't keep up, digitally speaking.
Breaking up is hard to do – but Canadians surveyed are ready to part ways with companies that can't keep up in the digital space. They have adjusted to the new normal and have heightened their digital expectations.
84% of Canadians surveyed say they will take their business elsewhere if they have a poor digital experience.
Then: 61% of Canadians surveyed made minimal purchases online and preferred in-person shopping experiences pre-COVID-19.
Now: 63% have made digital purchases more frequently than ever before.
41% of Canadians surveyed say they are more confident digital consumers since the start of the pandemic.
Communication is key. Most consumers surveyed agree that communication from a company about the status and completion of their order is essential.
56% say that receiving updates from companies throughout the pandemic has kept them a loyal customer.
87% want an email or text message within the hour of purchase.
64% always want fast shipping and delivery.
Canadians surveyed are supporting smaller businesses and have changed their shopping habits to do so.
47% of Canadians surveyed say they have shifted their shopping habits and now purchase more from smaller, local businesses.
57% plan to continue to purchase goods and services from smaller, local businesses through their digital shopping options beyond the pandemic.
81% say they have adjusted to a new normal because of COVID-19 restrictions and they expect businesses to do the same.
69% have higher expectations of the companies they transact with now more than ever before.
72% will continue to spend more time online in the year ahead.
COVID-19 has pushed me to do more digitally and I will continue to do more through digital channels because of the convenience.
87% of Canadians surveyed say they're most likely to make financial transactions - like e-transfers and bill payments- online.
44% of Canadians surveyed say they're using digital services for financial advice.
The new digital customer is here to stay.
68% of Canadians surveyed say they plan to continue accessing digital platforms more than they did before the pandemic.
80% of Canadians surveyed expect organizations to enhance their digital tools more often to ensure better customer experiences.
TD New Digital Customer Study, 2020