When a vicious hailstorm ripped through Calgary on June 13, it caused incredible devastation to homes, vehicles and property. Then, four weeks later, another hailstorm wreaked havoc once again.
But for those residents of Calgary, Airdrie, Rocky View County and the surrounding areas who were affected by the storms, these devastating events compounded an already difficult situation for many who were already suffering challenges as a result of the ongoing COVID-19 public health emergency.
It is estimated that the June 13 hailstorm will prove to be one of the costliest natural disasters in Canadian history, resulting in a record number of insurance claims from those suffering the ill effects of the disaster.
Unfortunately, the volume of claims, as well as complications related to the COVID-19 pandemic has resulted in some customers experiencing unexpected delays in seeing their claims processed.
TD Insurance remains committed to handling customer claims as quickly as possible and has devoted many more resources to ensure every customer's claim is processed, according to Craig Richardson, Vice President of claims for TD Insurance.
To learn more about how TD Insurance is working as quickly as possible to process claims related to the Calgary hailstorms, we asked Richardson a few questions.
What do you want to say to TD Insurance customers in Calgary and the surrounding area who have been affected by these hailstorms?
First off, we hear you and we are here for you. We understand the stress that all Albertans are facing with the current environment and that these hailstorms have made an already difficult time even worse. We know that any time someone's vehicle or home is damaged it is a very stressful, and that it's a time when customers are counting on their insurance company to be there for them.
The June 13 storm was amongst the largest weather events on record for TD Insurance. Compared to the Fort McMurray wildfires from 2016, the June 13 hailstorm generated three times the number of claims. And the storm that followed four weeks later was only slightly smaller than the 2016 wildfires. When you combine these disasters with the ongoing COVID-19 crisis, it creates an incredibly difficult situation for many families. Our teams are working as fast as they can to ensure every TD Insurance customer gets the advice and support to help them through this difficult time.
I want everyone who has been affected by these events to know that we are committed to handling our customers' claims as quickly as possible and that we have devoted hundreds of additional resources to accomplish this. I also want to let our customers know that hail damage is a covered loss and that TD Insurance will be paying all covered claims in full as per our policy.
What is TD Insurance doing right now to help speed up the support going to customers in Calgary?
In the days immediately after the June 13 storm, we redeployed hundreds of additional people in our call centres just to field calls. We quickly activated our social media channels and updated our websites to provide those affected customers with the information they needed to get their insurance claims filed. As you can imagine the claim and call volume we were facing immediately following the event was heavier than usual, and unfortunately some customers had to wait on hold to report their claim.
Every claim we have received is in the process of being assessed and settled. Already, roughly 40% of all claims have been closed. It's also important for our customers to know they can reach us via the TD Insurance app and our Website as well. They don't necessarily need to call us to file a claim. We've processed more than 1,600 customer claims through our digital channels related to the storm already. Customers who want to submit a claim digitally using the TD Insurance app on their mobile device can download it from the Apple App Store and Google Play.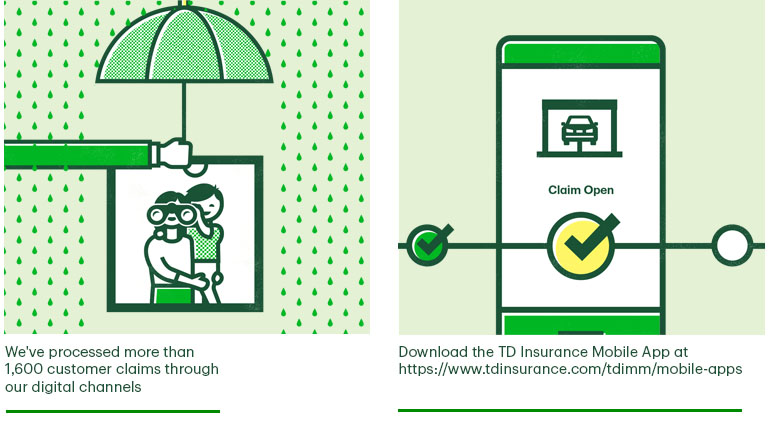 What are some of the challenges associated with responding to an event like this?
Thankfully we don't see events of this size very often. But any time you have a disaster like a wildfire, flood or a hailstorm, any time a large number of people see their home or vehicle damaged, it can add additional complications to the situation. In this particular case, the sheer number of people affected resulted in some delays. So, it's not just the number of people calling in to get their claims processed, it's that the entire repair ecosystem is under stress and working at capacity. Simply booking repairs in autobody shops, or appointments for contractors to do home repairs is taking longer than expected because of the sheer volume of people who need help. Unfortunately, there are only so many businesses in the region who can make repairs to homes and vehicles, and they're working as hard as they can to help. When the volume of claims goes up, it also makes it more difficult to ensure customers receive regular updates on their claim.
What should TD Insurance customers do if they still haven't received the support they need?
We'd like to thank all customers for their patience during this period of increased activity and encourage them to follow-up with us directly at 1-866-454-8910 if they have questions about their claims.