Across Canada and around the world, businesses of all sizes across almost every industry are being impacted by the economic fallout that has resulted from the international response to the COVID-19 pandemic public health emergency.
From the forced closures of non-essential businesses, to physical distancing limits, to enabling employees to work from home, Canadian businesses are facing a wide range of challenges.
No matter the challenges businesses are facing, the message TD business bankers are proactively going out to clients with is that TD is open, here for our customers, and looking to provide support where we can, according to David Pinsonneault, EVP, TD Business Banking.
"If your business is directly impacted by COVID-19 and as a result is facing financial challenges, we want to hear from you," Pinsonneault said.
"Our goal is to provide support and peace of mind as our customers deal with the financial, operational and personal challenges that may come with a situation of this magnitude."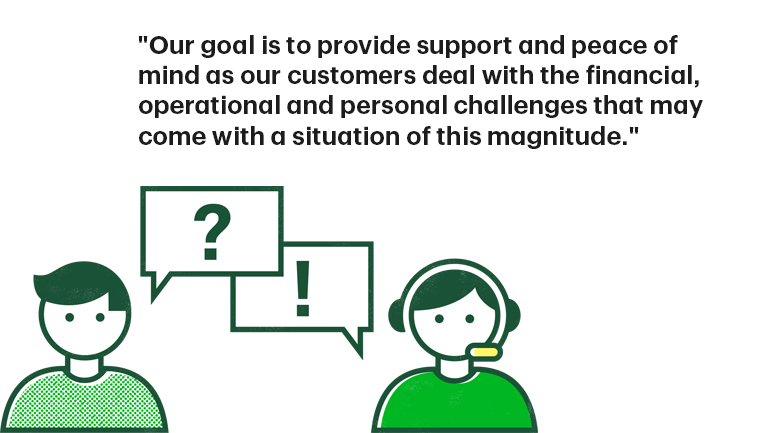 Finding flexible solutions
While the challenges facing businesses during these uncertain times vary, the one commonality across all business owners, and indeed all Canadians, is that their lives have been upended by COVID-19.
"We are working hard to find solutions for our customers," Pinsonneault said. "We want them to know we're here for them and that we're focused on what's important to them."
There are a variety of ways TD is working with its clients to address their needs, including customized relief programs on a case-by-case basis for businesses, which may include payment deferrals on loans, lines of credit and access to additional working capital.
(While deferring loan payments, the loan principal is not being paid. Therefore, businesses that choose this option will pay more interest over the life of the loan.)
"Our team has been working around the clock to give our business clients the support they need to see this period through," added Pinsonneault.
TD has been closely working with the Canadian Government to quickly make the Canadian Business Relief programs available for our customers.
On April 8, the federal government announced the Canada Emergency Business Account (CEBA), which includes:
A $40,000 interest-free (until December 31, 2022), government guaranteed loan to help businesses pay for operating costs that they are not able to defer as a result of COVID-19.
$10,000 (25%) of the $40,000 loan is eligible for complete forgiveness if $30,000 is fully repaid on or before December 31, 20‍22.
If the loan is not repaid by December 31, 20‍22, it will be extended for an additional 3year term bearing an interest rate of 5% per annum.
The loan can be repaid at any time without penalty.
Full terms and conditions are available at www.td.com/businessrelief.
To apply, customers will need their 2019 T4 Summary of Remuneration Paid Statement. Businesses can also contact the Canada Revenue Agency to have them re-issue a 2019 statement.
To be eligible for the CEBA, businesses must meet a number of criteria per the Government of Canada's requirements, including:
Have an active business bank chequing account with the institution they are applying through as of March 1, 2020
Annual payroll of between $20,000 and $1.5 million as based on the organization's 2019 T4 Summary of Remuneration Paid (T4SUM)
A Canada Revenue Agency Number
If applying through TD, the business must use TD as its primary bank, using TD for day-to-day payments and cash management activities.
For businesses interested to learn more about other Federal Government relief programs including the Business Development Bank of Canada (BDC) Co-Lending Facility and the recently available Export Development Canada (EDC) Business Credit Availability Program, please visit the Government of Canada's COVID-19 page here.
To learn more about how TD is helping businesses, please visit www.td.com/businessrelief for the latest information on these programs.
"The first thing any business should do is create a plan for the next three months so that they can clearly articulate their needs to their business banking advisors and help us help them," Pinsonneault said.
TD business customers can get access to online banking 24/7 through EasyWeb, Web Business Banking or the TD app. Contact centres are open and ATMs are operating normally.
Although many businesses are facing a steep decline in revenue, or have been forced to close altogether, other businesses need to ramp up their operations to meet new demands being placed on their organizations, whether that's investing in work from home technology for employees or adding capacity to supply chains.
"If you think about any business related to food – groceries, wholesale, distribution – those businesses are extremely busy," Pinsonneault said. "They need higher inventories, more volume to process."
"On the other hand, there are other businesses that have just stopped operations – like restaurants and retail stores – but the common denominator is they are looking to us to help, and we are in this together."
Visit http://www.td.com/covid19 to learn about how TD is responding to this global pandemic.