If you're like most Canadians, every month a stack of bills and financial statements arrives in your email, mailbox or both. It amounts to a seemingly ever-growing collection of information related to your mortgage, investments and credit cards, as well as utility bills like phone and internet services, and insurance.
And that's not including all the financial documents that arrive during income tax season.
Once you've paid the bills and reviewed the statements, then what? Do you know which documents you need to keep and for how long?
If you're feeling overwhelmed about how to keep your financial files organized, you're not alone, according to Nathalie Bureau, a Productivity Coach and President of Professional Organizers in Canada (POC), the national association that represents professional organizers across the country.
"It's easy to feel overwhelmed with all of the things we need to keep track of and store," she says. "But the good news is that if you devote just 15 to 20 minutes per week to financial organization you can easily stay on top of it."
Bureau said that organizing your financial records is easier than you think, and well worth the time investment. For example, when you need a specific document, you can find it quickly, with no need to search through your papers or click through folders on your computer.
"Being organized also makes it easier to compare expenses from one month to another," says Bureau.
"Being organized can allow you to more easily compare your current month's bill with your last month's bill, than if you were not organized. With this comparison, you can more readily view your usage costs and determine if you should consider less usage or changing providers."
And, you'll likely feel less stress because "clutter can be stressful," she says.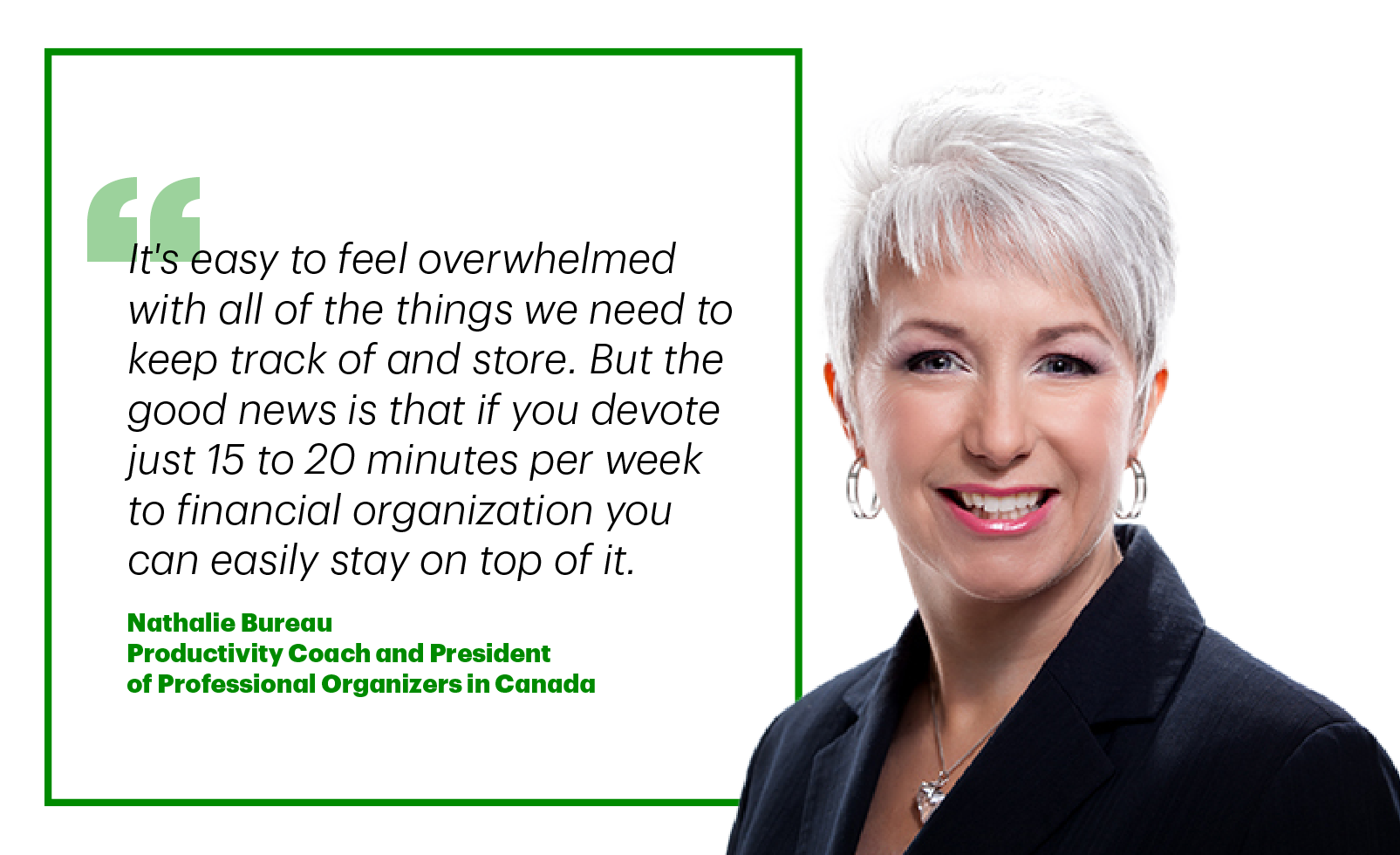 "Whether it's piles of paper or a seemingly overflowing inbox, organizing your financial life can help you feel more in control, by saving you time and therefore helping to reduce your stress."
Bureau says the best thing you can do if you're ever unsure about which documents are important to keep is to check with a professional advisor, such as a lawyer or accountant, for suggested records retention practices, and follow their advice.
For anyone looking to start bringing some order to any financial record chaos in their home, Bureau, who is the author of the 2008 French book L'art de l'organisation – Trucs et conseils pour une view mieux organisée (English: Tips and advice for a better organized life), offers these six tips:

Gather all your papers or digital information into one spot
Start by bringing everything together in one place. That means digging out any boxes of old records in the basement, gathering any statements stuffed in drawers and any overflowing file folders in the closet. If you're organizing things digitally, locate all the documents stored on your computer and put them into one folder.
Know what to keep and what to get rid of
Now that you've collected everything, it's time to start getting rid of the documents you don't need anymore. But how do you know which documents to keep and how long to keep them for?
"It can be anywhere from six months to many years," says Bureau.
"Some documents fall under federal regulations, others under provincial, which may vary. You can also try doing an online search for 'record keeping' or 'document retention period' for each document to see if there is a recommended retention period."
In Canada, the federal government recommends keeping your tax returns going back "six years from the end of the last tax year they relate to" – which is effectively seven years. However, there are some situations, such as long-term acquisitions or disposal of property, where you will typically want to keep those records longer.
Bureau says some papers like credit card statements can generally be disposed of after one year, while others, such as real estate records or a copy of your will must be kept indefinitely.
Once you've determined how long to keep each of your documents, remove those that are no longer needed and set them aside for safe disposal.
Determine categories and sub-categories
Each type of document needs its own file, and Bureau recommends creating a list of all categories and sub-categories for your papers.
For example, under the category of "insurance" you may have sub-categories of home, auto and life. Within the category of "utilities" you could have water and electricity. Choose the categories that make sense for your situation. Once you've created this list, you can start sorting your documents according to the categories you've created.
It can also be helpful to create folders for the current and previous years. Whether you're working with paper or going digital, create folders for each category and sub-category. For paper, be sure you have file folders and labels on hand, as well as storage boxes or a filing cabinet.
Decide on paper or digital
If you're looking to cut down on the amount of paper records coming into your house, you can consider signing up for digital delivery of bills and other records. Many companies offer a digital option for sending monthly statements, bills and other documents instead of through the mail. To go digital, you typically will need to register with the company for electronic delivery.
"However, if you're helping organize a family member who is not comfortable with technology, sticking with paper may be the best choice for them," says Bureau.
Another essential practice that's often overlooked is to ensure you keep your mailing address updated when moving or switching financial institutions. This will ensure that you continue to receive the important documents that you need to keep for your records.

File your documents
Now that you've got your folders established, it's time to file your documents. If you have paper folders, file the most recent on top and work backwards. Bureau recommends filing the newest statement on top and taking the last statement from the back and shredding it right away.
Safe storage and disposal
Once you've organized your documents, be sure to store them in a secure place such as a locked cabinet for paper, or if digital, secure cloud storage or on a computer you back up frequently.
"If other people in your household use the computer, consider setting up a password for that section, so others don't access or delete it by mistake," says Bureau.
When disposing of documents, Bureau recommends shredding. Investing in a shredder – choose a crosshatch shredder for the most secure form of shredding – makes it easy to safely dispose of documents regularly. Bureau says you should never dispose of financial documents without shredding them first.
The good news is that once you're organized, you'll be less stressed and have less clutter – paper or digital to deal with. Once your system is in place, all you need to do is commit to it.