While hospitals around the world were preparing for an influx of patients suffering from the effects of COVID-19 in the early days of the pandemic last March, doctors at CHEO, (Children's Hospital of Eastern Ontario) suddenly saw a stark drop in the number of patients coming into the emergency department, particularly for mental health care.
Between March and June of 2020, the CHEO Mental Health Program saw an average of 146 patients with mental health problems per month, down from a monthly average of 270 in 2019.
"This made us worry that patients were not getting the crucial health care support they needed," said Dr. Maala Bhatt, Research Director for the Division of Emergency Medicine and a pediatric emergency medicine physician at CHEO.
CHEO realized that two issues were at play. First, patients and families were afraid to come to the hospital. Second, COVID-19 infection control was, by design, significantly limiting the movement of patients from outlying community hospital Emergency Departments to the CHEO Emergency Department, where they are usually sent for specialist emergency assessments.
To help manage this issue, the hospital leveraged a service it had launched in March 2020, that could potentially help as a solution.
A role for virtual care at CHEO
Just prior to pandemic, the CHEO emergency department and the Mental Health Program had joined forces to develop an integrated Emergency Mental Health Crisis Service.
The previously separate mental health team of crisis workers began to work side by side with the emergency department physicians and nurses and this new integrated team was expanded to include positions for mental health nurses and child and youth care workers, all of which would be part of the emergency department team. This new care model was in its pilot phase of implementation when the pandemic hit.
Another pilot program forming part of the innovation platform was the CHEO Mental Health Virtual Emergency Room which had been running in the Cornwall Community Hospital for several years. With this program, CHEO psychiatrists conducted emergency risk assessments in Cornwall by telehealth instead of needing to send the patient to CHEO for such an assessment.
The Mental Health Virtual Emergency Room program is funded in part thanks to a donation of $50,000 to CHEO from the TD Community Resilience Initiative, which has allocated $25-million CAD to help communities respond to COVID-19 and build resilience into the future.
"At TD, we recognize the importance of organizations like the CHEO Foundation and could not be prouder to support the work CHEO is doing to help children get the access to mental health care professionals that they need," said Tara-Lynn Hughes, Vice President, Greater Ontario Region, TD. "We value the work that community organizations and health care providers are doing to support children's mental health and emotional wellbeing services."
In May of 2020, CHEO became the first pediatric hospital in Canada to offer emergency department virtual care for urgent, but not medically life-threatening care, including those with mental health concerns. The new integrated emergency department mental health service made it easy to get the right providers in front of the screen.
"Now if a child comes to a virtual emergency department appointment at CHEO with a mental health concern, a crisis worker will join the call, perform an assessment and refer them to an in-person assessment or connect them with resources in the community that are available to help them," says Dr. Bhatt.
Dr. Bhatt said COVID-19 has ushered in a new pandemic – pediatric mental health problems where emergency departments are scrambling to cope with cases of young people in more severe mental health crises than ever before.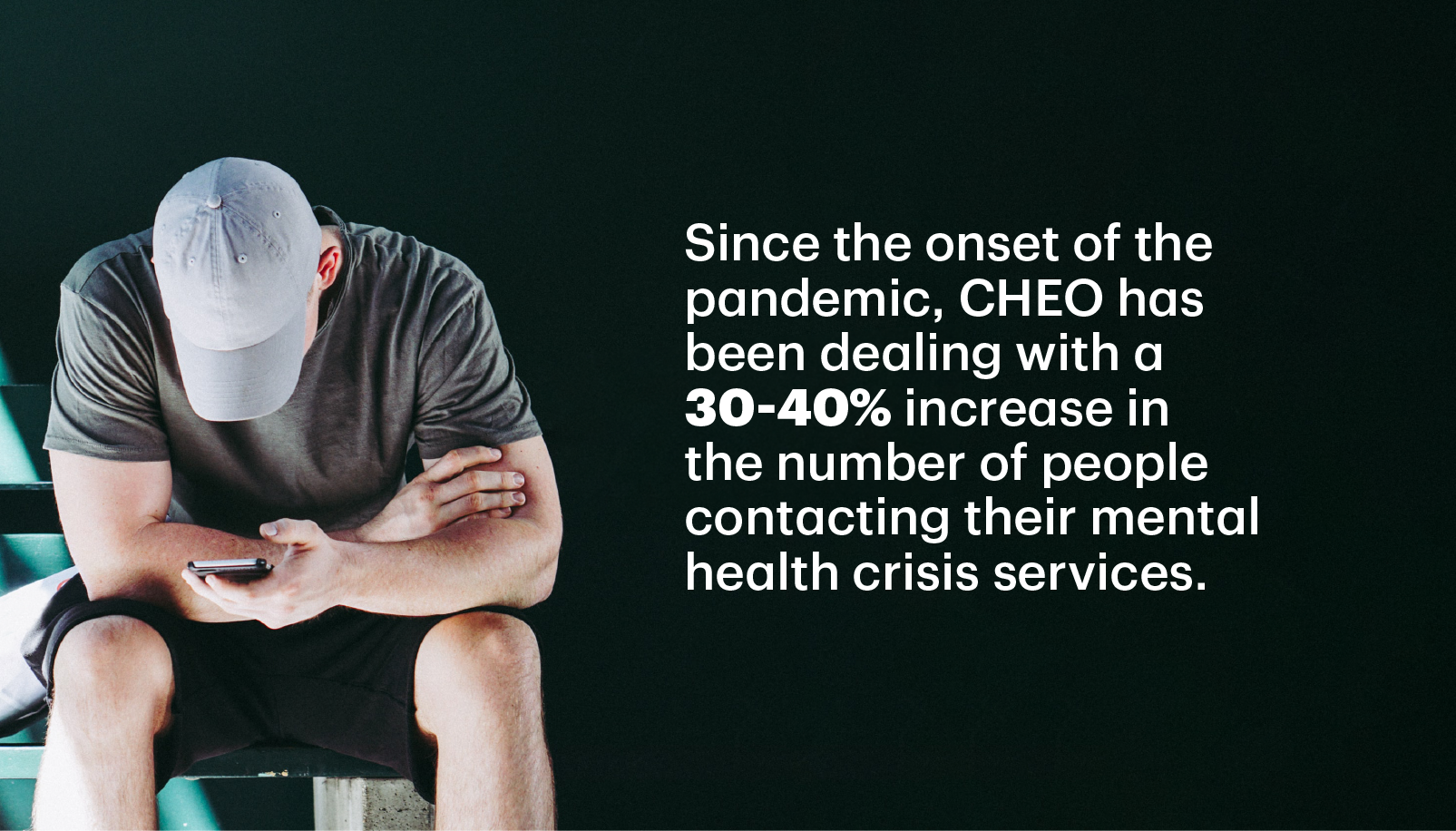 While the emergency department at CHEO was accustomed to numbers of patients needing mental health services going up and down, the seriousness of the acute crises in the young people presented new challenges.
"At CHEO, health care workers had seen a 90% increase in the number of mental health emergency visits since 2010," Dr. Bhatt said. "COVID-19 accelerated those issues," she added.
Since the onset of the pandemic, CHEO has been dealing with an 30-40% increase in the number of people contacting their mental health crisis services and the number of calls from children and parents worried about suicide have doubled.
"The mental health and emotional wellbeing of children is as critical as their physical development and good health," Dr. Bhatt said.
Providing access to virtual specialists at CHEO
Thanks to the Mental Health Virtual Emergency Room programs at CHEO, hospitals in outlying areas are now able to provide patients with access to virtual appointments with specialists.
"At this point, all of the outlying hospitals have access to virtual specialist mental health emergency assessments, ensuring that the pandemic has not left our community partner hospitals behind," said Dr. Kathleen Pajer, Chief of the CHEO Department of Psychiatry.
To build a system in which a doctor can log on from anywhere and conduct a virtual assessment, whether the patient is at home or in a community emergency department, took more than just provider collaboration and goodwill. It took hundreds of hours of programming time by several departments in the CHEO information service (IS).
Beyond bolstering virtual mental health support services, Dr. Bhatt said the TD donation will also help support other areas of focus within CHEO's Mental Health Program. This includes in-patient care and further support for children with eating disorders, which Dr. Bhatt said is another area of care the hospital has seen a spike in demand for since the pandemic began.