If you spend any time on social media, it might seem like everyone is getting rich via online investment opportunities these days.
As a result, there's a lot of attention being paid to all kinds of new investment opportunities. As well, the pandemic prompted many Canadians to begin taking an increased interest in doing their own investing.
Fraudsters are increasingly targeting people with fake investment and business opportunities, by dangling the false promises of big returns.
Investment scams can take many different forms. One of these scams involves fraudsters sending out phony offers to people by email, instant messaging platforms, social media or even dating sites, telling them they can become an investor in a new company, technology, or digital currency, while promising high returns quickly. Often a tactic that fraudsters will employ is to research potential victims online, in order to build a relationship based on common interests with that person or even taking over the account of a friend to make the scam seem more legitimate.
Fraudsters may also refer to legitimate trading platforms and investment options to avoid suspicion. In some cases, scammers will offer to set up an investment account on a legitimate trading platform for the victim, if they supply the money. What the victims don't know is that the fraudsters are either making that account a joint account or are keeping and using their credentials so they can also access the money.
Sometimes, fraudsters will offer to invest money on behalf of the victim, instructing the victim to send them money, which is never seen again.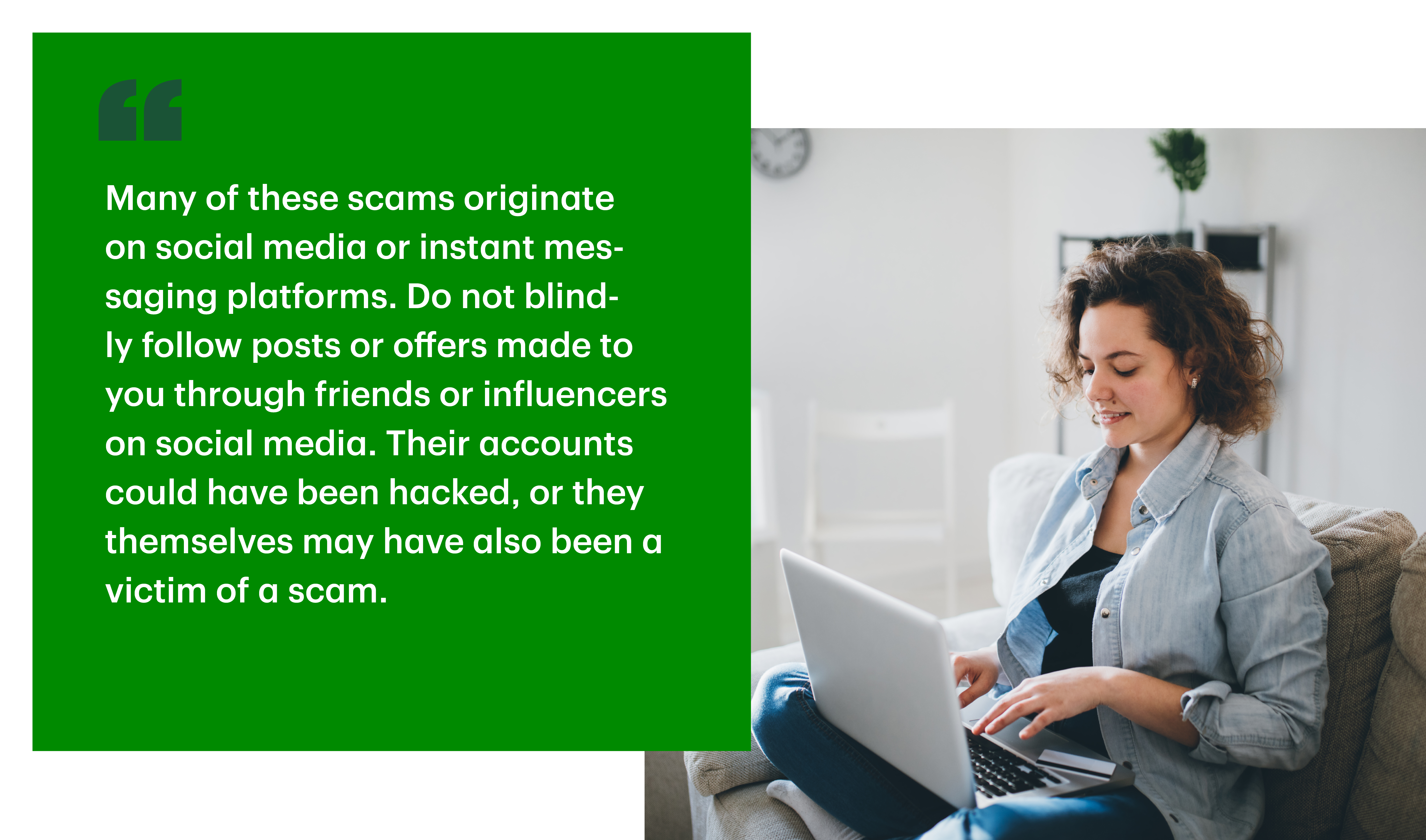 In many cases, they encourage victims to recruit their friends and family, promising additional incentives for signing up others, very much like a pyramid scheme. While these scams will never ultimately pay out, there are instances where fraudsters are paying victims fake profit or returns in order to build trust and receive larger sums of money.
The warning signs of investment scams
Like many financial scams, those involving fake investment opportunities often will make offers that seem too good to be true, guaranteeing you will get rich quickly or see a big return. Remember that when an offer seems too good to be true, it often is.
If you get a message from someone who is trying to get you to take immediate action, delete it immediately. When someone is trying to get you to send them money and pressuring you to do so in a short time frame, it's often a scam. These messages often contain unrealistic promises of high returns and very little risk.
Fraudsters may also ask you to allow them remote access to your computer so they can set up an account on your behalf. They can then use that private account information to later access your funds.
Another red flag to be on the lookout for, is anytime someone asks to make payments through social media. This is often a sign the transaction is fraudulent.
How to protect yourself from investment scams
As with any financial transaction, make sure you know who it is you're sending money to, and make sure they're someone you can trust. Don't send money to individuals you have never met. With many financial scams, once the funds have been sent, they are unlikely to be recovered.
Many of these scams originate on social media or instant messaging platforms. Do not blindly follow posts or offers made to you through friends or influencers on social media. Their accounts could have been hacked, or they themselves may have also been a victim of a scam.
You should always be cautious when receiving unsolicited ads or offers, and you should never click on links from individuals you don't know.

What to do if you're a victim of fraud
Report it – if you believe you've been a victim of an investment scam, the RCMP recommends you contact your bank and attempt to cancel any electronics payments made or put a stop payment on any cheques issues if they haven't been deposited however in most cases, these requests are often unsuccessful as the funds are already gone. Report the incident to your local police and file a report with the Canadian Anti-Fraud Centre.
Learn more and help others – The Government of Canada Competition Bureau's "The Little Black Book of Scams" is a free download that can help you learn more about some of the most prevalent scams currently employed across Canada.
Talk about it – While you may feel embarrassed, you are definitely not the first person who's been tricked by this type of scam. Sharing your story can help others avoid being scammed.