The TD Direct Investing Index (DII) is designed to be an educational tool that seeks to measure the attitude and behaviour of self-directed investors in the prior month and present it in a format that is easy to read and understand. By looking at this historical activity, it can help us see how investors reacted to economic and financial market events. In this instalment, TD Direct Investing shares insights on investor sen­timent based on the behaviour of self-directed investors in August, and provides commentary on the subtle self-directed investing market bounce-back from a drop in June/July, which could be reflective of investors pushing concerns over the Delta variant to the backburner. Read the full August insights below.

---
August 2021: Watching the Grass Grow
August is rarely known for market shenanigans and this year's August DII sentiment is slow and subtle, like watching grass growing: a slightly optimistic +9, which is up 7 points from July's +2. Remember, this is in a range of +100 (for bull) and -100 (for bear) and continues the subtle bounce-back from that massive 52-point drop between June and July. While only a slight increase, it was reflective of the overall market move (+1.5% return for the S&P/TSX Composite Index over the same period). This is where the markets grew way faster than grass: North American equities continued to set new all-time highs, possibly pushing concerns over the Delta variant to the backburner. The improvement in sentiment was driven by strong earnings and positive news coming from Financials, Healthcare, and Communications.
The wind beneath the sails
Financials (+11) were upbeat, mainly due to the anticipation and delivery of better-than-expected reported earnings from the big Canadian banks. The most popular securities included BNS (Bank of Nova Scotia) and GSY (GoEasy). We also saw a rotation out of U.S. banks and into Canadian banks, which may have been triggered by the higher dividend yields in Canadian banks. Given the propensity for many older investors and long-term investors to desire higher dividend stocks, this rotation may have been reflected in a notable improvement in Boomer sentiment as well as long-term investor sentiment. The most sold securities included BAC (Bank of America), WFC (Wells Fargo), and C (Citigroup).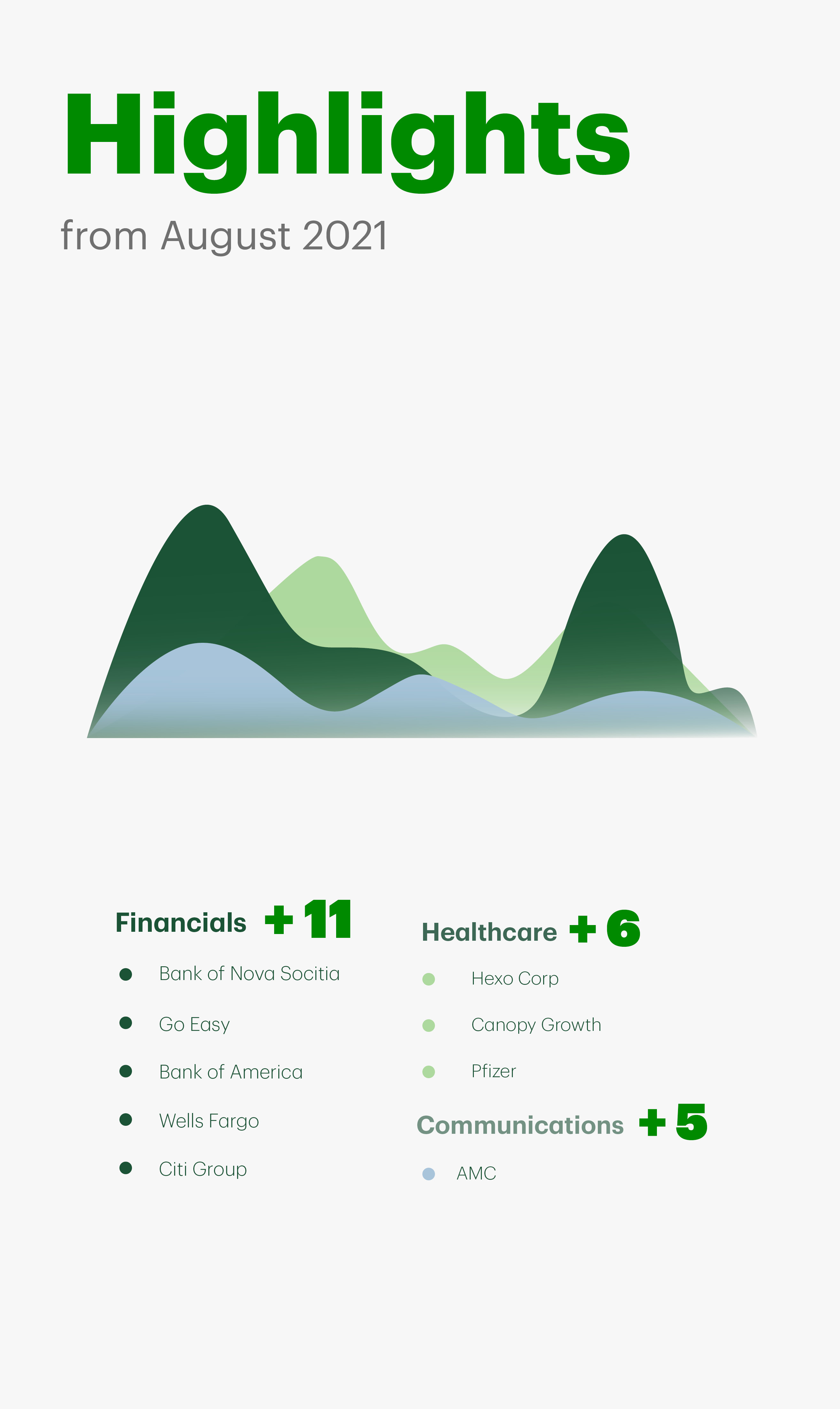 Healthcare (+6) was buoyed by a combination of cannabis and COVID-19 vaccination potential. In the cannabis space, HEXO (Hexo Corp.) and WEED (Canopy Growth) were popular stocks. Given that these two cannabis companies were down significantly in August, this could be an example of investors buying on the dip. With respect to traditional pharmaceuticals, PFE (Pfizer) was in demand coinciding with the expected need for vaccine booster shots to be rolled out in the U.S. We saw this played out in the activity of Gen Z and Millennial investors, who favored Healthcare stocks, and within the Active Trader group.
The final sector that exhibited positive sentiment in August was Communication, up +5 from July. All age groups contributed to this higher sentiment, with Boomers as the main drivers of the increase in sentiment. When we look at the most bought securities in Communications, the meme stock, AMC, was the most purchased among Gen X, Gen Y and Millennials. The fact that they bought heavily at 52-week highs, one of the DII proxies, caused a move up in sentiment.
Un-slumping yourself is not easily done
Materials (-17) weighed heavily on August's overall sentiment. Materials stocks were down, most notably lithium producer, LAC (Lithium Americas Corp); steel producer, X (United States Steel Corporation); and mining company, TECK.B (Evolve FANGMA Index ETF CAD Unhedged), which all saw a net sell in August. In fact, LAC was among the most sold stocks in the Active Trader group and dragged down the sentiment of that group. Geographically, Ontario was particularly affected by the pessimism in Materials, and was weighted down by stocks such as LAC, NOT (Noront Resources Ltd) and X. One sweet note amid the sour: ABX (Barrick Gold) was in the most bought category. With less fear in the market that the Federal Reserve will cause a repeat of the taper tantrum (which occurred post-Global Financial Crisis), the reduced threat of rising interest or inflation rates appeared to have been good for gold in August.
Although not as negative as Materials, Consumer Staples (-2) came in second only to Materials in August sentiment. The sector was mostly weighed down by food producers such as MFI (Maple Leaf Foods Inc) and TSN (Tyson Foods, Inc), and chained grocery stores such as WMT (Walmart), MRU (Metro) and L (Lowes), which may be related to people starting to get more comfortable dining out instead of eating at home. This also resonated with the lower sentiment in Ontario, which may be a result of the province being under tighter outdoor restrictions compared to other provinces.
Know when to fold them
Technology fell into the most sold category in August, despite being up +3.4% in the markets. This may reflect some profit-taking amongst some investors. Many stocks such as SHOP (Shopify), MSFT (Microsoft), and NVA (Nuvista Energy) were quite positive last month, as we saw a rotation back to growth stocks and away from cyclical value such as materials. Credit card stocks V (Visa) and MA (MasterCard) were also among the top net buys even with the price declining 7.0% and 10.3%, respectively last month.
…Or not
In an interesting twist, SU (Suncor), was on the most purchased list as well. Oil was volatile on the month given the negative growth news coming out of China and the risk that the Delta variant may slow growth. But with oil prices snapping back in the latter part of the month, investors seemed ready to jump in and ride the wave, possibly hoping that global growth fears would dissipate.
The August Doldrums
Meh. August was flatish and neutralish and, with a few exceptions, about as exciting as watching grass grow. Investors appeared to be cautious and the markets were waiting: what impact will the Delta variant have on future economic growth, particularly overseas? Current economic data has been slowing while overall corporate earnings have been better than expectations, but is that a trend? It appears that some investors, especially Boomers, were reluctant to take too much risk. Ontario was a drag with its low sentiment. Then again, market thrill-rides aren't to everyone's taste. So, if you do want some drama, we recommend you read a book.
For monthly updates about market sentiment among self-directed investors, visit the TD Direct Investing Index.