Whether it's easy access to social activities and nightlife, the close proximity to work, or the ability to walk to sports and cultural events, it's not hard to see why many young Canadians are attracted to urban living.
But thanks to the rising costs of home ownership in Canada's largest urban centres, a growing number of Millennials say they are willing to trade in their urban condos for the suburbs if it means realizing their goal of owning the home of their dreams.
According to a new survey from TD, roughly eight in 10 (81 per cent) Millennial respondents said they hope to own their own home, with nearly two-thirds of survey respondents (64 per cent) saying they would be willing to look beyond city limits in their search to buy a home they can afford that meets their current needs and future goals.
READ: The evolution of the homebuyer's journey
This marks a change from five years ago, when nearly four in 10 Canadian Millennials (38 per cent) at that time said their preference would be to live in the city, compared to the three in 10 respondents (30 per cent) who express that same sentiment today.
The survey also found that when it comes to buying a home, the top three factors that influence Millennials' homebuying decisions are affordability (78 per cent), home size (60 per cent), and neighbourhood (59 per cent). Specifically, when it comes to moving outside of the urban centre and into the suburbs, Millennials say affordability (64 per cent), increased outdoor spaces (63 per cent) and larger living spaces (62 per cent) are key factors in their decision to relocate.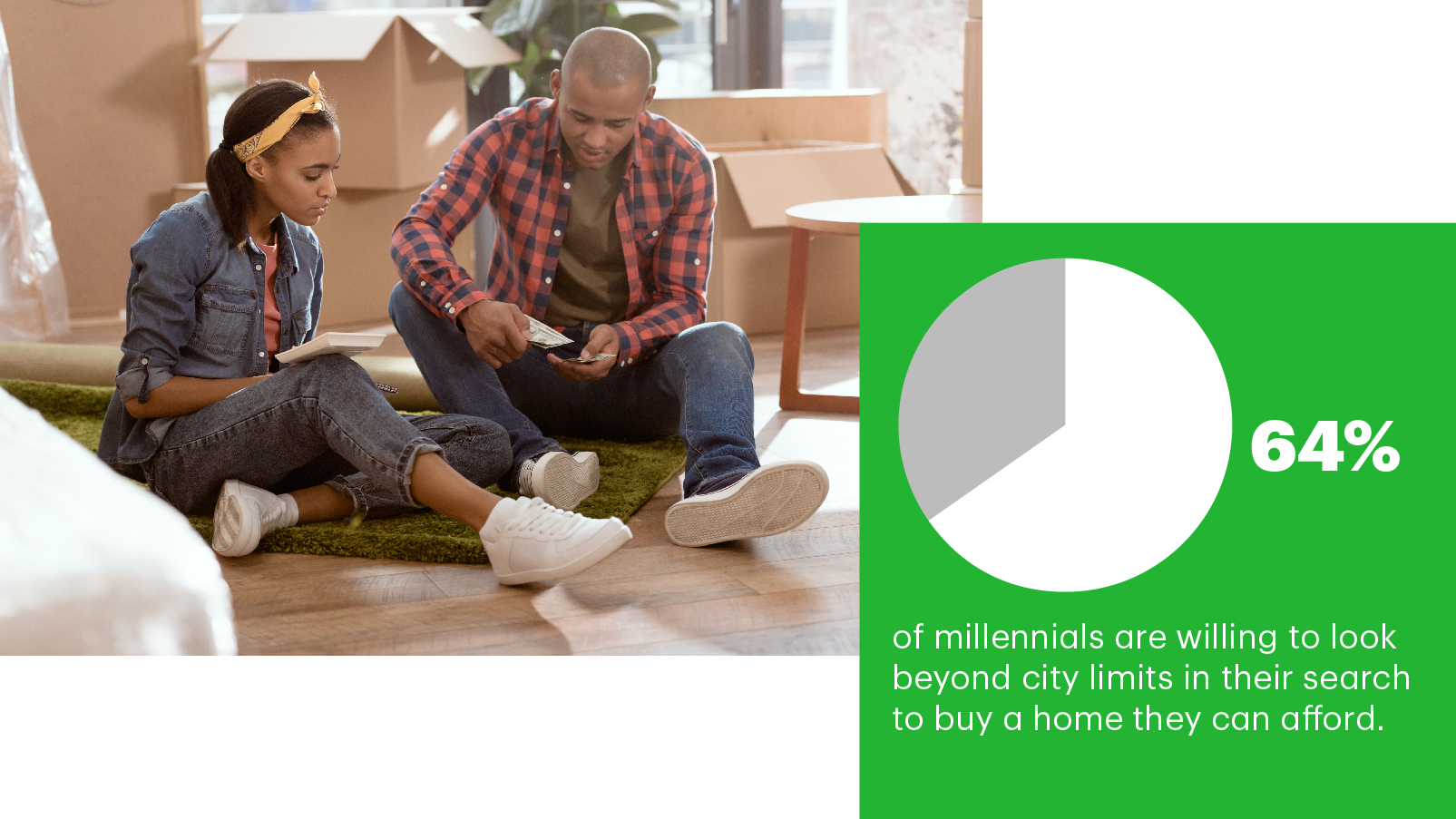 In comparison to other generations, Canadian Millennials also ranked the desire to live close to work as another important purchasing factor (45 per cent compared to 38 per cent of Gen Xers). In comparison to other drivers like neighborhood, property size and proximity to work, almost one in two Canadians (44 per cent) say the size of their mortgage payments is most important when it comes to homebuying decisions. However, mortgage payment is only one aspect of the overall cost of owning a home.
READ: Rethinking 3 pieces of traditional financial advice
With many Millennials well into their 30s and looking towards the next phase of their life, 71 per cent see the suburbs as a better place to raise a family than urban centres. A move to the suburbs also means more outdoor space, which meets the needs of the 81 per cent who dream not only of owning the home of their dreams, but of having a backyard as well.
Achieving these dreams comes with a few trade-offs that Millennials are more than ready to make. According to the survey, nearly 6 in 10 (58 per cent) say they will cut down on eating out, 56 per cent say they will shop less and 50 per cent say they will lessen their entertainment expenses in exchange for home ownership.
For more information on homeownership, visit TD Mortgages.