Restrictions for domestic travel are beginning to relax in many jurisdictions across Canada, and that has many Canadians thinking about getting onto a plane or planning a road trip in an effort to escape the mundane and explore their country when it's safe to do so.
But before you start wondering which neighbour you're going to ask to feed your cat and water your plants, it's important to ensure you're taking the necessary precautions for your trip. Those precautions could include travel insurance.
When you're planning your trip, it's important to note that in Canada your provincial health insurance plan will cover your hospital and medical expenses should you get sick within your home province. But if you're traveling outside your home province, and you experience a medical emergency, your provincial plan may not cover all your medical costs.
Travel insurance could help protect you from potentially expensive medical costs in the event of a medical emergency.
Increased domestic travel
According to an Expedia Group travel report entitled, 2020-2021 Traveler Sentiment & Influences, domestic travel searches in Canada (and worldwide) have largely outpaced international searches since April 2020.
While Canadians are accustomed to not having to worry about paying for their health care in the event of a medical emergency, the reality is that even within Canada's borders, provincial health coverage may not provide you with total protection and coverage of all medical costs if your vacation plans take you outside of your home province. This could put you at risk for a potentially hefty medical bill should you not have insurance and fall ill or have an accident.
"While many Canadians think about investing in travel insurance before heading out on international travel, the reality is that if you're crossing a provincial border, it's still a good idea to look into whether you may need travel insurance," said Rohit Thomas, Vice President, Life & Health at TD Insurance.
"In Canada, your provincial health insurance plan looks after your hospital and medical expenses and you rarely see a bill. Once you travel outside of your home province though, coverage under your provincial health insurance plan is limited."
While there is an inter-provincial agreement that outlines what is covered for Canadians travelling outside of their home provinces, there are some variations between regions.
For example, Quebec participates in this agreement for hospital fees only, so Quebec residents who are traveling out of their home province should check their provincial health insurance plan for limitations, Thomas said.
"Travelers also contact their provincial or territorial ministries of health to confirm what medical issues are covered when traveling outside of your province," Thomas said.
While agreements vary between provinces, some common fees that may not be covered include things like ambulance or air ambulance transport, a commercial repatriation flight home, physician and laboratory costs, prescription drugs, and more.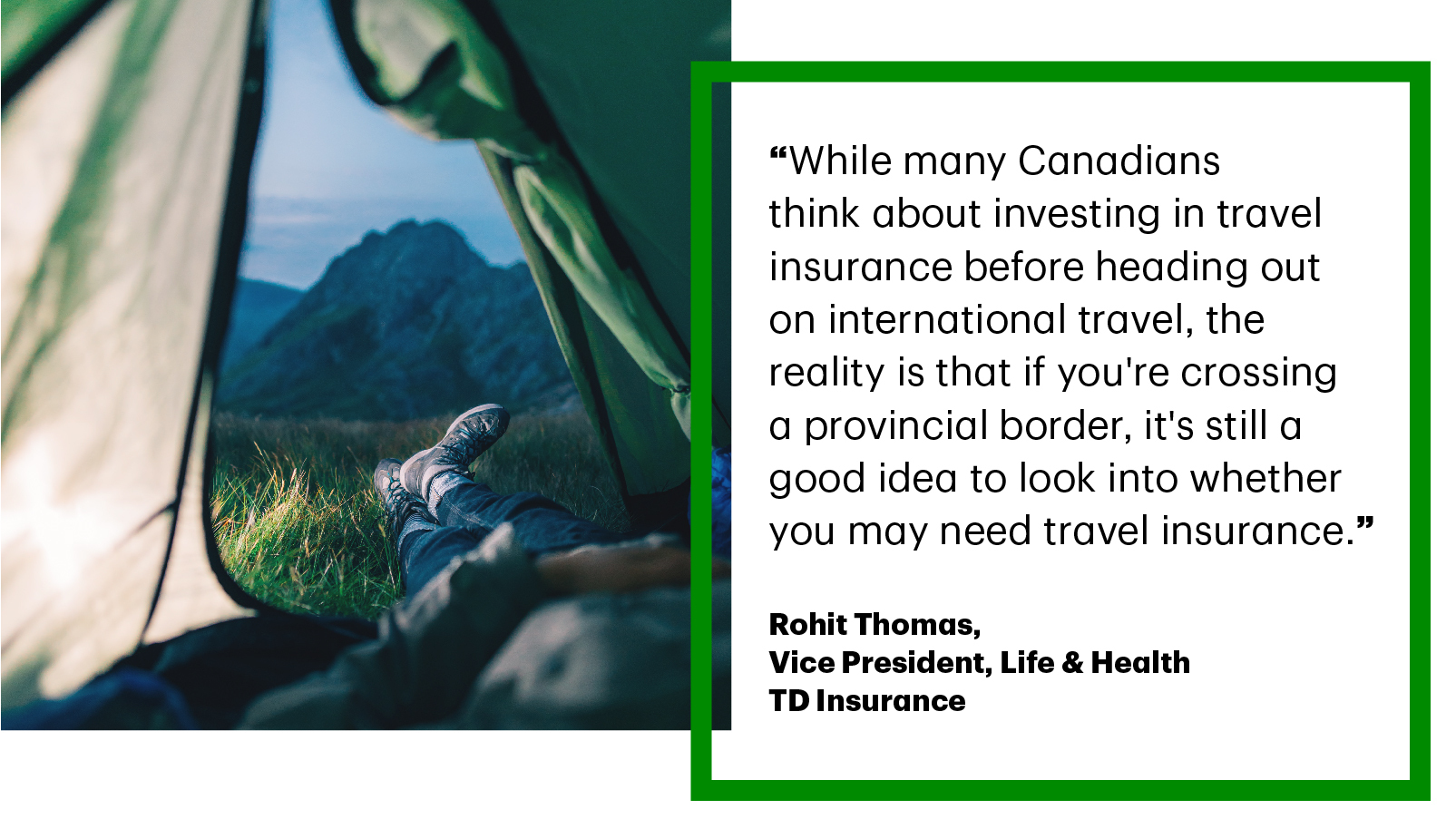 Unforeseen medical costs
Purchasing a private travel health insurance product (such as those offered by TD) can sometimes help with additional expenses should you need medical attention outside of your home province, as was the case with a woman from Alberta who made headlines across the country in 2015 when she went into labour early in another province, was airlifted to a hospital, and soon found herself stuck with a $30,000 bill.
"There are unfortunately too many cases where Canadians are hit with an unforeseen medical expense outside of their home province," said Thomas.
Because there are no advisories issued against domestic travel due to COVID-19 by the government of Canada, COVID-related illnesses are eligible for coverage while outside of your province but also subject to any limitations and exclusions of the respective provincial policies, Thomas said.
Thomas emphasizes, however, that while a private travel health insurance product can assist with gaps in coverage, it's important to ensure you are fully informed about the parameters of your policies—especially regarding COVID-19 coverage.
"There's no reason that with a little planning you can't start making plans again and enjoy a vacation closer to home or can't explore some of the gems we as Canadians may have overlooked in the past when it's safe to do so," said Thomas, adding that there are several types of travel insurance plans and that travelers are advised to speak to a licensed travel advisor to find coverage that suits their needs best.
"Travel insurance is just one more thing we need to account for now as we get back to planning our domestic adventures all over this beautiful land."