Click above to view a video tour of the branch
A few blocks away from the longstanding TD branch that sits at the corner of Avenue Bernard and Rue Hutchison in Montreal lies Outremont Park, a lush island of greenspace nestled in an urban neighbourhood surrounded by Victorian style homes just steps from the Universite de Montreal.

Inside the park, old trees tower over winding paths and a children's playground, but the most striking feature is an old fountain rising up from the waters of an expansive pond.
For several generations, the park and the fountain at its centre have provided an urban oasis near the juncture of two communities – Outremont, which is home to a traditionally French speaking population and also a large Hasidic-Orthodox Jewish community, and Plateau Mont Royal, a hip creative community made up of a mix of French, English and Greek speaking residents.
So, when it came time to redesign the interior of Branch # 4240 at the corner of Bernard and Hutchison as part of a larger overhaul of the branch, it's no surprise the fountain from Outremont Park figured heavily in the design and the artwork that adorns the walls of the branch.
"When planning and re-imagining the new design for our branch, it was imperative that we think about the long and rich history TD has in Montreal and what we could do to re-design the branch to better reflect the people and places who make this community so vibrant and unique," explained Louis De Cubellis, Branch Manager, Bernard and Hutchinson Branch.
What is happening at De Cubellis' branch in Montreal goes far beyond the artwork and interior design and is just one example of a larger plan to update, expand, and rethink a number of TD branches across Canada.
While the COVID-19 pandemic has led many TD customers to increasingly adopt digital tools for managing their finances and interacting with advisors, for many, there's no substitute for visiting their local branch in person, and receiving personalized advice in a face-to-face setting where they feel comfortable.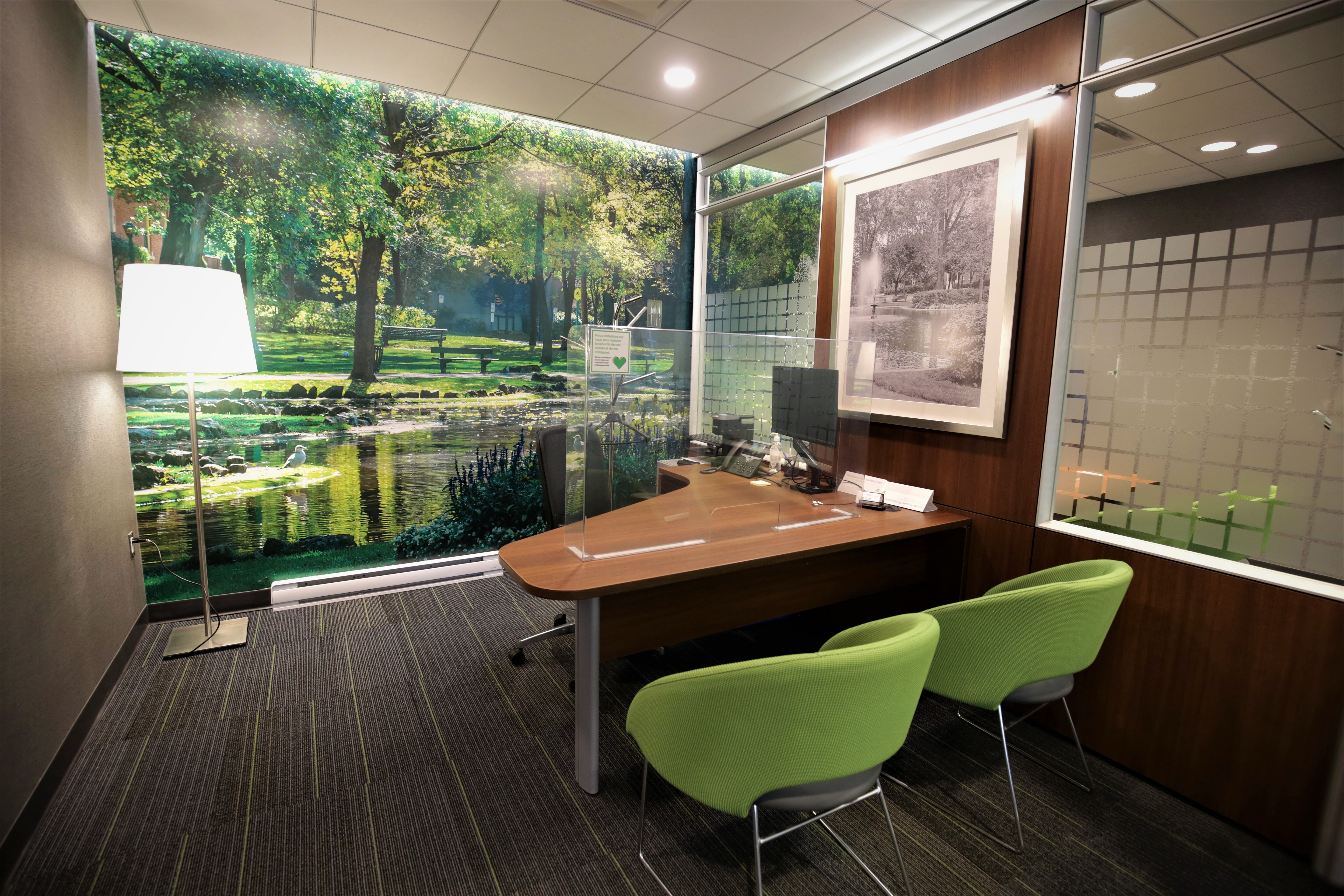 As a result, at dozens of locations across Canada, TD is renovating and refreshing its branches and overhauling the spaces to redefine the banking experience. This includes creating new spaces where customers can meet with TD advisors, making the branches more welcoming through the adoption of new accessibility standards, and other considerations to help respond to the needs of the communities each branch serves.

"We are focused on delivering personalized advice to our customers and committed to helping them feel confident about their financial futures," said Kerry Peacock, Executive Vice President, Branch Banking and Distribution Strategy.
"Over the past eighteen months we've seen that although customers transact with us in multiple ways, like online or mobile banking, they really value receiving their financial advice face-to-face. That's one of the reasons branches are so important – they offer a safe, trusted place to help customers make important decisions about their financial futures."
Starting from square one
At the Bernard and Hutchison branch, these renovations transformed a tiny, dark, more than 70-year-old branch, into a bright and welcoming location.
As De Cubellis puts it, it was a "complete gut job."
First, the branch was expanded, with TD moving into the second floor and completely redesigning the main floor and basement spaces. The expanded space on the second floor created flexible meeting spaces for customer advice conversations, while the basement allowed streamlined space for storage and physically distanced employee breaks.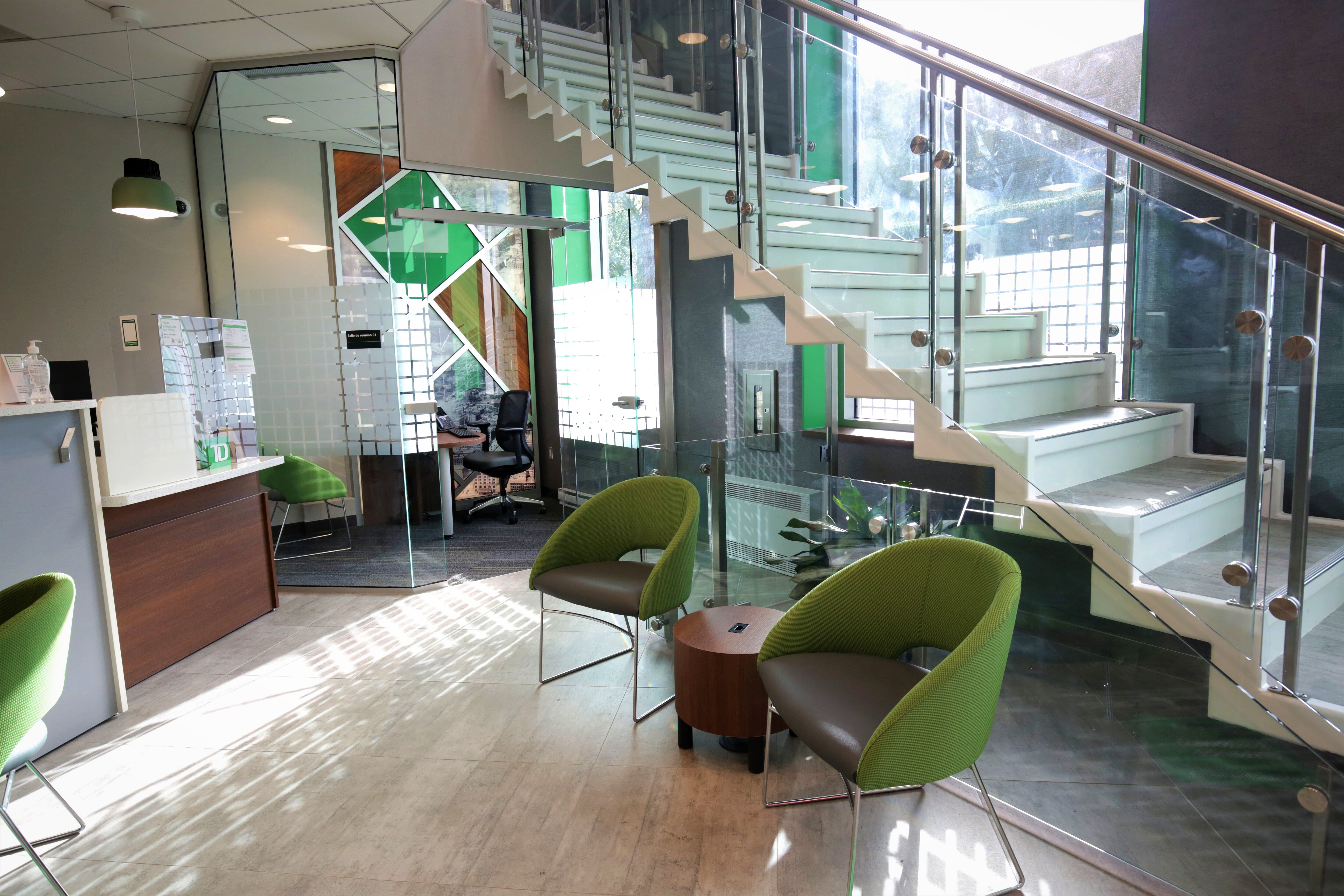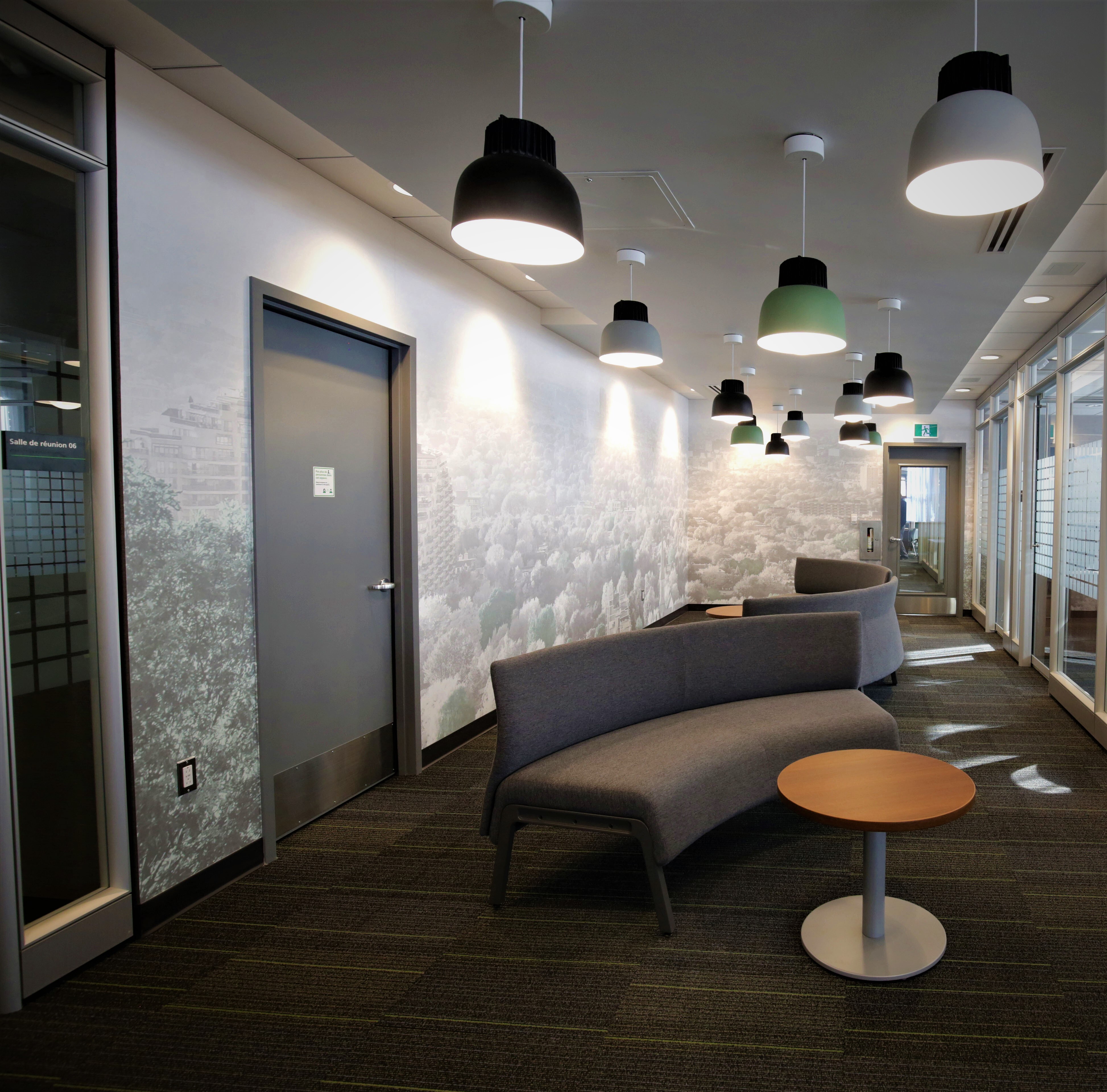 To help implement shorter wait times for customers, offices are not assigned to individual advisors, but instead can be used by any advisor to have customer conversations. The cash services on the main floor now take place in a brighter, more modern area, where each teller counter's height is adjustable to easily accommodate customers of all heights, sitting or standing. To help improve service after hours, the number of ATMs was also increased.

"Branches like Bernard & Hutchison are cornerstones of their communities, and now we are able to offer expanded, accessible and comfortable spaces for our customers to meet with us," Peacock said.
"It means a lot to us to serve our customers in a beautiful space that really reflects the history of the community."
Ensuring customers see themselves in their branch
To honour the history of the neighbourhood, TD worked with designers who used historic and present-day images of community landmarks – including the Outremont Park fountain – to decorate the branch. The fountain itself is featured in a full-scale image on the back wall of two separate flexible spaces, while a vintage image of the same fountain is displayed as framed art in another area of the branch.
"When customers walk into the branch, we want them to truly see themselves in the design of the branch," De Cubellis said.
"So far, putting this vision into action has been both successful and rewarding. Customers are thrilled to be here and are excited about everything from more space for in-branch interactions and appointments, to the small details that make them feel at home in the branch."