Financial fraud affects thousands of Canadians every year, and scammers are constantly adapting and evolving their devious tactics to the digital world.
Whether you're targeted via phone, email, text message or online, education and awareness are two key steps you can take to better protect yourself and your loved ones from financial scams.
According to a new survey released by TD to mark Fraud Prevention Month, nearly four in 10 respondents (37%) said they were targeted by fraudsters in the last year, with most fraud attempts happening over the phone (64%), followed by emails and text messages (58%).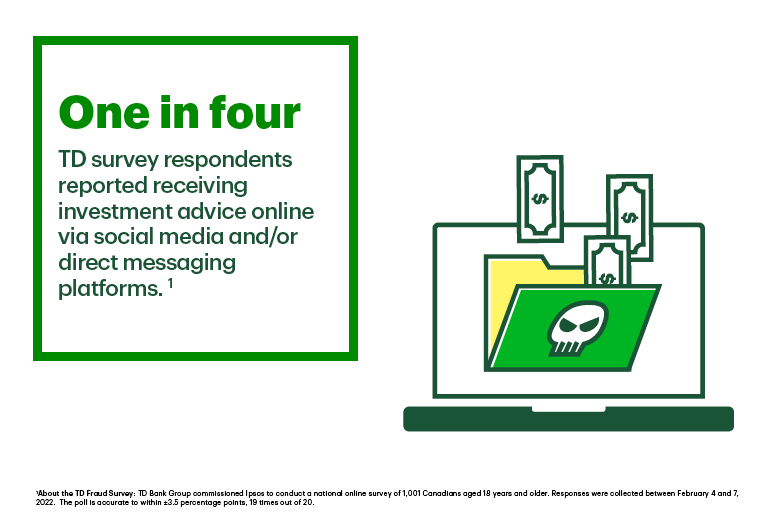 Over the past two years, many Canadians have started investing online for the first time, and many have started to turn to online sources of information when making investment decisions. Indeed, one in four survey respondents (26%) reported receiving investment advice online from people they don't personally know, including via social media and/or direct messaging platforms.
"Fraud can happen to anyone no matter how smart, educated, informed and tech savvy they think they are," said Sophia Leung, Head of Protect Platform at TD, which oversees fraud strategy and cyber-threat management. "Fraudsters are experts at exploiting an important part of what makes us human: trust."
Unfortunately, according to Leung, social media and direct messaging platforms are being used by fraudsters to target people with investment scams, where victims are sometimes tricked into giving large sums of money toward fake investments, lured by the promises of get-rich-quick schemes or by illegitimate offers to help invest the victim's money.
Investment scams are costing Canadians
While only 13% of survey respondents said they trust online investment advice, the reality is that when Canadians do fall victim to investment scams, they lose big. According to the Canadian Anti-Fraud Centre, Canadians lost a reported $163.9 million to investment scams in 2021. That's up from $16.5 million in 2020 – an increase of 893%.
Although investment scams were reported less frequently than other types of fraud, investment scams account for the largest dollar amount lost by Canadians to fraud in the last year, according to the Canadian Anti-Fraud Centre.
Leung recommends approaching unsolicited online investment opportunities with suspicion, especially if you're feeling pressured.
"In general, you want to be cautious about investment opportunities that offer high returns in a short period of time," said Leung.
"Fraudsters will also try to apply high-pressure tactics to make you act in a hurry to exploit the human 'fear of missing out.' A good way to look at investment opportunities is that if it sounds too good to be true, it probably is."
In general, people should exercise caution when approached by anyone they don't know via phone, email, text messages and online, Leung said. If you do receive an email or text message, don't open links from email addresses and phone numbers you don't recognize.
Because personal information posted online can be used by fraudsters to gain victims' trust, it's also advised to keep your personal details, such as location, phone number, address, email address and familial connections, among others, hidden from public view as much as possible, she said.
"You want to think critically about what you're posting on the internet," Leung said.
"Conduct an audit on your social media profiles and overall digital footprint to determine how much information you're making publicly available and whether it's necessary."
How to talk to friends and family about fraud risk and prevention
Despite the Canadian Anti-Fraud Centre reporting an increase in investment scams and fraud risk in Canada, 51% of TD survey respondents said discussions around fraud risks and fraud prevention don't come up in conversations with people they know, including friends and family.
Leung says simply talking about fraud can help to reduce risk in your social circles. For example, by coming forward and talking about your own experience, or by educating loved ones about the most common types of scams, such as the "Grandparent Scam" that attempts to coerce grandparents into sending money to a "grandchild" in distress, discussed in this article from TD Stories.
"It's important to be aware of the latest fraud trends and tips that can help you protect yourself," she said.
"Also, be sure to initiate discussions about fraud risk, prevention and protection with your friends and family. By regularly sharing and discussing more openly about our experiences of receiving fraudulent calls or messages, we can help people to be more aware of the scams that are out there, especially when the conversations happen with people we trust."
How you can help protect yourself from fraud
Along with being critical about unsolicited online investment advice and talking to your friends and family about fraud risk and prevention, Leung has the following general tips to help protect yourself from fraud:
Verify if a request is legitimate. If you receive a phone call claiming to be from a government agency/financial institution requesting confidential information, asking for your participation in an investigation, or explicitly asking you to lie to your friends, family or others, it is likely fraud. When in doubt, hang-up and dial the number on the back of your debit/credit card or visit the organization's website to verify the information. Check out this story for a full list of things a bank would never ask of you.
Practise skepticism. Approach unsolicited advice with suspicion and take your time to research sources, including checking business and professional license registration, before making a financial decision, especially if you are feeling pressure to do so in a hurry. Be sure not to open links from email addresses and phone numbers you do not recognize.
Have conversations with family and friends. If you receive fraudulent phone calls or messages, talk about it. Help protect others by sharing your experiences of encountering fraud to educate and raise awareness. Read the TD articles on how to protect yourself from fraud and scams found here.
Pay attention to fraud alerts. By using free services like TD Fraud Alerts, you can receive text or email messages to notify you of suspicious activity on your personal banking accounts.
Lock or block your credit card when required. Manage your TD card by using the TD app to lock a misplaced TD credit card or block international in-person purchases when you're not travelling outside of Canada. To learn more about the features of your TD card, click here.
Protect your PIN and passwords. You are the only person who should know your passwords and PIN – not even your family members should know these. TD would never ask you for this information. Don't give out personal confidential information, whether in person, over the phone or online.
Check your statements, online accounts and banking apps regularly. Making these regular checks could help make you aware sooner of any fraudulent transactions than if you don't check regularly. Money management apps, like the TD MySpend app, can be helpful tools by providing notifications of spending transactions in real-time, also helping to bring potentially fraudulent transactions to your attention. .
---
About the TD Fraud Survey
TD Bank Group commissioned Ipsos to conduct a national online survey of 1,001 Canadians aged 18 years and older. Responses were collected between February 4 and 7, 2022. The poll is accurate to within ±3.5 percentage points, 19 times out of 20.