It was a rare silver lining during the COVID-19 pandemic: With in-person programs moved online, Wellspring found it was reaching more people than ever.
The Canadian charity – which offers free support programs and services to people with cancer and their families – was seeing increased demand from individuals who previously couldn't access its programs due to barriers such as severe illness, disability, family commitments and remote locations.
But to support the organization's programming as it grows and evolves, Wellspring needed to undertake a major transformation to its existing website. As a 30-year sponsor of Wellspring, TD saw an opportunity to help.
In June of 2022, the Bank announced it was committing $600,000 over three years to help with the next phase of Wellspring's growth.
As part of its corporate citizenship platform, the TD Ready Commitment, the Bank is committed to building on its history with Wellspring by supporting innovative research, solutions and technology that help to create more equitable health outcomes for all. Since the launch of the TD Ready Commitment in 2018, TD has donated more than $29-million to initiatives related to Better Health, one of the four areas of the TD Ready Commitment targeted for community giving.
What's more, TD also committed to helping Wellspring with the expertise of the Bank's digital and research teams, to help create the "Virtual Centre for Cancer Support brought to you by TD" platform.
"The opportunity we had with Wellspring, to donate not only our funding but also our expertise, meant so much to my team," said Rizwan Khalfan, Chief Digital and Payments Officer, TD Bank Group.
"We're not doctors or cancer researchers, but we were able to use our unique skillset – industry-leading digital design practices – to help Wellspring make a meaningful difference in the lives of people with cancer."
Designed to assist upwards of 10,000 individuals and families dealing with cancer each year, the Virtual Centre will house Wellspring's online programming, including webinars, self-paced videos and web-based resources.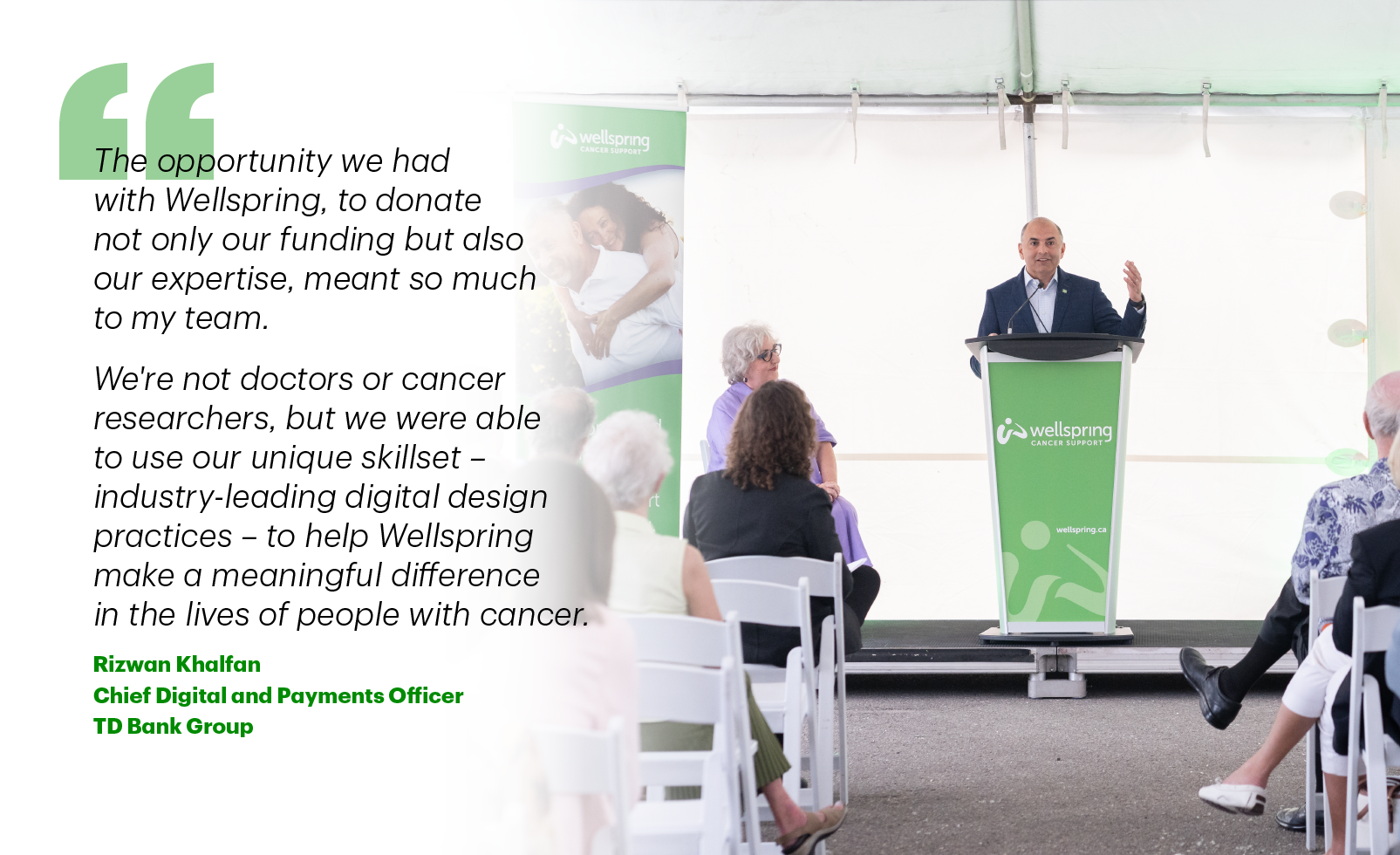 Just the tip of the iceberg
When users visit a website, the polished final product they see is just the tip of the iceberg – redesigning a website starts with the work of people like Uddipana Baishya, Senior Design Researcher at TD.
"One of the many types of research studies that we conduct at TD are exploratory studies, which aim to understand users' needs and mental models in order to help design teams create designs that are aligned with users," said Baishya, who led the initial design research phase for the new virtual platform on behalf of Wellspring.
Baishya's work focused on information architecture, which is the blueprint for how information on a website is organized and categorized in a way that makes sense for users.
"It should be aesthetically pleasing as well as have really good usability. It's not enough for things to look good – users need to be able to find what they're looking for and get what they need," said Baishya.
As part of her research, Baishya identified three main user groups – cancer patients, family members and caregivers, and volunteers – who are each likely to navigate the website differently based on their needs. The study focused on cancer patients, who make up the majority of Wellspring clients.
Focus on the individual, not the illness
While Canada is fortunate to have multiple world-class cancer treatment and research facilities, what tends to get missed is the often overwhelming emotional, physical, practical and financial challenges people face following diagnosis. That's where Wellspring steps in.
"When you get a cancer diagnosis, it can feel sometimes like you become just your illness," said Christina Smith, Chief Executive Officer, Wellspring Cancer Support Foundation. "The hallmark of Wellspring is its focus on the individual, not the illness, and that all who reach out to Wellspring are cared for in a safe community of compassion, expertise, respect, and comfort."
Through one-to-one peer support, group support activities, learned coping skills, rehabilitation programs and much more, Wellspring has helped thousands of people take an active role in controlling their cancer experience to improve their quality of life.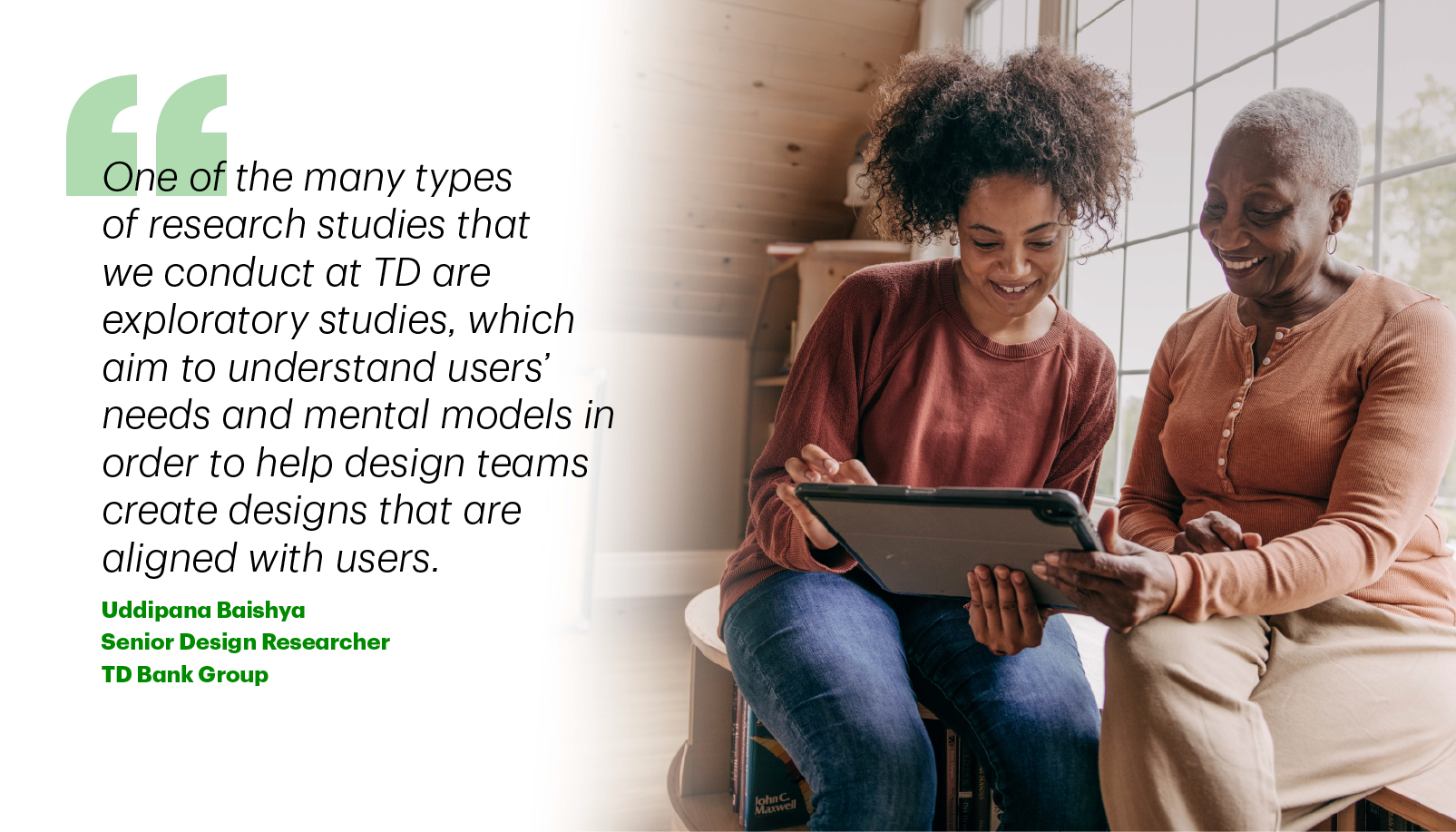 No wrong answers
One of the methods Baishya used to understand how Wellspring's users think and how they categorize the information they need was open card sorting, where testers are given a set of cards (in this case, digitally) and are asked to sort the cards into groups that make sense to them.
There are no wrong answers – it's just a way to study how target users group website content and label each group. For example, users might group together cards that say, "Email notification preferences," "Membership account information" and "Programs I registered for" and label that grouping as "My account."
Baishya ran an open card sorting test on 45 participants and analyzed the data to determine how frequently certain cards were grouped together, and how users labelled those groups.
"This means that the labels used for the website's navigation are based on the terms used by the users themselves, which in turn means they are better able find what they're looking for on the website," said Baishya.
With Baishya's research report and recommendations now in the hands of the Wellspring team for the next phase of designing the platform, the Virtual Centre will launch sometime next year.
With a collaborative feedback process between TD and Wellspring to design a product that helps people with cancer and their families, the project also marked a professional accomplishment for Baishya.
"One of my objectives is to work on projects that lead to social good and being able to contribute to the community. This was my first project after I joined TD, and it was a very special experience for me."
Visit Wellspring for information, resources and support for people living with cancer, their families and caregivers.