On January 25, the Bank of Canada announced it would be raising its overnight lending rate by 0.25% to 4.50%. With this latest announcement, TD Economics looks at the impact of higher interest rates on inflation and mortgages and the forecast for the year ahead.
Rising inflation, interest rate hikes and whispers of an impending recession were hot topics in 2022, and some of those themes appear set to continue in 2023.
After sitting at a record low 0.25% for two years, the Bank of Canada started raising its overnight lending rate in March 2022 in an effort to combat inflation that was narrowing in on 40-year highs.
The Bank of Canada continued with aggressive rate increases throughout 2022 – including a 100-basis point, or 1 percentage point increase in July – and this week's increase represents the eighth time the Bank has raised rates since March of last year. As of January 25, 2023, the overnight rate now sits at 4.5%.
The central bank's interest rate policy has an impact on the rate at which all Canadian banks will lend money to businesses and individuals. For TD, this means that the rate increase can affect the TD Mortgage Prime Rate, which is the variable annual interest rate used as a reference by TD to determine the interest rate charged on its variable-rate mortgages, as well as the TD Prime Rate, which is used to determine the interest rate of various other types of TD loans.
So, what could this mean for mortgage rates and household finances, and what could be next for 2023? TD Economics is here with their forecast.
Will interest rates go up in Canada?
According to TD Economics, it's very likely that interest rates have now peaked. After eight rate hikes over the course of eight scheduled announcements between March 2022 and January 2023, TD Economics forecast in a recent report that the overnight rate will peak at 4.50%, and that the Jan. 25 announcement will be the final rate hike in the current cycle.
Will this affect mortgage rates?
When the Bank of Canada raises or lowers the overnight rate, it can affect the interest rates that financial institutions offer their customers on certain products. If you have a TD variable rate mortgage, your interest rate may fluctuate during your term if the Bank of Canada changes the overnight rate, which in turn may result in a change to the TD Mortgage Prime Rate.
If you have a fixed rate mortgage, you're protected from any changes to your interest rate until your mortgage term is up.
But if your mortgage is up for renewal this year – whether you currently have a fixed or variable rate mortgage – your interest rate (and mortgage payments) may be higher when it's time to renew.
For more information to help you understand the impact of interest rate changes on your mortgage, please read this TD Stories article, What can rising interest rates mean for homeowners?
For more on what you need to know if it's time to renew your mortgage, check out this TD Stories article entitled (Almost) everything you need to know about renewing a mortgage.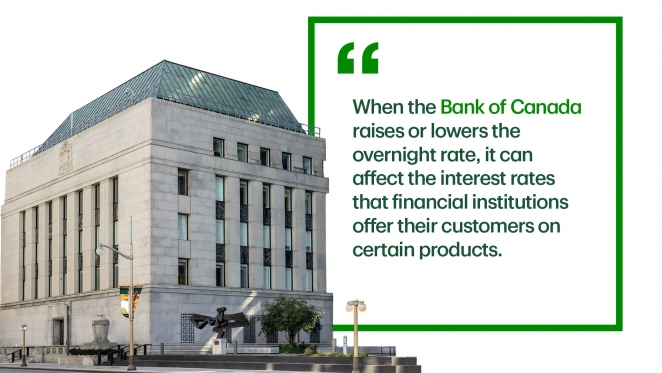 When will interest rates go down in Canada?
This is one of the big questions on the minds of many Canadian homeowners. While this week's Bank of Canada announcement may represent the end of the current monetary policy tightening cycle, don't expect rates to immediately start going down again.
Beata Caranci, Chief Economist at TD, says the debt service ratio of Canadians – the proportion of income an individual or household dedicates to paying interest on its debts – is going to be at an historic high in 2023, which is going to limit the amount of money they have to spend.
"Every quarter that rolls in, more and more people will be renewing their mortgages at this higher rate level and eating up their disposable income, which means you're not going to be able to spend in other areas," Caranci said in a recent interview with MoneyTalk.
Caranci said she expects that the need for Canadians to tighten their belts will lead to a decline in consumer spending in the second half of 2023. This weakness in the economy is expected to lead the Bank of Canada to begin lowering interest rates towards the end of the year, she said.
In its December 2022 long-term forecast, TD Economics forecast that the Bank of Canada will start reducing its overnight rate beginning at the end of 2023, with the rate reaching 2% by 2025.
What could this mean for household finances?
"Even as the Bank of Canada approaches the end of its rate hiking cycle, the impact of higher rates on household finances is only just beginning," TD Economics forecast in a December 2022 report on rising debt service costs.
Though the long-term forecast says inflation has likely peaked, TD Economics says "high inflation and rising interest rates will increasingly take their toll on spending and hiring in 2023 and through 2024."
So far, the labour market has been very resilient, according to TD Economics. 2022 ended on a strong note with 104,000 jobs added to the economy in December, according to Statistics Canada. But it's impossible to cool down wage and inflationary pressures without the labour market cooling as well, so TD Economics expects the unemployment rate to rise over the coming months as slower economic growth weighs on companies and likely causes job cuts.
TD Economics' current unemployment rate outlook in its December 2022 long-term forecast has the unemployment rate rising about 1.5 percentage points to a peak of 6.5%, which corresponds to about 100,000 job losses.
The next Bank of Canada interest rate announcement is scheduled for March 8, 2023.
---