Like so many Canadians, when Katy Boshart walked out of her office on March 12, 2020, she didn't realize just how much her world was about to change.
In the days that followed, the COVID-19 pandemic came into sharp focus as governments around the world closed their borders and began locking down their economies. International travel ground to a halt and left many Canadians with cancelled plans and wondering when they might travel again.
For Boshart and her team, who had spent more than a year preparing for the launch of a refreshed suite of TD Aeroplan Visa Credit Cards scheduled to launch that Spring, it began to sink in that they would be unveiling a travel credit card during an unprecedented time for Canadians and the travel industry.
"Naturally those early days in March were full of questions and concerns around travel and the longer-term implications for our Aeroplan business," said Boshart, who is the head of TD's Canadian Credit Card business.
"But that quickly turned to concern for our team's health and safety, especially once we understood the seriousness of the virus. Most of our colleagues were soon transitioned to working from home and we had to effectively re-establish our teams in a remote environment. Several months in, COVID-19 continues to impact all of us in different ways, including our ability to travel, but we knew it was our job to continue looking ahead, making strategic decisions that would benefit our customers and our business over the long run."
Launching a travel card when most people aren't traveling
"While some travel restrictions have been lifted, the reality remains that fewer Canadians are travelling right now," Boshart said.
"Instead, most are looking forward to a time when the virus has abated, travel restrictions are eased, and they can begin to visit loved ones, their favourite international locales or explore new places."
While Canadians may not be doing as much international travelling as usual right now, the newly announced TD Aeroplan Visa Cards allow cardholders to accumulate rewards that they can use to plan and pay for their next adventure, Boshart said.
"A lot of thought and consideration has gone into this launch, including the timing," she said.
"As the environment continues to evolve, Canadians should definitely be taking their travel cues from the Government of Canada. That said, we're looking forward to the return of more regular travel, and until then we're excited to offer customers the chance to earn now for future trips."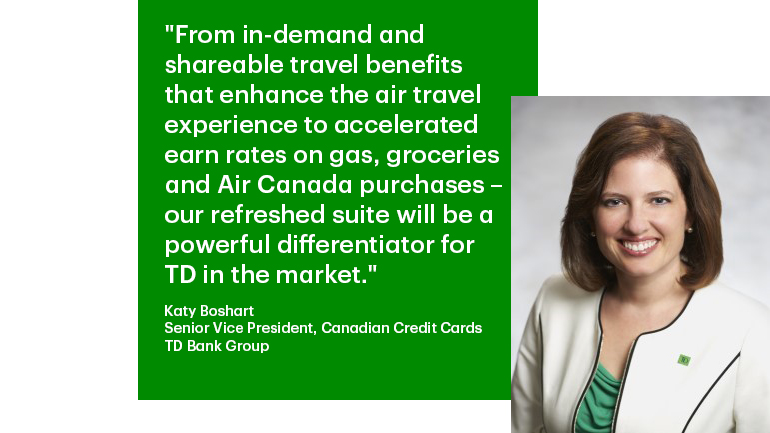 The beginning of a new chapter for TD Aeroplan Visa Cards
TD became the primary card issuer for Air Canada's loyalty program in late 2018. Boshart said the agreement was a great way to bring long-term stability, continuity and value for TD Aeroplan customers.
"This announcement of our refreshed suite of TD Aeroplan cards is a great example of this coming to life," she said.
Launching in November 2020, TD Aeroplan Credit Cards will offer an expanded roster of benefits including accelerated earning power on everyday purchases and revamped air travel experiences.
"We know it's a challenging time for Canadians to be thinking about travel, but our focus is on the future - and delivering incredible new benefits to our customers through the relaunch of our TD Aeroplan cards," Boshart said.
"From in-demand and shareable travel benefits that enhance the air travel experience to accelerated earn rates on gas, groceries and Air Canada purchases – our refreshed suite will be a powerful differentiator for TD in the market."
Boshart said the new suite of cards is designed to emphasize shared experiences.
"I am a TD Aeroplan Visa Infinite cardholder and I'm looking forward to taking advantage of perks like free checked bags for me and all of my travelling companions, which is an awesome savings for my family of six who rarely packs light," she said.
Perhaps most importantly for many Aeroplan members, Aeroplan points will not expire for cardholders with a TD Aeroplan Credit card, enabling customers to accumulate rewards on their day-to-day spending and redeem them at their convenience.
"Cardholders can start earning more right away on everyday things and then redeem those points later, once they're feeling comfortable to travel," Boshart said.
"I know that with the way my family eats, my grocery bills alone are going to help us earn our next vacation in no time. And I also get the peace of mind of waiting to book that trip for when it's safe to do so."
Other benefits available to TD Aeroplan Visa Infinite Privilege cardholders include free first checked bag, priority check-in and boarding, priority baggage handling, priority airport standby and upgrades, along with complimentary Air Canada Maple Leaf Lounge Access to select Maple Leaf Lounges across North America.
Looking ahead …
The refreshed suite of TD Aeroplan Credit Cards is set to launch on November 8, 2020.
For more information on the refreshed suite of TD Aeroplan Credit Cards and to learn which one might be right for you and your family, please visit www.td.com/aeroplan.
Want to learn more about credit cards?