When Al Ramsay was hired as one of TD's first full-time employees dedicated to bettering diversity and inclusion efforts back in 2005, he was given a clear but monumental task: designing a strategy to better connect the bank with the needs of underrepresented members of the LGBTQ2+ and Black communities across Canada.
Ramsay was aware that many financial institutions could be doing more to build authentic connections with these communities and saw how Black leaders were working to support these communities with little or no assistance from corporations, so he started knocking on the doors of businesses and leaders asking how the bank could better serve them.
While he didn't know it then, collecting this feedback was just the beginning of both a personal journey, and the foundation of important work at TD that would span over two decades.
Today, that work has resulted in the launch of a new initiative – the Black Customer Experience Strategy – which the bank launched this year with Ramsay at the helm to strengthen the financial services and support provided by TD to Black communities.
"We are now in a place where we are able to accelerate and expand on the Diversity and Inclusion initiatives that we have been building over the last twenty years to provide improved support for individuals in Canada's Black communities," said Al Ramsay, Associate Vice President for the LGBTQ2+ and Black Customer Segments at TD. "Our strategy is defined by the belief that we must take the initiative to better our financial services by recognizing gaps in service and addressing them ourselves through proactive outreach community-by-community."
While the bank has a long-standing commitment to helping increase the financial health of its customers, said Ramsay, the global unrest that followed several events in 2020, including the murder of George Floyd and death of Regis Korchinski-Paquet, forced long overdue conversations about racism, unconscious bias and inequities into the open and helped to accelerate Diversity and Inclusion initiatives at TD. This also prompted the bank to have more frank and transparent conversations about anti-Black racism, and to commit to increasing the representation of Black executives by 2022.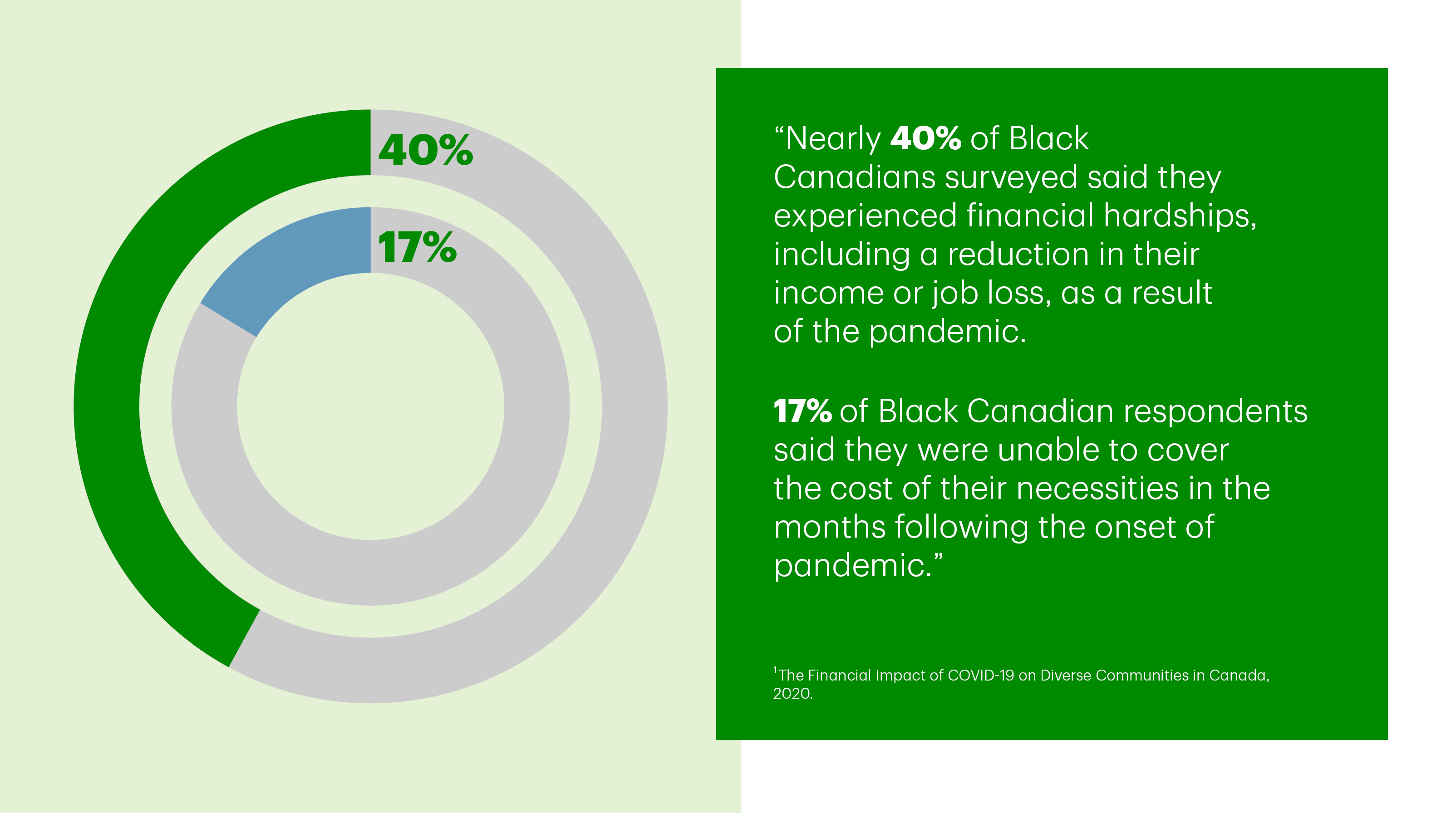 A research-based approach
Ramsay said creating an expanded strategy of greater financial support and inclusion for Black Canadians had to start with a research-based approach. Since 2011, the bank has been conducting research into understanding the needs of Canadian Black communities, and the insights this data revealed has helped to formulate the new customer-focused strategy.
In a 2020 study[1] by TD which aimed to understand some of the financial impacts of COVID-19 on diverse communities (including people with disabilities, visible minorities, newcomers to Canada, those from LGBTQ2+, and people from Indigenous communities), nearly 40% of Black Canadians surveyed said they experienced financial hardships, including a reduction in their income or job loss as a result of the pandemic, compared to just over one-third of the general population. Furthermore, as many as 17% of Black Canadian respondents said they were unable to cover the cost of their necessities in the months following the onset of pandemic.
As part of the new strategy and these insights, the bank's Diverse Business segment teams are being expanded with a focus on creating better relationships with Black communities and businesses in which Black TD leaders, managers, and financial advisors across Canada are being trained to provide elevated financial advice and a tailored customer experience for customers from Black communities.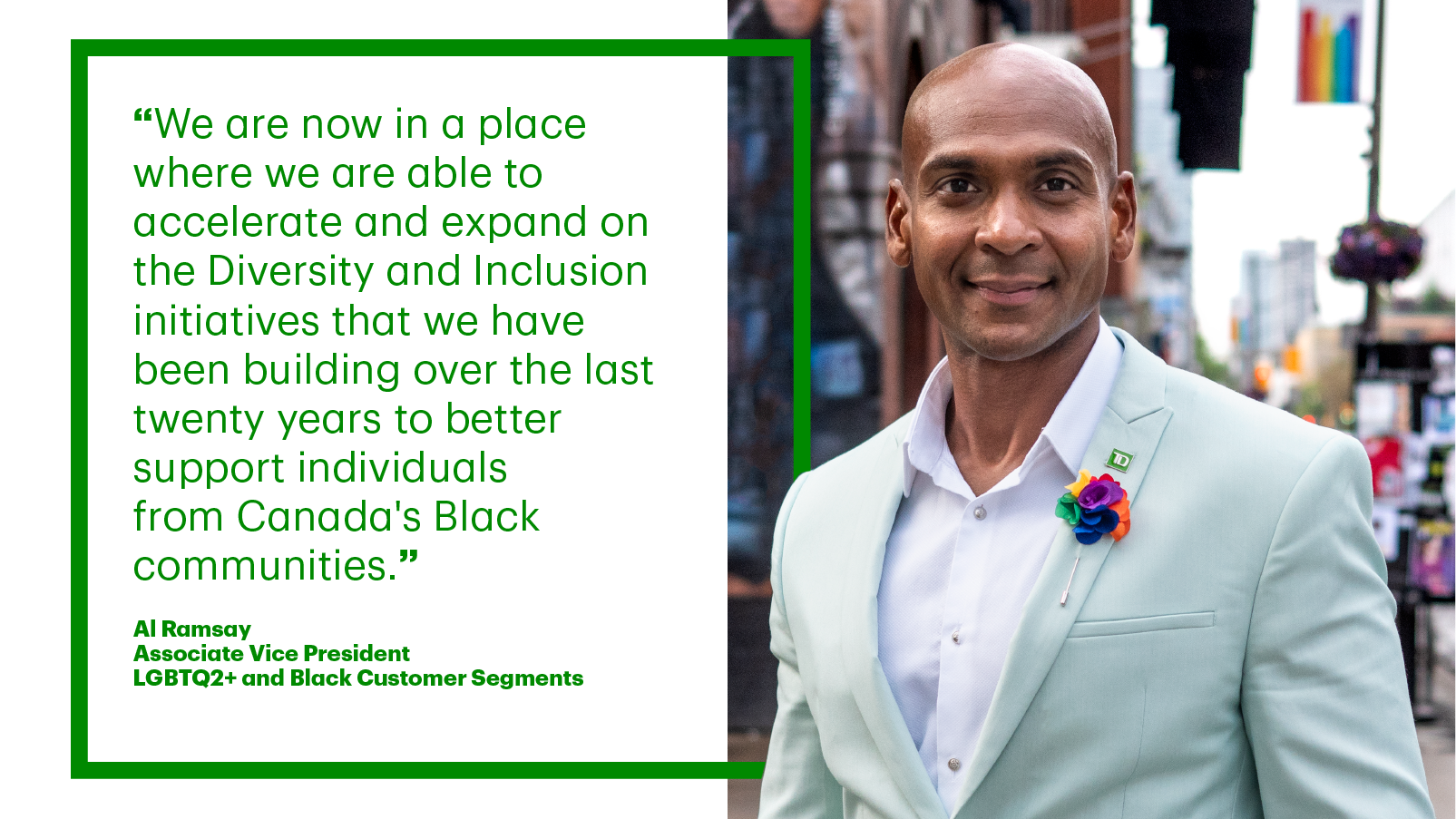 That said, Ramsay and his team also look to these advisors and colleagues across the country for ideas on future initiatives through brainstorms known as "ideation challenges" (iChallenge). Over 100 of the bank's employees participated in this year's challenge, which in the past has produced the inspiration for new products and services.
Last year, employees participated in a similar iChallenge to develop ideas for LGBTQ2+ customers who similarly want to see themselves reflected in the relationships they have with advisors. The winning idea from 2020—a searchable database of TD advisors who self-identify as being from the LGBTQ2+ community—is now in the design phase.
Strengthening a history of support
Though the Black Experience Customer Strategy is a newly launched initiative, it stems from years of support and working relationships the bank has formed with organizations across the country. Through partnerships with organizations like the Black Business and Professional Association (BBPA) and Black Hxouse—a Toronto-Based program empowering BIPOC (Black, Indigenous, and People of Colour) with mentorship, tools, learning, and networking opportunities—Ramsay's team is providing added support for entrepreneurs from Black communities. Programs like the Boss Women Entrepreneurship Training, available through the BBPA and Black Hxouse's pitch competition – where entrepreneurs pitch their business to a panel of judges – are a couple examples of the grassroots programs that Ramsay's team is involved in, as seconded advisors, panel judges, or workshop instructors.
In September 2021, TD announced a $10 million donation to the Black Opportunity Fund (BOF), whose mission is to raise and mobilize the world's largest permanent pool of capital to allocate financial resources (e.g. grants, social impact investing) to Black-focused, Black-led and Black-serving community organizations and facilitating access to capital for Black-owned businesses. This donation is among the largest contributions in Canada to a Black-focused, Black-led and Black-serving organization focused on improving economic and social equality.
TD will work with BOF to better understand and address the barriers that Black banking customers face by using insights from BOF. Both organizations are committed to reducing systemic bias and discrimination and believe that this work will help the Bank to build a more inclusive culture and support the specific needs and financial aspirations of Black communities across Canada.
"We have learned much from our community and professional organizational relationships about how we can better promote diversity and inclusion and where to provide more support," said Ramsay. "We know that there is always more work to be done, but we are committed to helping remove barriers that Black communities have traditionally faced – whether that be access to wealth management, financial advice, or support for entrepreneurs."
Now that the new Black Customer Experience Strategy has been launched, Ramsay said the bank will need to further drill down on the existing diversity among Black and other underrepresented communities and the specific challenges they face, taking into account the role that intersectionality plays. This nuanced approach will better inform future efforts to help create greater inclusion and support for customers from all communities.
"There is no homogenous Black community," said Ramsay. "If our Black Customer Experience Strategy is to succeed in supporting more Black entrepreneurs and communities in an authentic and meaningful way, then the approach that we need to take is one that prioritizes these different needs, however nuanced or unique they may be."
TD customers who would like to connect with a Relationship Manager supporting the Black Customer Experience Strategy can send an email to TD.BlackCustomerExperience@td.com.
[1] The Financial Impact of COVID-9 on Diverse Communities in Canada, 2020.