Summer has come and gone, and the winter months are quickly approaching. But with the cold weather and shorter days also comes a time a year many of us look forward to most – the holidays.
Whether you're purchasing gifts for your loved ones, want to spruce up your home with some holiday décor, or are hoping to create some holiday magic for the people you care about, with a bit of planning, you will hopefully be able to enjoy the holidays with a little less stress this year.
Here are four tips to help you celebrate the holidays on a budget.
1. Make a gift plan and check it twice
This has been an unpredictable year and your financial situation may have changed considerably, so now more than ever, it's important to plan – even when it comes to gift-giving.
Rather than buying gifts impulsively or leaving your shopping to December, start planning as soon as possible by setting up a holiday budget that can help you track your spending throughout the holiday season.
There are a few things to consider when making your holiday budget, including:
How much did you spend during the holiday season last year?
Do you need to factor in shipping costs to send gifts to friends and family you may not be seeing this year?
Did you overspend and/or were there areas where you could've saved money?
Who's on your gift-giving list?
Do you plan to set some funds aside for charitable donations?
How much do you plan to spend for each gift?
Once you have a sense of what expenses are ahead of you throughout the holiday season, you can start to plan accordingly and spread the gifting expenses over a longer period rather than all at once.

You can also take advantage of tools like the TD MySpend app that gives you real-time transaction notifications and insights on your spending habits so you can track your spending throughout the holidays.
2. Saving is the gift that keeps on giving
The holidays have a way of creeping up on us, but with your holiday budget and gift plan in place, you're already off to a great start.
To help prevent a post-holiday financial hangover, you'll want to start saving as soon as you can for the holidays.
Saving for the holidays doesn't have to be a huge investment of your time or money – you can start by putting a little money aside into a holiday fund every payday. That way, when it comes time for the holidays, you have the funds you need set aside to help eliminate some of the financial stress that can come with last-minute shopping around holiday time.
Want an easier way to set money aside each month? TD offers a few ways to automate your savings, including the TD Pre-Authorized Transfer Service and Simply Save Program. Check out more ways to automate your savings here.
3. Give gifts without breaking the bank
Your friends and family are priceless, but the gifts you buy them are not.
When you shop matters, and sometimes the best discounts aren't found during the holiday season. That's why starting your shopping ahead of the holiday season will help you catch some great deals.
But if you're concerned about going over your budget, don't discount the value of giving something you've made yourself – some of the best gifts we can receive are those with minimal-to-no cost.
Baking for loved ones, watching a movie at home, or going outside to enjoy a winter-related activity like skating or tobogganing are wonderful alternatives to traditional gifts.
Need help deciding who gets a gift and how much to spend? Check out these holiday gift-giving tips.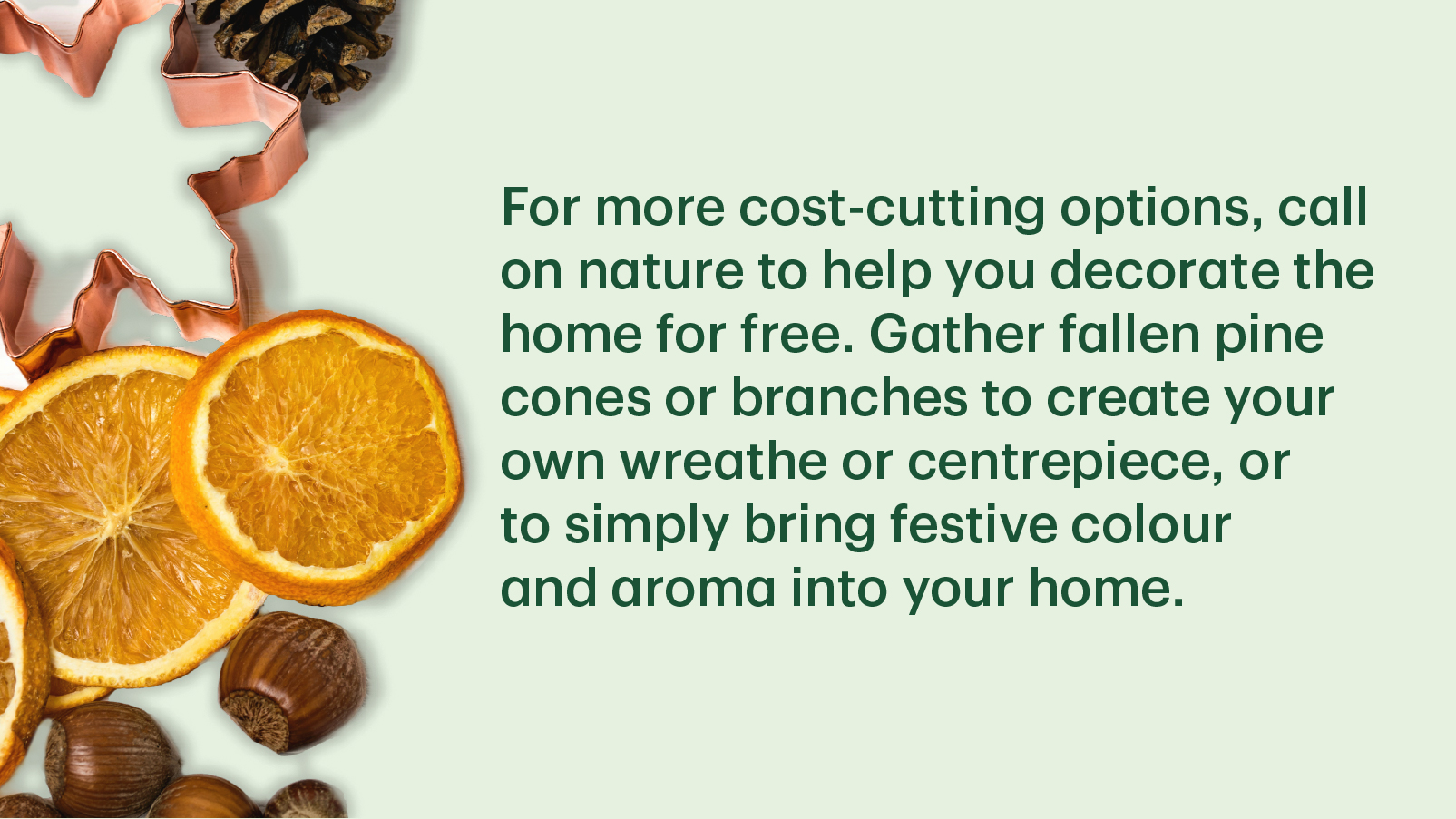 4. Recycle and upcycle decorations
What is good for your pocket can also be good for the planet.
Avoid buying new festive decorations each year and consider purchasing decorative lights and decorations that can be used again and again. For more cost-cutting options, call on nature to help you decorate the home for free. Gather fallen pinecones or branches to create your own wreathe or centrepiece, or to simply bring festive colour and aroma into your home.
After all, spending time with family and friends – even virtually or at a safe social distance – is what the holiday season is truly about.