Buying your first home can feel as overwhelming as it is exciting.
For many first-time home buyers, their focus is on saving as much money as possible to put towards a down payment. Of course, the bigger the down payment you can put down on a property, typically the smaller your mortgage will be.
But the down payment isn't the only expense you may be facing when it comes to buying your first home. There are a number of other lesser known costs involved in purchasing a property that you may not be aware of – and those expenses can add up quickly.
For many Canadians, buying a home will be the single biggest purchase they will make in their life. To make an informed decision on what you can truly afford, you need to know all the costs involved. If you work these costs into your budget, there should be no surprises when you find the perfect property for your, helping to make the process as smooth as possible.
To be sure you're properly prepared when you find your dream home, here are 11 of the most commonly overlooked home buying costs you should know about.
Home inspection
When you're buying a home, it's usually a good idea to have a professional home inspector come in and inspect the home and property to help you uncover any major and potentially costly issues with the property. In some cases, the seller may have a home inspection done prior to the property going up for sale that they could offer for you to review.
A home inspection typically covers things like the foundation, structure, plumbing, electrical, windows, roofing and the heating and cooling system.
The inspector will provide a report on the condition of the home, identifying any problems that they may find. With that information in hand, it's up to you to decide if you still wish to purchase the property. How much you pay for the inspection depends on a variety of factors, including (but not limited to) the size, location and age of the house.
Property appraisal
Before approving your mortgage, the lender (i.e. your bank) will want to assess the value of the property. With so many properties being sold over asking price in Canadian cities right now, more financial institutions are requiring an appraiser to visit the home before they approve a mortgage.
Lawyer fees
When you're purchasing a property, you will need a lawyer to help you finalize the deal. Some of the tasks your lawyer will handle include holding and disbursing all funds and checking the title on the property and land registry.
If you're purchasing a condo, the lawyer will also review the building's status certificate to be sure the information is complete and that there are no red flags, such as issues with the structure that could require major repairs, resulting in additional payments or an increase in maintenance fees.
Title insurance
Depending on your situation, your lawyer may recommend title insurance when purchasing your home. The word "title" means your legal right to own a property. According to the Ontario government, "title insurance is an insurance policy that protects residential or commercial property owners and their lenders against losses related to the property's title or ownership."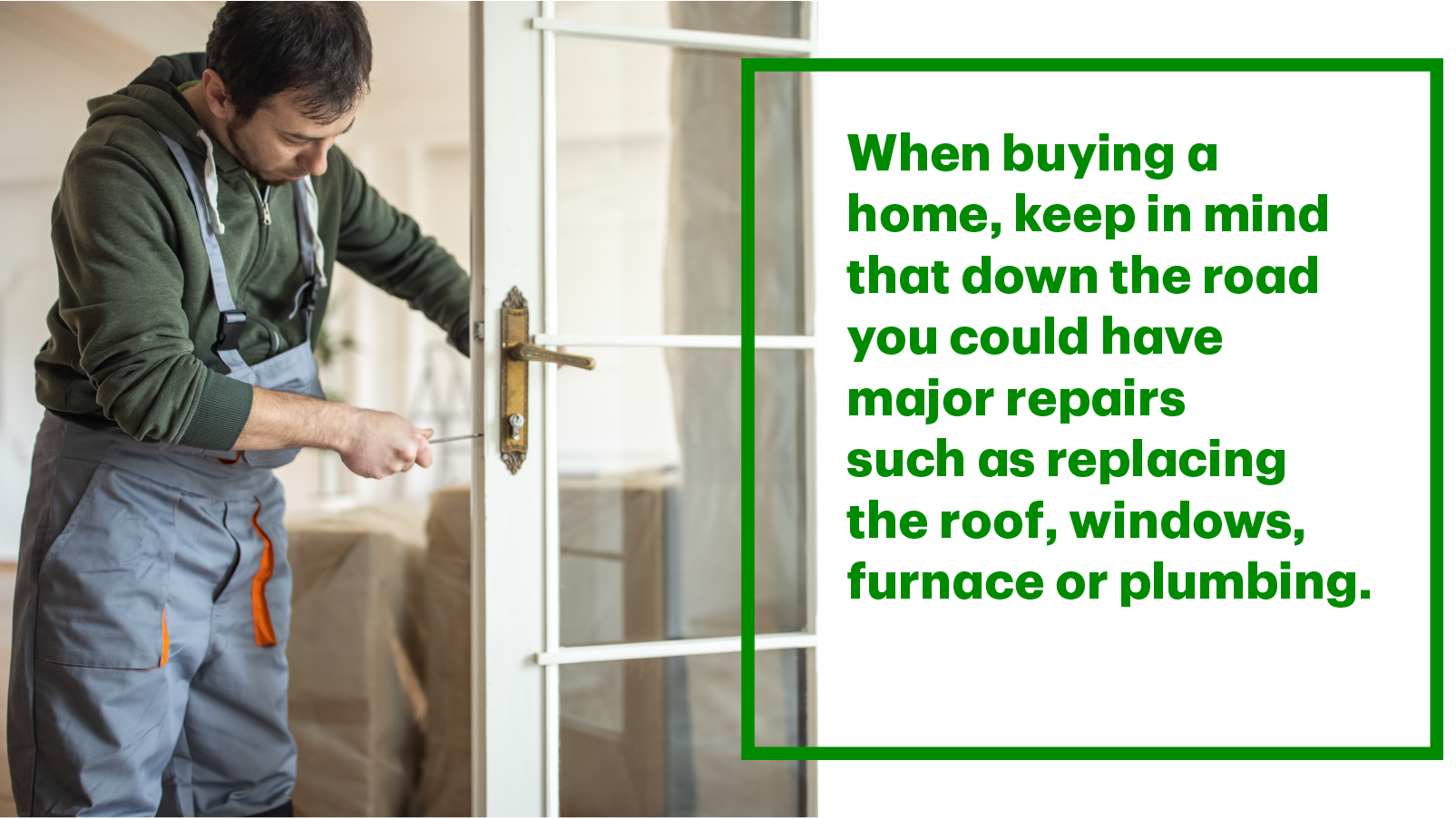 Home insurance
If you rented before buying a home, you likely already have content insurance to protect your possessions. When purchasing a home, your lender will require you to have home insurance in place to get a mortgage. This insurance protects you in the event of fire or other damage to the property. In a condo, the management company will provide a certificate of insurance for the building, but you will need to arrange for condo insurance for your individual unit as well.
Creditor's critical illness and creditor's life insurance
When applying for your mortgage, you may have the option of purchasing critical illness insurance and life insurance. This insurance could help pay down or pay off the outstanding balance on your mortgage if you suffer a covered critical illness or pass away.
Land transfer taxes
A land transfer tax is payable in the province where you purchased the property. All provincial and territorial governments charge some type of land transfer tax or registration fee when a property changes hands. How much you pay is typically based on the property's purchase price or its fair market value
GST or HST on newly built homes
If you're buying a newly built home or condo (or one that is substantially renovated), you will need to pay goods and services tax (GST) or harmonized sales tax (HST) on the purchase price. Homeowners may qualify for the GST/HST New Housing Rebate if purchasing a new or substantially renovated house with a value under $450,000. This rebate allows the buyer to recover some of the GST or federal portion of the HST if you meet all the criteria. You are not charged GST or HST when purchasing a resale property. To learn more about the GST/HST New Housing Rebate, visit the Canada Revenue Agency website.
Mortgage default insurance
If your down payment is less than 20% of the home's purchase price, your lender will require you to have mortgage default insurance. This protects the lender in case you default on your mortgage payments. The insurance premium is typically added to your mortgage and will increase your payments. Mortgage default insurance is not available on homes that cost $1 million or more in Canada, so a minimum 20% down payment is required for homes that are at or over that threshold.
Moving costs
When it comes to finding a moving company, many people search online to select a mover. It's typically a good idea to choose a reputable company, and one way to do this is to ask friends for referrals. Get an estimate from two or three companies and make sure you are clear about the services included in the price.
When moving into a condo, you typically will need to book the elevators and provide a damage deposit to the property manager. Some buildings are now charging a service fee to use the elevator, so be sure to ask about any extra fees.
Maintenance
When buying a home, keep in mind that down the road you could have major repairs such as replacing the roof, windows, furnace or plumbing. It's a good idea to set up a savings account to prepare for these expenses.
With a condo, you'll likely pay monthly maintenance fees, which are typically calculated based on the size of your unit, as well as your locker and parking space. These fees cover maintenance of the common areas and amenities — the lobby, hallways, gym, pool — as well as landscaping, snow removal, garbage collection and contributing to the building's reserve fund.
Know your mortgage options
It's also important that you know what is available to you when you explore your mortgage options. As your financial needs grow and change over time. Be sure to look at flexibility payment features and any conditions that apply to them, such as the ability to pay down your mortgage faster, speed up or slow down payments, or even have the ability to make a lump sum payment without getting hit with prepayment charges.
To learn more about the kinds of Flexible Mortgage Payment Features that TD offers, click here.