Food tour of Japan, or a secluded crescent beach in Bora Bora? Wherever your next vacation may take you, planning to get the most out of your travel budget can be just as important as ironing out the details for your next getaway.
According to a 2017 study by Expedia on Canadian holiday habits, 74 per cent of Millennials surveyed said a budget is important when it comes to planning where to go and while they are vacationing.
Knowing when to use cash, debit or credit could help you manage, and potentially save on any foreign exchange or withdrawal fees and any additional interest charges, while enjoying the hilly Medieval towns of Europe or the iconic music halls of Austin, Texas.
Credit cards
Recommended use: May be your best choice for big purchases such as plane tickets, accommodation, transportation, car rentals and pricier meals so you have a record of larger transactions when you get home. If you make any purchases with your card while on your trip, you may benefit from insurance coverage on those purchased items. Be sure to check if your card provides this type of insurance coverage.
You should look into whether your card has any travel-related benefits. For example, your credit card may offer travel insurance, trip cancellation insurance and/or lost baggage insurance, so it would be beneficial to book your travel using that card to get the benefit of these coverages.
Also check to see if your credit card offers any other perks, like preferred booking options, lounge access, upgrades, early check-in or late checkout options.
Practical tips:
Leave cards that you don't intend to use at home, safely stored. Take with you (and keep secure) a list of all your card numbers together with the lost/stolen customer contact phone numbers for those you are bringing with you.
Using a banking app can help you stay informed of any account activity linked to your credit (or debit) card in real time.
Debit card
Recommended use: for cash withdrawals at ATMs instead of using a credit card or carrying large sums of cash.
Most Canadian banks offer debit cards that allow you to withdraw cash from ATMs linked to a global network as well as make in-store purchases in many foreign countries. Look for machines that use the network symbols shown on your debit card, as your card may not work with every machine (the front and/or back of your debit card will show you the compatible ATM network symbols to watch for). Make sure you understand what foreign exchange fees may be charged when you make a withdrawal by asking your financial institution before you travel.
Be mindful that your card may not work at some ATM's in some foreign countries, so always be prepared with another form of payment.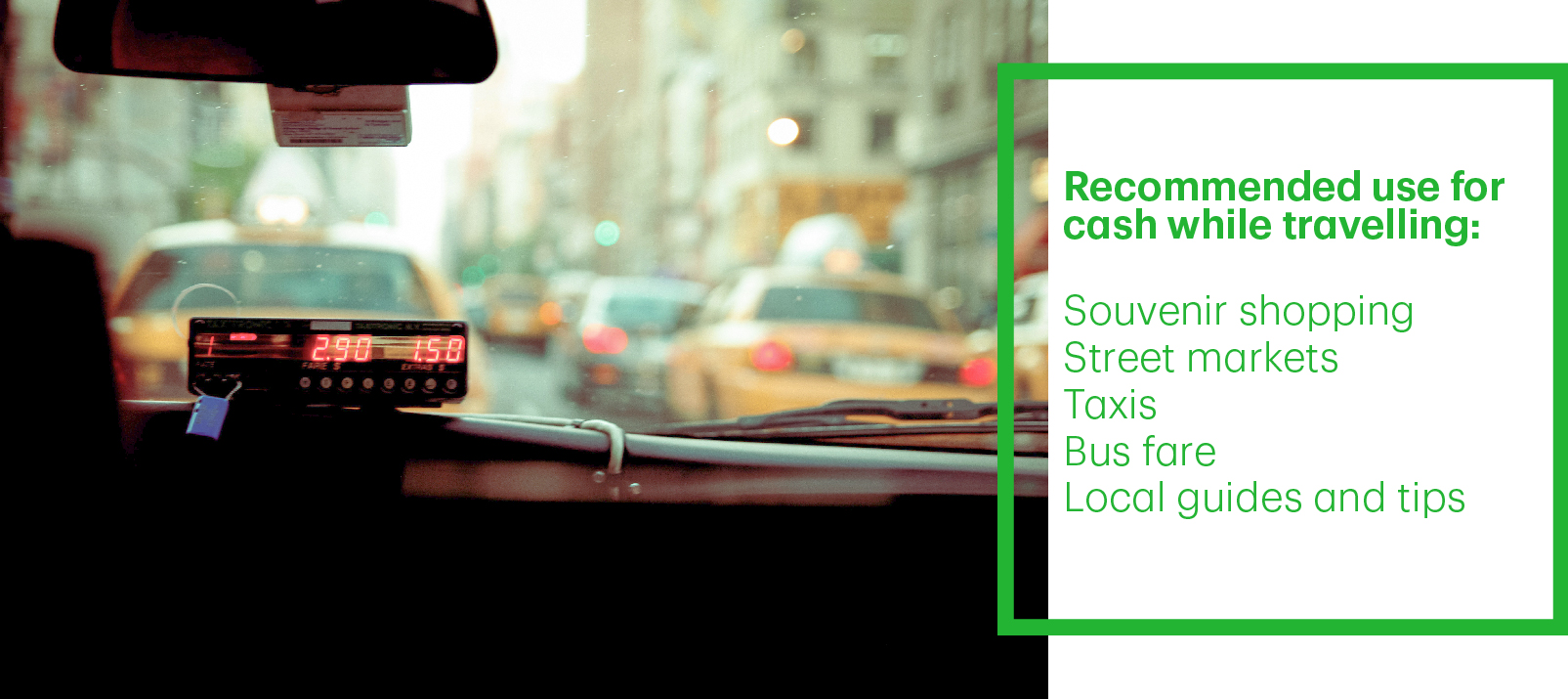 Cash
Recommended use: Smaller-ticket items such as souvenir shopping, street markets, taxis, bus fare, local tour guides and tips.
Some foreign merchants don't accept debit or credit as forms of payment, so you should carry some cash in a local currency with you. Although carrying large sums of cash isn't recommended, having some local currency on hand for at least a couple days is good practice as banking hours may not be consistent in some countries and bank machines may be out of cash.
READ: 5 ways to protect yourself from financial fraudsters
Getting your currency exchanged before you leave so that you have funds in the local currency when you land (and aren't spending your vacation running errands) is a good idea, but if you don't get to this before you leave, a bank or an exchange desk in the country you are visiting can convert your Canadian dollars into the local currency. While foreign exchange rates and conversion fees will still apply, these might be lower than the fees charged for purchasing local currency at the airport or your hotel if you are unable to buy local currency before your trip.
Practical tips:
When possible have small denominations on hand as some merchants may not accept larger bank notes.
Don't keep all your cash in one place. Consider using a money belt for all of your cash (to help discourage pickpockets) while your wallet holds only what you need for the day.
Some banking apps like this one can also help track your spending for some of the accounts you have linked to them through your financial institution and provide real-time notifications of transactions made on these accounts to help keep track of your spending in real time.