Teaching kids about money isn't easy, and it can be even more challenging when as parents, we're not feeling confident about the example we're setting with the way we manage our own finances.
According to a September 2021 Ipsos survey conducted on behalf of TD in support of Financial Literacy Month in Canada, one-third (33%) of Canadian parents surveyed said they aren't confident they're setting a healthy financial example for their children.
That same survey revealed that only 29 per cent of Canadian parents surveyed consider their household to be in "excellent" or "good" financial health" – which includes the ability to pay bills on time, carry manageable debt, have short and long-term savings, and establish a financial plan.
Given that level of uncertainty, it's no wonder many parents aren't certain about the example they're setting for their own kids when it comes to managing money.
To help parents talk to and teach their kids about money, and to help them feel more confident about their own finances, Jennifer Bishop, Head of Financial Health & Education at TD, offers a few tips.
Start by creating a family budget
Budgeting is an important habit that can help keep you and your family financially ready for the unexpected.
Developing and maintaining a family budget is a key building block to helping improve overall financial health; however, nearly half (45%) of Canadian parents surveyed said they don't have a family budget.
"The unpredictability of the pandemic has shown us how crucial it is to plan for the unexpected," Bishop said.
"It's also a good opportunity to start having the "money talk" with our children, as these conversations can foster healthy approaches to budgeting for parents, and financial independence for children."
Having an up-to-date budget can help you prioritize expenses, to help you reduce spending if required, especially if your circumstances suddenly change. For more information on getting started, check out this article from the TD Ready Advice site.
Look for opportunities to talk about money with your kids
"It's never too early to have fun, creative and open conversations about money with your kids," Bishop said.
Whether it's counting coins in a piggy bank, starting to give your kids an allowance, playing games with financial components (like Monopoly), or opening up a bank account, there are many ways to get kids involved in learning about finances.
When it comes to having the money talk, the TD survey reveals a lack of consensus on timing. One quarter (25%) of Canadian parents surveyed don't regularly talk to their children about money, with the primary reason being that they feel their child is too young. Other reasons for not talking about how to manage money include not believing it's an important topic for kids or not something they need to worry about (12%), or because they'll learn about finances in school (11%).
The survey also reveals that conversations about finances between parents and kids are often reactive. Among surveyed Canadian parents, the most common catalyst for these conversations is their child receiving money as a gift (27%), when the child shows interest or asks questions (20%) or when they start getting an allowance (19%).
Ask for help with your own finances

"Asking for help when it comes to managing money can be a very important step towards improving financial health," Bishop said.
"Speaking to a financial advisor can help prepare a parent to have the money talk and support the development of healthy financial habits."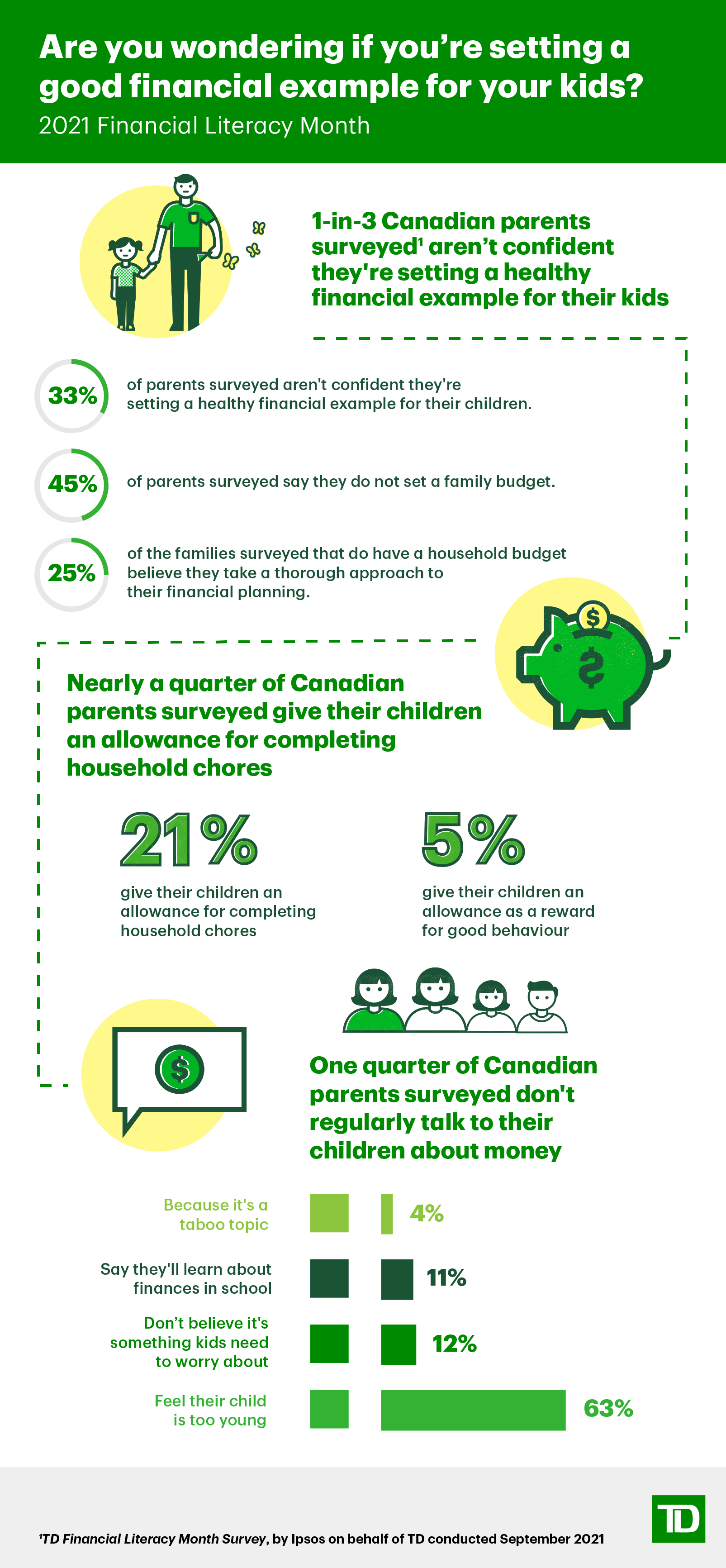 Click here to view accessible PDF

---
TD Bank Group commissioned Ipsos to conduct a national online survey of 1,000 Canadian parents aged 18+ with kids under 18 in the house. This poll was conducted between September 17 and 22, 2021.