Lexington, Mass., July 6, 2021 – TD Bank, America's Most Convenient Bank®, announced today that its New England Education, Not-for-Profit and Government Finance Group closed a $10 million loan that will help empower students with special needs.
The loan will go directly to the private, non-profit Cotting School for the enhancement and expansion of its facilities. Cotting focuses on educating children with special needs and aims to help them achieve their highest potential and level of independence. The school currently has 110 students, ranging from ages 3 to 22, from Massachusetts and southern New Hampshire.
"TD Bank is pleased to support an inspiring school, whose mission is aligned with our own organization's commitment to diversity and inclusion and furthering the advancement of individuals with diverse abilities," said Daniel F. Shimkus, Jr., Commercial Regional Group Manager for TD's Education, Not-for-Profit and Government Finance Group. "By using this funding to expand and renovate its facilities, the Cotting School will continue to provide a supportive and positive environment where students with special needs can grow and develop."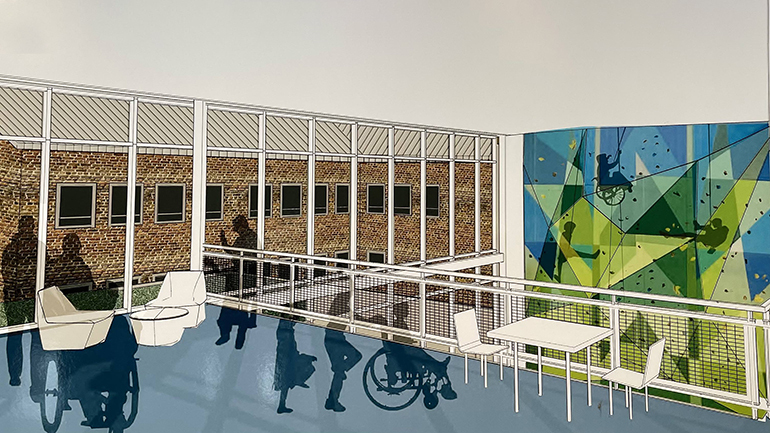 The funding will be used to partially finance the construction of a 25,000-square-foot addition which will include a full-size gymnasium, two candlepin bowling lanes, a fully accessible climbing wall and academic space. The remainder will be financed with fundraising proceeds.
"Our school is pleased to work with TD Bank on a project that will benefit our current students with special needs and students for generations to come," said David Manzo, Cotting School president. "The process with TD Bank from proposal to closing was seamless and their staff was responsive and thorough."
The deal was closed by Aubrey Theall, Senior Relationship Manager, TD Bank.
About Cotting School
Founded in 1893, Cotting's mission is to enable students with special needs to achieve their highest learning potential and level of independence. Today Cotting's day school serves 110 students ages three to 22 from 70 cities and towns from Massachusetts and southern New Hampshire. Cotting's continuum of services also includes HOPEhouse, a transitional boarding school program for students ages 17 to 22 offering opportunities for students to practice independent living skills in a supportive group setting, and Cotting Consulting, an outreach program partnering with public school districts to provide an array of integrated services for students with a broad spectrum of learning and communication disabilities and learning challenges. Cotting School is located at 453 Concord Avenue, Lexington, Mass. 02421. For additional information, call 781-862-7323, visit http://www.cotting.org.org, follow our social media platforms including Facebook, Instagram and Twitter: @CottingSchool, or email info@cotting.org.
About TD Bank, America's Most Convenient Bank®
TD Bank, America's Most Convenient Bank, is one of the 10 largest banks in the U.S., providing more than 9.6 million customers with a full range of retail, small business and commercial banking products and services at more than 1,100 convenient locations throughout the Northeast, Mid-Atlantic, Metro D.C., the Carolinas and Florida. In addition, TD Bank and its subsidiaries offer customized private banking and wealth management services through TD Wealth®, and vehicle financing and dealer commercial services through TD Auto Finance. TD Bank is headquartered in Cherry Hill, N.J. To learn more, visit www.td.com/us. Find TD Bank on Facebook at www.facebook.com/TDBank and on Twitter at www.twitter.com/TDBank_US and www.twitter.com/TDNews_US.
TD Bank, America's Most Convenient Bank, is a member of TD Bank Group and a subsidiary of The Toronto-Dominion Bank of Toronto, Canada, a top 10 financial services company in North America. The Toronto-Dominion Bank trades on the New York and Toronto stock exchanges under the ticker symbol "TD". To learn more, visit www.td.com/us.

Media Contact:
Shari Rosen, APR
TD Bank Corporate Communications Manager I – Small Business/Commercial
609-230-7561
Shari.Rosen@td.com