Asian American Pacific Islander (AAPI) Heritage month is a time to learn and honor the rich heritage of people with origins from Asia and the Pacific Islands. TD Bank proudly celebrates the history, culture, art and achievements of our colleagues, customers and communities.
Growing up on a farm in a small village in India, Jay Muthukamatchi developed a passion for nature -- and experienced firsthand the strains of living in difficult circumstances.
Every spring and summer, the wells that supplied water to each home in his town ran dry. Without phones or cars, villagers walked for miles to purchase water from a vendor.
"We really struggled getting water even to drink," said Jay who has been a TD Bank project manager in Delaware for the past nine years. Even so, his mother managed to provide water when thirsty strangers knocked on the door, a lesson in the art of giving.
"That's how I grew up," he said.
These and other early experiences spurred Jay in 2015 to establish the nonprofit Charity Crossing Inc., a volunteer organization dedicated to meeting the basic needs -- primarily food and clothing -- of people in need in Delaware, Maryland, Pennsylvania, New Jersey and India. It also pursues environmentally friendly endeavors.

"Charity Crossing's mission is to provide basic needs to the homeless and low-income communities, promote volunteerism and giving, and help Mother Nature by reducing waste going to landfills," he said.
Charity Crossing, with 100 to 150 active volunteers, has helped at least 75,000 people and provided $398,149 in donations.
It has donated more than 250,000 gently used clothing and household items, partly by partnering with retailers to redistribute unsold merchandise that otherwise would head to landfills.
The organization has also sponsored numerous volunteer events, including an Autism walk, school supply and holiday gift drives, a prom dress giveaway, personal hygiene kit distribution and disaster relief efforts.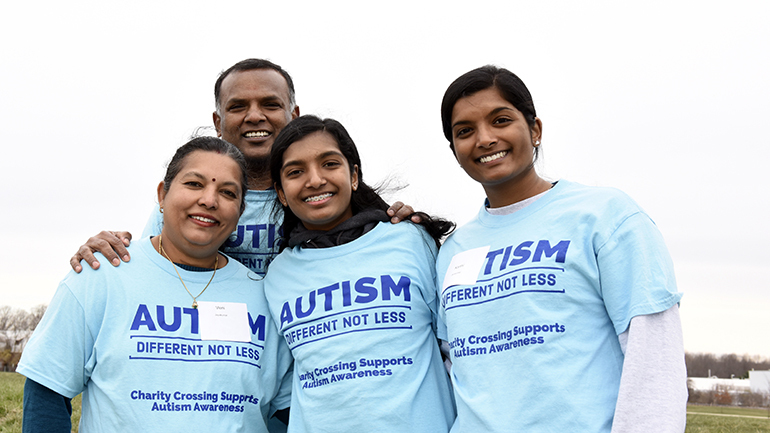 When the pandemic hit last year, "we never closed our door," Jay said.
In 2020, Charity Crossing served 11,000 meals and distributed 40,000 cloth masks, 16,000 bottles of hand sanitizer and 10,000 socks to homeless people and low-income families.
In India, Jay leads a project that has planted 60,855 trees in two years. To provide pandemic relief, the organization recently arranged for 20,000 meals for distribution to the homeless and low-income families by providing financing to nonprofit volunteer networks in India.
Seeing the positive impact that Charity Crossing has made has resulted in additional donors and volunteers joining hands to help drive the food distribution initiative.
To keep costs lower and more effectively serve those in need, the group partners with other organizations locally and in India to distribute food, clothing and household items.
"We don't do everything ourselves, as we believe in teamwork, we work with other organizations to serve more people," Jay said.
"Jay is a force in the charity and volunteer world and a great brand ambassador for TD. He brings his passion to work and encourages us all to participate in helping our communities," said Laura Chadbourne, Portfolio Director and Jay's manager. "His commitment to others is reflected in how he manages day-to-day projects and serves as a foundation for his success - here and at Charity Crossing"
Project Management Mindset
Jay's project management know-how plays an important role at Charity Crossing. His TD Bank projects are "matrixed" efforts that involve working with executives and people who don't report directly to him; those skills help him provide a fun, heart-warming experience for volunteers, specifically those who are younger.
Jay's childhood experiences inspire him with this charity work. His paternal grandmother, a single mom who raised four children, labored in the fields and would cook dishes from plants that she cleared away and brought home, he said. The family started to cook meals for people, which increased their income and helped Jay's father obtain his engineering degree. His father, the family's first graduate, in turn helped other relatives.
Growing up on his maternal grandparents' farm, Jay helped with chores and would walk to and from school.
"That's when I fell in love with mother nature, trees, animals," he said. His family later moved to Chennai, a metropolitan city where they struggled financially; with only two shirts and two pairs of pants his entire high school freshman year, Jay learned the importance of food and clothing.
"Many of the children these days have no idea of these things," said Jay, a father of two daughters who volunteer with the organization. "My kids who are growing up in the suburbs, they have very little exposure to that other side of life."
An advocate for the power of community service, Jay successfully urged Delaware legislators to pass a resolution recognizing April as "Volunteer Month" in the state this year. And in 2020, he was bestowed an honor few Americans receive. President Donald Trump awarded Jay with the President's Call to Service Award for his 4,000+ hours of extraordinary service. It is the highest level of the President's Volunteer Service Award.
After operating from his home for years, he is raising funds for a leased warehouse and a truck so volunteers can pick up more pallets of merchandise donated by retailers.
Driving his efforts is a desire to bring happiness to people. "It warms my heart. I feel healthy. I sleep well. My mind always thinks about new ideas to find ways to help others."