Buying a house or condo in your child's college town - as a place for them to live and as an investment – has been a growing trend for more than a decade.
Chad Mitchell, TD Bank's Vice President, Corporate and Public Affairs, and head of Content and Digital Platforms, and his wife, Laura have taken it one step further. They weighed the pros and cons and decided to move the whole family to their daughter's college town.

Here's how it worked
After some soul searching, the couple recently sold their home in northern Virginia and moved to State College, Pennsylvania. That put them down the street from Penn State University, where their daughter Kahley, 19, is a rising junior studying music. Kahley has ambitions to be the primary flautist in a major symphony.
"It came down to the fact that she's a music performance major, and we've spent an awful lot of time really supporting her passion," Chad said. "It dawned on us that we were missing out on an extensive number of her performances – recitals and ensembles. With a son at home and two high-maintenance dogs, we just couldn't go off for a day or two."
Kahley was on board with the decision right away. A family support system in the same town is a benefit that can't be measured.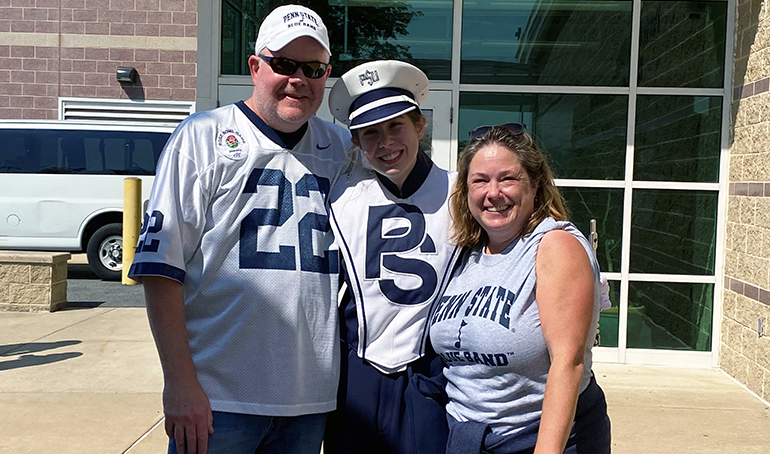 "Having a cheering section in attendance is a such a good thing," she said. "Being able to see my parents in the audience gives me that extra strength I need."
The factor that clenched their decision was their younger son Chase's willingness to make the move. At 17 and a high school junior, he had begun his search for the right college. After a couple of college tours, Chase, who wants to major in sports communications, decided that Penn State's highly regarded College of Communications would be the right choice for him.
When it became clear that Chase would be agreeable – even eager – to switch schools a year before graduation, the couple agreed to make the leap.
"We were ready for a little bit of a slower lifestyle. With the way the housing markets were moving, we decided, 'Let's do it' and we did it," said Chad, who is a Penn State alumnus and pleased to be back in Happy Valley, as Nittany Lions fans call the area.
It also didn't hurt that this is likely to be a financially smart move for these reasons.
Saving big on tuition
For the academic year 2022, the undergraduate tuition and fees at Pennsylvania State University-Main Campus are $18,450 for Pennsylvania residents and $35,514 for out-of-state students. That's a $17,064 a year difference.
If he goes to Penn State, then Chase will certainly qualify for in-state tuition all four years – a $68,250 savings at 2022 rates. The Mitchells are hopeful that their daughter also will qualify for in-state tuition – if not this year, then for her senior year. Even one year of in-state tuition is a substantial savings.
Tuition isn't the only cost
Kahley will split her time in student housing for her last two years of college. And the Mitchells think that if Chase goes to Penn State, he, too, will live in a dorm.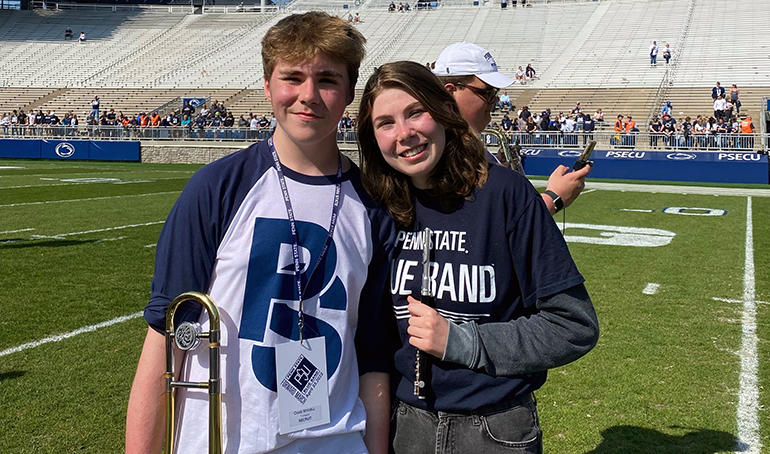 "I think you're missing out on the college experience if you stay home and live with mom and dad," Chad said. "I really want them to be on campus and experience all the things that come with going to a big school like Penn State, living their lives and gaining some independence."
But for someone else considering making this kind of move, it's worth noting that room and meals for a year – two semesters – at Penn State are $12,318. Over four years, living and eating at home is a $49,272 savings at 2022 rates.
Even the little things add up
When a student lives in town, going home for the holidays doesn't require a plane or bus ride. When mom and dad come for parents' weekend or to watch the big game, they don't have transportation costs or a couple of nights in a hotel to pay for.
Clearing out of the dorm at the end of each academic year doesn't call for renting a storage unit. And no one needs to hoard quarters so they can go to the laundromat.
These may not seem like big deals, but it's easy to spend $2,000 a year on these small things. If you have two college students that can add up to $16,000 quickly.
It's still a big decision
If you're considering this kind of move, here are some things to think about.
Talk to your high school student. See how they feel about it. Visit the area and make sure that the family is comfortable with living there. Corralling a rebellious teen into making this move may not be worth the effort.
Consider the cost of living where you live. Make sure you'll really save if you make the move. For the Mitchells, who went from a high-cost area to a cheaper one, it was an advantageous move. "We're definitely saving on the mortgage; we're saving on utilities; and we're only using gas in one of our three cars because we primarily walk everywhere," Mitchell says.
Visit in all seasons. Some college towns shut down in the summer, making the vibe totally different.
Get your financial adviser's advice. Take advantage of that person's astute help calculating and understanding your specific situation. Paying for college is expensive no matter where you live.
Open a 529 college savings plan. Do it early in your children's lives and save steadily. With a healthy college nest egg, paying for college won't be such a stretch.
For the Mitchells, the move is working.
"We've got a good mix. We're close enough now to keep them safe and, and still let them do what they want to do. So far, I think we're all enjoying it. I couldn't be happier," Chad said.
For More on Personal Finance Topics
If you have more questions about other personal finance topics that matter to you, visit the Learning Center on TD Bank's website.
We hope you found this helpful. This article is based on information available in May 2022 and is subject to change. It is for general information purposes only. Our content is not intended to provide legal, tax, investment, or financial advice or to indicate that a particular TD Bank product or service is available or right for you. For specific advice about your unique circumstances, consider talking with a qualified professional.
Want to learn more about Money Matters Monday?