PHILADELPHIA, P.A., April 12, 2022 ―TD Bank, America's Most Convenient Bank®, announced today that it has promoted four employees into key positions to support and grow the bank's goal of strengthening its position as an industry leader in supporting diverse communities and businesses of all sizes in the Delaware Valley.
Geoff Brandon has been promoted to the Commercial Market President for Pennsylvania. In this role, Brandon will be responsible for leading the Pennsylvania commercial banking team and partnering with internal teams to expand the bank's lending portfolios in the small business through middle market space. Brandon joined TD Bank in 2001. He has nearly 35 years of banking experience that includes retail, commercial and government banking. He is active in the community, serving on various boards including the President's Council of the National Constitution Center and Director of the Delaware County Chamber of Commerce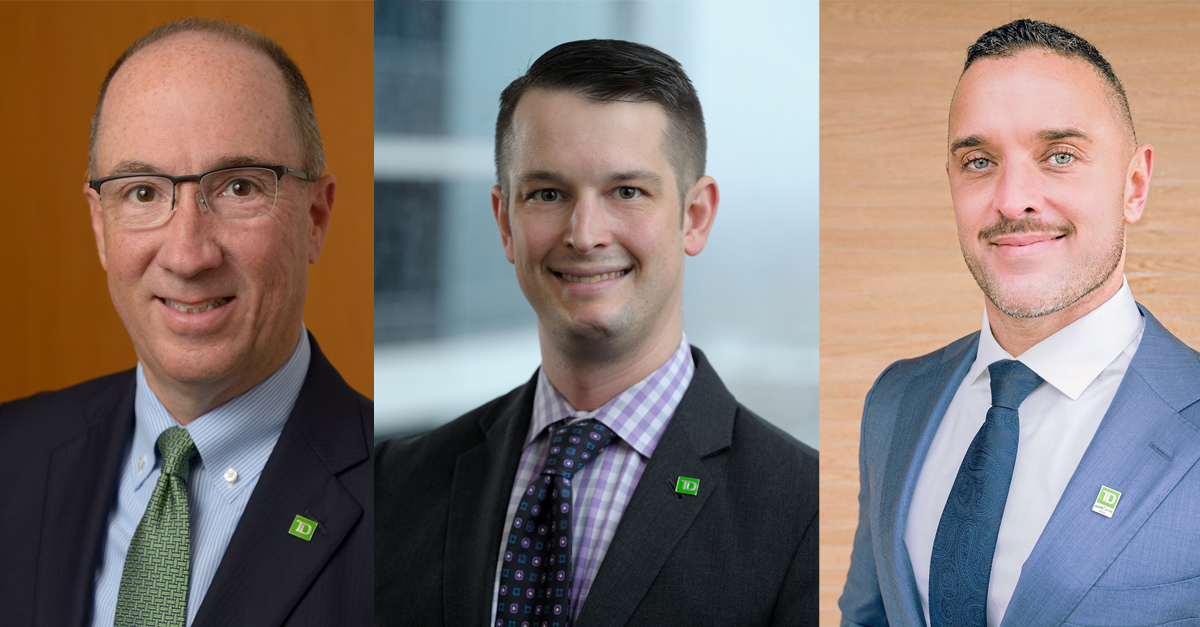 Further expanding its commitment to greater Philadelphia businesses, TD Bank has named Mike Trimble Regional Vice President of Suburban Pennsylvania. In this role, he will lead a team of Relationship Managers as they support the commercial bank efforts in Montgomery, Delaware and Chester counties. Trimble joined TD Bank in 2010 and most recently was a Senior Relationship Manager in the area. He reports to Brandon.
In addition, TD created a new position in Philadelphia – Community Business Development Officer (BDO), modeled after a similar role in New York City. The Community BDO will support business development, customer advocacy, access to credit and building relationships with the diverse businesses and organizations in the area. TD promoted Tommy Berner into this critical role.
Berner has nearly two decades of financial industry experience, including 17 years at TD Bank. Most recently, he served as the store manager of the TD Bank location in Rittenhouse Square. Berner has deep connections to minority communities through his involvement with Boys & Girls Club and the Philadelphia Chinatown Development Corporation. Berner reports to Damien Ghee, Regional Vice President of Philadelphia.
"Businesses of all sizes are important to the communities in and around Philadelphia, and TD Bank is pleased to have a strong slate of leaders to support their growth," said Mike Carbone, TD Bank Regional President of PA/NJ. "Access to credit and financial services is even more important as the region recovers from the economic impact of the pandemic, and Geoff, Mike and Tommy are well-positioned to support our local businesses."
In the TD Bank Commercial Real Estate business, Benjamin Kruger has been promoted to Commercial Team Lead. In his role, Kruger will be responsible for leading a team of Relationship Managers to further develop TD's Commercial Real Estate loan portfolio across various asset classes within the PA/NJ market. Kruger is a veteran banker with nearly 20 years of Commercial Real Estate experience.
Kruger serves on various community boards, including a Loan Committee member of the Loan Initiatives Support Corporation Philadelphia and member of the Philadelphia Real Estate Council.
"TD Bank believes that providing Commercial Real Estate financing solutions to businesses, organizations, affordable housing and multifamily projects is vital to helping both neighborhoods in transition and those that are stabilized. Ben understands this need and TD's commitment to diversity and inclusion, an important part of which is to continue to work with businesses and communities to provide affordable housing and economic development throughout the Delaware Valley," said Gregg Gerken, Head of US Commercial Real Estate.

About TD Bank, America's Most Convenient Bank®
TD Bank, America's Most Convenient Bank, is one of the 10 largest banks in the U.S., providing more than 9.7 million customers with a full range of retail, small business and commercial banking products and services at more than 1,100 convenient locations throughout the Northeast, Mid-Atlantic, Metro D.C., the Carolinas and Florida. In addition, TD Bank and its subsidiaries offer customized private banking and wealth management services through TD Wealth®, and vehicle financing and dealer commercial services through TD Auto Finance. TD Bank is headquartered in Cherry Hill, N.J. To learn more, visit www.td.com/us. Find TD Bank on Facebook at www.facebook.com/TDBank and on Twitter at www.twitter.com/TDBank_US and www.twitter.com/TDNews_US.  
TD Bank, America's Most Convenient Bank, is a member of TD Bank Group and a subsidiary of The Toronto-Dominion Bank of Toronto, Canada, a top 10 financial services company in North America. The Toronto-Dominion Bank trades on the New York and Toronto stock exchanges under the ticker symbol "TD". To learn more, visit www.td.com/us.
Media Contact
Rodney Yancey
Communications Manager
Rodney.Yancey@td.com