Newington, CT, April 5, 2022 – TD Bank, America's Most Convenient Bank®, announced today that its U.S. Small Business Administration (SBA) Lending Group closed a $206,700 7(a) Term Loan to help local business owners pursue their passion of opening a doggy day care, What a Ruff Life, LLC. Located at 94 Pane Road in Newington, Connecticut, What a Ruff Life officially opened its facility April 1 and provides a safe, clean, and stimulating environment for dog owners' furry friends.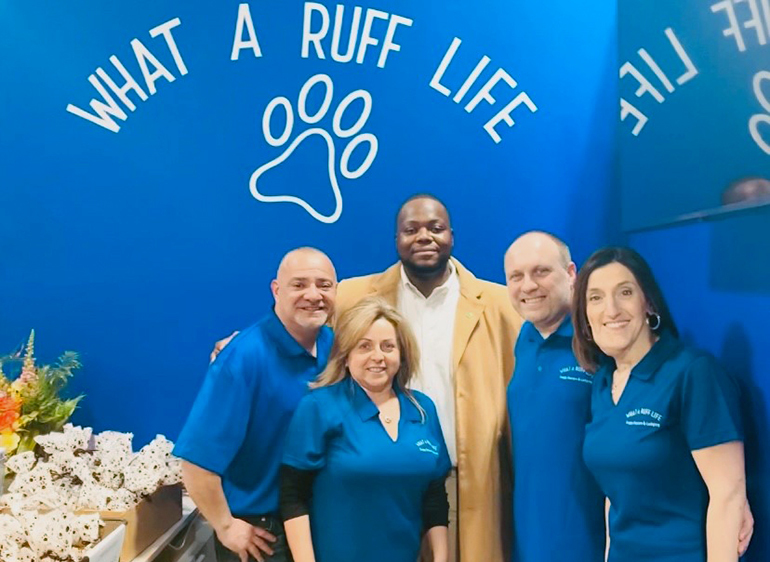 "We were becoming discouraged that our dream would not become a reality and then we talked to TD Bank who guided us every step of the way," said Antonio Nunes and Bruno Allegrini, owners of What a Ruff Life. "TD Bank became a resource, confidant, trusted advisor and our biggest cheerleader. They did everything possible to ensure their financing aligned with our project timeline and we are deeply appreciative for their commitment to our business' success."
The idea for What a Ruff Life arose last summer after the business owners, who have a background in dog training, toured several doggy daycares that were either booked or did not meet their standards of care. Recognizing this need, owners Nunes and Allegrini decided to open their own day care to provide a range of services including structured playtime, lodging, and grooming. What a Ruff Life requires all dogs to be up to date on immunizations, spayed or neutered, and have gone through an evaluation prior to acceptance into the daycare.
"TD Bank understood the customers' passion for opening their own doggy day care and our team of small business experts recognize the unique demands and challenges of starting a small business from the ground-up," said Larry Stovall, relationship manager in TD's Small Business Bank. "We knew there was a clear market demand for this service, and we were able to use our financial expertise to guide Antonio and Bruno and help them open their doors to the community."
The transaction was closed by Stovall and Giselle Cyrillo, Retail financial services representative.
About TD Bank, America's Most Convenient Bank®
TD Bank, America's Most Convenient Bank, is one of the 10 largest banks in the U.S., providing more than 9.7 million customers with a full range of retail, small business and commercial banking products and services at more than 1,100 convenient locations throughout the Northeast, Mid-Atlantic, Metro D.C., the Carolinas and Florida. In addition, TD Bank and its subsidiaries offer customized private banking and wealth management services through TD Wealth®, and vehicle financing and dealer commercial services through TD Auto Finance. TD Bank is headquartered in Cherry Hill, N.J. To learn more, visit www.td.com/us. Find TD Bank on
Facebook at www.facebook.com/TDBank and on Twitter at www.twitter.com/TDBank_US and www.twitter.com/TDNews_US.  
TD Bank, America's Most Convenient Bank, is a member of TD Bank Group and a subsidiary of The Toronto-Dominion Bank of Toronto, Canada, a top 10 financial services company in North America. The Toronto-Dominion Bank trades on the New York and Toronto stock exchanges under the ticker symbol "TD". To learn more, visit www.td.com/us.
Media Contact:
Shari Rosen, APR
Corporate Communications Manager, TD Bank
shari.rosen@td.com
609-230-7561