It's been a very turbulent, yet inspiring 2020, with COVID-19 dominating the American psyche and changing how we live, work and support our communities.
Through a pandemic that has shaken our country to the core, we've seen swift and unrelenting support for everyday heroes like frontline healthcare workers and the small businesses that make up the backbone of our amazing economy.
With the holiday season upon us, many have been wondering how they can support small businesses as we move toward the end of the year.
At the beginning of the pandemic, many consumers wanted to buy gift cards to support their local restaurants, grocery stores and coffee shops. But is that small business owners' preferred method of support? A recent TD Bank Small Business survey revealed that 75% of the hundreds of hundreds of business owners surveyed prefer direct financial support by purchasing goods and services is key but they said there are other ways to help.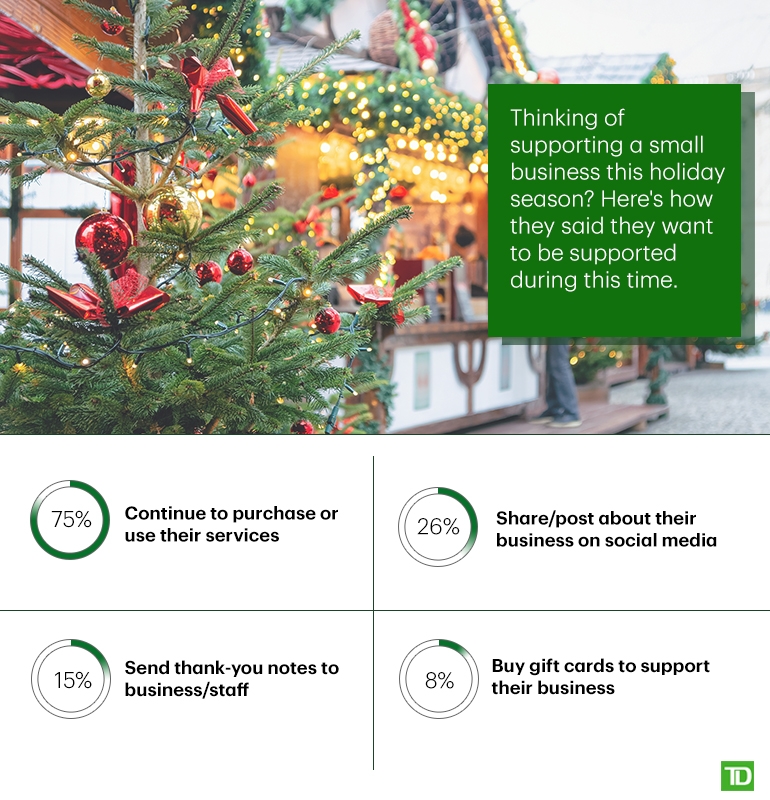 More than a quarter of the 750 small businesses that responded said they would greatly appreciate social media support, including Twitter, Facebook and Instagram. Platforms like Instagram have added a "Support Small Business" button in user stories and posts, where you can tag and share your local small business with your friends and family.
Another 8% said buying gift cards from local businesses is something that could help, while also helping you give a more personal gift to loved ones.
Finally, just saying "Thank you" is always appreciated, as 15% of respondents said they absolutely would love cards, letters and more from their beloved patrons to keep their spirits up and let them know you're here for them.
Small businesses have certainly had to be agile this year to deal with lockdowns, local regulations and social distancing to combat the virus' spread.
Since the start of COVID-19, small businesses reported adding services like delivery, online sales and more to diversify their business model.
While 15% added delivery and safe pickup practices that they didn't have in place prior, 11% added online or app ordering to their business. Another 5% added virtual gift cards as part of their operations.
Want to learn more about Small Business & Commercial?