Classrooms in some areas of the world are beginning to fill again, and parents, teachers and students are making heroic strides to ensure a safe return to in-person learning for children this fall.
And yet, despite the best efforts of governments and teachers to implement online learning while schools were closed during the COVID-19 pandemic, there's a growing concern that many students will have gaps in their education for years to come.
According to a report from the United Nations Educational, Scientific and Cultural Organization (UNESCO) published in 2021, more than 50% of students globally are still experiencing interruptions in their schooling.
The same report found that two-thirds of the academic year has been lost on average around the world because of school closures, and a staggering 450 million students worldwide are unable to access education due to a lack of internet access at home.
Given the challenges students around the world have faced as a result of interruptions to their education during the pandemic, and to help address this learning loss, TD has made this issue the focus of the 2021 TD Ready Challenge.
The TD Ready Challenge is an annual North American initiative that supports not-for-profit and charitable organizations that was launched in 2018 and aims to help provide funding to programs that are focused on helping to solve societal issues in several areas including health and education.
Learning loss: A global and local issue
"There are a lot of compounding issues that are affecting the ability of young students to learn from home," said Ainsworth Morgan, a Principal at Toronto's Pelmo Park Public School, who has witnessed the impact of school closures on students first-hand.
"There are many distractions at home, especially in large families, that make focusing on school while being at home a challenge. Children with special learning needs are not getting the hands-on attention they require. Young kids are not getting the play-based learning that's essential for this age group, and then there are access to technology or to the Internet issues for some families that can further leave some children behind."
While the true impact remote learning is having on children may not be measurable for years to come, new research is predicting that students across North America will experience significant learning loss due to remote and virtual learning.
Stefania Giannini, UNESCO's assistant director-general for education, warns that current estimates project roughly 24 million children worldwide are at risk of dropping out of school, while an increasing number of learners will fall below minimum proficiency levels.
"Not investing in education right now - and especially in remedial learning programmes - will not only compromise the future of our young people, but also compromise development and economic growth," she said.
READ MORE: Innovating through COVID-19; Meet the 2020 TD Ready Challenge Grant Recipients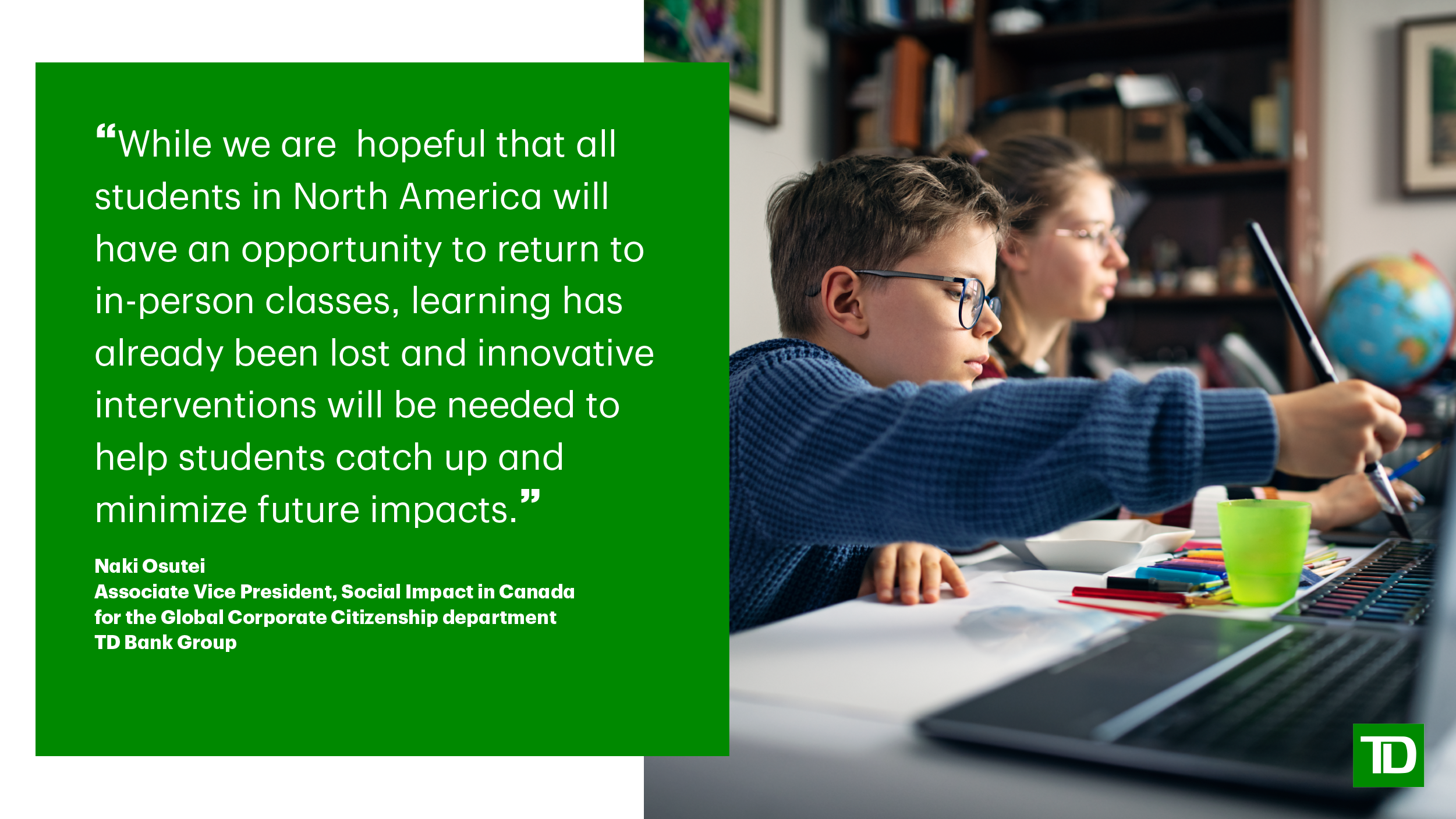 Disproportionate learning loss
The predicted learning loss is anticipated to affect students unequally as a continuation of the pre-existing learning gaps already documented for some lower income, rural, disabled, and some racialized and marginalized communities.
"Not every family at my school has unlimited internet or homes with enough room for private study spaces for every child, let alone the financial resources to hire tutors to make sure their kids aren't falling behind," said Morgan.
"The community that my school serves also has a higher volume of COVID cases and a lot of families here have parents who also work as front-line workers. So, they are facing these stresses at work and then at home regarding their kids' education. They are under a lot of pressure and that also is having a big impact on young children. We are also seeing that kids who normally get more one-on-one time in person with a teacher are having a harder time learning online."
Giannini notes that the disproportionate impact of school closures due to public health measures is not limited to developing countries.
"This is a global crisis affecting children in every country including Canada and the United States, hitting those who are more disadvantaged because of their particular socio-economic or geographic circumstances," she said.
2021 TD Ready Challenge
As part of the 2021 TD Ready Challenge, TD has made a total of $10-million CAD available to be awarded as one-time grants ranging from $375,000 CAD to $1-million CAD to organizations that have designed innovative, scalable and/or replicable solutions to help reverse pandemic-caused learning loss in math and reading.
"Each year we focus on and set a new problem statement as the focus of the Challenge for which viable and scalable solutions are sought ," said Naki Osutei, Associate Vice President, Social Impact in Canada for the Global Corporate Citizenship department at TD Bank Group.
"And this year for the launch of our fourth annual challenge, we're seeking solutions that address the disproportionate impacts of predicted learning loss as a result of the pandemic."
"While we are hopeful that all students in North America will have an opportunity to return to in-person classes, learning has already been lost and innovative interventions will be needed to help students catch up and minimize future impacts," said Osutei.
"We encourage all eligible not-for-profit organizations to apply for a TD Ready Challenge grant this year. This is a global challenge that will have an effect on children no matter where they live. We owe it to this generation of students to do everything we can to work towards implementing solutions that are focused on helping children make the most of their education."
---
To apply for a grant under the TD Ready Challenge, applicants can submit their application online through our portal located on the TD Ready Challenge page of our website at www.td.com/readychallenge
Application deadline is August 26, 2021 at 4:00 P.M. EST.