In any competitive marketplace, it's the customer who really wins. That was the consensus reached by TD Chief Executive Officer Bharat Masrani, along with the heads of Visa and OnDeck (a New York-based fintech company) last week at a panel discussion on the evolving relationships between fintechs and financial institutions.
The discussion, which was moderated by CNBC host Deirdre Bosa, was entitled The New Partnership Era and took place at the Fintech Ideas Festival in San Francisco and was broadcast March 28 on CNBC.
During the talk, Masrani—along with Visa President Ryan McInerney and OnDeck CEO, Noah Breslow—shared their views on the benefits of fintechs and banks creating new relationships, talent acquisition, and the importance of a shared culture.
Shared values drive better relationships
Shared values and culture are more important than a fintech's offering, Masrani explained, adding that partnership decisions within TD are evaluated on such determining factors as ethical practices, obeying the law, and caring about customer experiences.
READ: Why fintechs and banks are collaborating more often
"We want to make the technology work the TD way – from a security perspective. And from an experience perspective, does it integrate with the rest of the bank?", he said.
Innovation requires a human-centred purpose
The panel emphasized how the industry's evolution is offering both large institutions, and smaller fintechs, strategic opportunities through unique collaborations that are creating better outcomes for customers. These collaborative relationships are possible, the panel said, because of the combined effectiveness of agile fintechs working with established, trusted and highly regulated banks with the capital to help drive projects forward.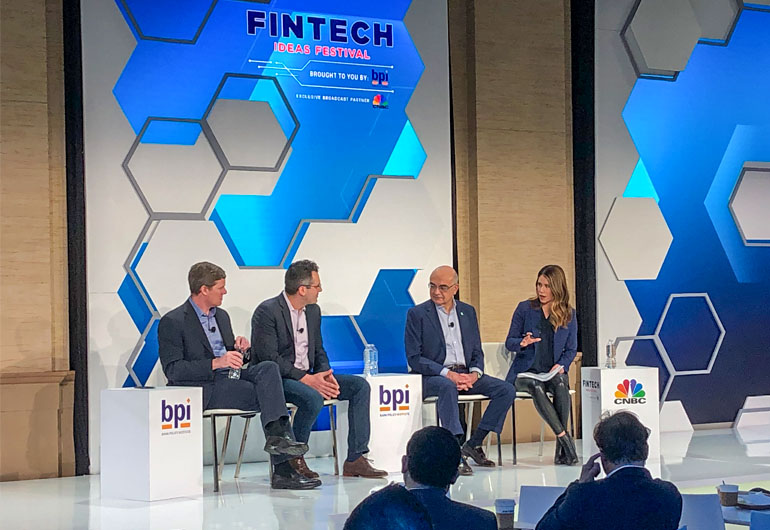 The panelists agreed that these collaborative relationships need to go beyond new products and services and remain focused on what will create better experiences for customers.
Masrani was quick to disagree with innovation for the sake of innovation, suggesting that companies must avoid investing in shiny objects without looking at what they intend to solve.
Banks are gaining ground in attracting talent
While the competition for talent between traditional financial institutions and tech companies has been steep, Bosa asked the panel if the pendulum is now swinging towards banks which have demonstrated the capacity to be more innovative in recent years.
Masrani noted that TD's 164-year legacy is not working against the Bank's culture in embracing new ideas, joking that he wouldn't necessarily have a good shot at getting hired at TD today due to the variety of new talent joining TD in the form of anthropologists, designers, and engineers.
"It does not feel like a traditional bank," said Masrani.
Visa's McInerney added that "talent is at the core of what we are all doing," noting that "we are all having to re-invent ourselves to push the boundaries of innovation."
Fintechs are learning from banks regarding customer experience
OnDeck's Breslow explained that while his organization's original business model involved selling technology to banks, it was a journey that actually led to direct collaboration with banks on evolving their customer experience model.
In looking at emerging competitors in the financial space, McInerney explained how banks are actually enabling customer innovation on a system-wide level. He noted, "as payments continue to evolve in the U.S. and North America, you are going to see more and more innovative business models that are built on top of what the banks have built."
Watch the full panel discussion on the CNBC site here.