For Lysa Lapointe, her wife, and their two daughters, Pride is always a celebration no matter the circumstances.
After the COVID-19 pandemic hit in early 2020, their usual plans for Pride changed when Lapointe's family moved from Toronto to Ottawa to be closer to her extended family.
"Whether we're going to the parade or not, we make a point of celebrating," said Lapointe, who is a Manager, HR Advice and Investigations Effectiveness at TD.
"In the first year of the pandemic, we wore matching rainbow leggings, we made Pride cupcakes, and we made up a song that was just 'Happy Pride!' over and over again. Last year we decorated our yard with rainbow flags and celebrated with family in Ottawa."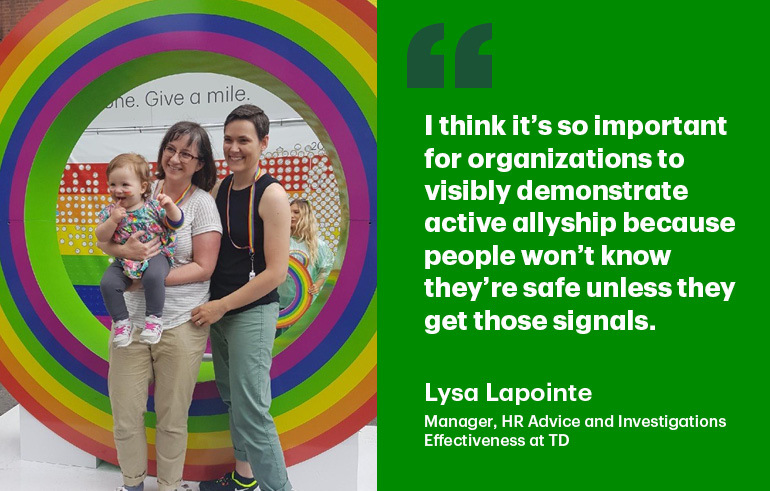 Lapointe came out as queer in her early 20s and met her wife when they were both students at Trent University, in Peterborough, Ontario. Now married for 10 years with two daughters who are 3 and 6 years old, Lapointe is grateful she doesn't have to hide any aspect of her personal family life from her colleagues at TD.
But she also recognizes that isn't the case for many people in the 2SLGBTQ+ community, many of whom are faced with challenges when they come out.
"I think it's so important for organizations to visibly demonstrate active allyship because people won't necessarily know they're safe unless they get those signals," she said. "And when you're part of a marginalized community, those signals are so powerful and strong."
During her 15-year career at TD, Lapointe has watched and supported the continued evolution of the bank's support for Pride Month and 2SLGBTQ+ colleagues. Lapointe started her career at TD working at a small-town branch before moving to Toronto to lead the Church St. and Wellesley Ave. branch, in the heart of the historic home of the 2SLGBTQ+ community in Toronto.
"From a customer perspective, finances are one of the most emotional and vulnerable conversations they can have," she said. "When I worked at the Village Centre branch, customers would travel from across the Greater Toronto Area to come to that branch because they knew they could be 'out' there."
Forever Proud, Forever Progressing
Support for 2SLGBTQ+ colleagues is at the core of TD's Forever Proud commitment, which includes helping to pave the way towards more inclusive definitions of family.
In 1994, TD was the first bank in Canada to introduce employee benefits for same sex couples. TD became the first bank in Canada to offer gender affirmation surgery support for employees and their family members in 2008, and in 2009 launched gender affirmation surgery benefits in the U.S.
As parent to his daughter who identifies as part of the transgender community, Jeff Goldstein knows the difference it makes to have family support. Goldstein and his wife have three teenage children, and in 2020, their oldest child came out to them as transgender.
After struggling for years with depression and anxiety, she connected with a therapist who helped her become comfortable with coming out. Now 19 years old, Jeff's daughter Madison is studying at university and plans to attend Pride for the first time this year with her friends.
"Other than all the horrible years where she was trying to figure it out, the coming out process has actually been extremely positive for her," said Goldstein, AVP of Insurance Product Group and Technology Lead at TD. "Not just the reaction from her immediate family, but every single interaction has, thank goodness, been extraordinarily positive."
Goldstein says he feels lucky his daughter has the support of extended family, friends, and neighbours. And even as a fully supportive parent, Goldstein says he's felt the need to do a great deal to educate himself on 2SLGBTQ+ issues over the last two years.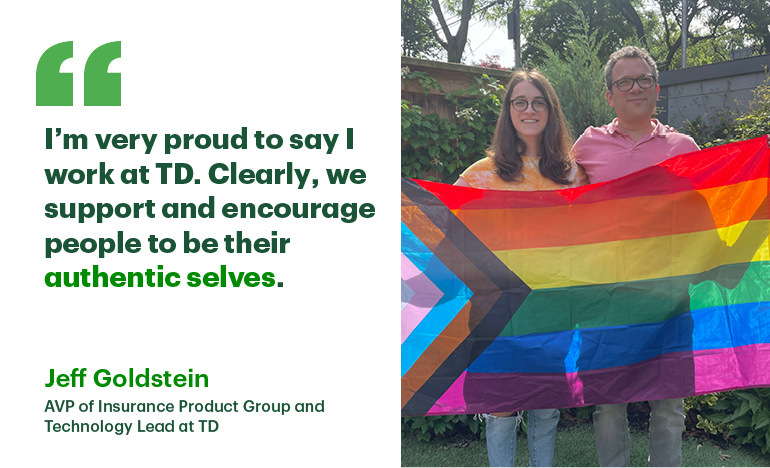 Creating safe spaces for gender diverse youth
For parents who are struggling to accept their child's sexual orientation or gender identity, Goldstein says it's critical for children to feel that their home is a safe space where they aren't judged.
"No matter what the characteristics of your child are, your job is to love them unconditionally," he said. "This is them being true to themselves, which is really the only way that they can be their best selves. That would be my advice to parents – to recognize that, and to love them and support them, because it's not easy for them. Hopefully, our society becomes more and more open and eventually one day, I hope, people won't struggle to come out."
Even years before his daughter's transition, Goldstein says the primary reason he chose to work at TD was because of the culture of inclusivity.
"I'm very proud to say I work at TD, and that's one of the key reasons," Goldstein said.
"We clearly support and encourage people to be their authentic selves. Small things like pronouns, which we are actively encouraged to include in our email signature, can make a big difference."
Lapointe draws parallels with how she and her wife parent their children, with how TD supports its 2SLGBTQ+ colleagues: By leading with celebrating differences and what makes them unique before getting into difficult conversations to meaningfully address hardships and challenges.
"They've increased benefits for families for fertility treatments, including providing child surrogacy benefits. For me, what makes TD's support so impactful is that, at the same time, it combines celebration of diversity with acknowledgement that there are also disadvantages to being part of a marginalized community. TD is working to help close some of those gaps."