Whether you've been shopping online to support a local business, or frequently using an app to deliver food to your doorstep, pandemic restrictions have seen many Canadians go digital more than ever before—including regularly banking online.
And while TD customers in Canada have long had access to a suite of sophisticated digital banking tools, there are many banking tasks that customers might not know they can perform online.
TD customers can access a wealth of digital tools either from their computer or mobile device to help them perform a wide variety of banking tasks, from calculating compound interest and setting up automatic payments, to depositing cheques and speaking directly with customer service support in real-time.
Here are a few banking tasks you might not know you can perform online as a TD customer:
Perform a range of banking functions from your TD app and EasyWeb
The TD app allows you to perform a range of banking options, including depositing cheques, viewing your account balances and transaction history, making Canadian bill payments, locating a TD branch or ATM, sending money with Interac e-Transfer®, and temporarily locking your TD credit card if you've misplaced it.
Getting set up on the TD app is easy. With an internet connection, you can put the app on your mobile device within minutes.
If you are already registered for EasyWeb, no additional registration is required – you will only need your Access Card number and EasyWeb password to login to your accounts through the TD app.
If you haven't registered for EasyWeb, learn how to register with a personal TD account to get started.
Digital Messaging with EasyWeb
Customers can now connect and interact with customer service experts—known as Digital Messaging Specialists—through an enhanced, Digital Messaging platform available on EasyWeb.
To initiate a Digital Messaging conversation, customers can click on the chat icon when on their personal Chequing, Savings or Credit Card account(s) in EasyWeb. The real-time service allows Digital Messaging Specialists to converse with customers regarding their personal banking accounts to help deliver better solutions and support faster. Customers are also able to send a message 24/7 and a Digital Messaging Specialist will respond during business hours. They can pause or continue their conversations with Digital Messaging Specialists as they need to and, if applicable, access earlier conversations—a helpful way to reference previously given advice and guidance.
Learn more about how to start a digital messaging conversation in EasyWeb.
Track your spending with TD MySpend
One of the digital tools TD offers to help its customers track their spending is TD MySpend, a money management tool that automatically tracks and categorizes transactions from TD personal deposit and credit card accounts to help customers quickly see where their money is going.
TD MySpend is helping more than 3 million Canadians with financial goal setting and tracking their spending with real-time transaction notifications and daily spending summaries about how and where they're spending. Setting monthly category spending targets can help track spending in key areas. TD MySpend lets customers adjust these targets within the app and prioritize essentials like groceries and utilities over dining out and entertainment.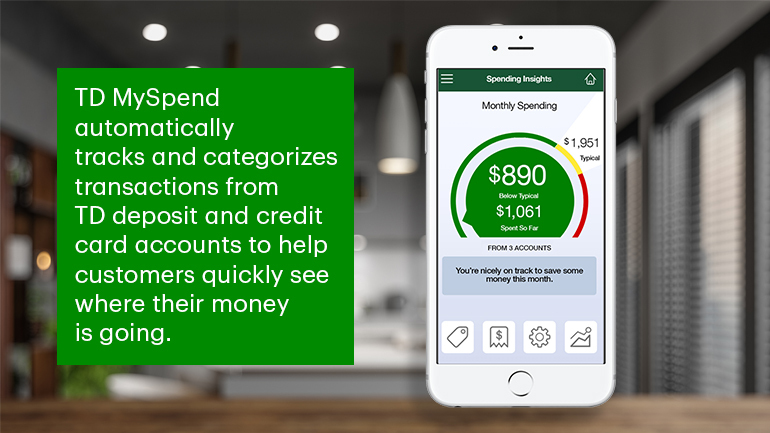 TD MySpend also recently launched two new features to help customers have a holistic view of their finances – Cash Flow and Deposit notifications. Cash Flow summarizes customer's money in and out transactions in a daily or monthly view. It also provides a two week look forward at upcoming recurring payments so customers can actively manage their cash flow to meet commitments. Real-time notifications were expanded to notify customers of any deposit to their eligible account or credit card.
Find answers from TD Clari
TD Clari, uses conversational Artificial Intelligence (AI) to provide customers with quick answers to questions such as when your next TD credit card payment is due or how much you spent at your favourite retailer last month. In addition to providing personalized account and transaction insights, TD Clari also provides responses to common questions received by TD customer service teams, including inquiries about nearby branch locations or exchange rates. If customers need additional information, TD Clari can also connect them with a live agent.
Discover the benefits of utilizing a TFSA by using our TFSA calculator
A Tax-Free Savings Account (TFSA) is a registered tax-advantaged savings vehicle that can help you grow your money, tax-free. With our TFSA calculator, you can compare and contrast how your savings would grow in a TFSA, compared to in a different account. Since you don't pay taxes on the investment income or growth earned in your TFSA, your savings can grow faster. The tool also enables you to adjust different variables – such as how often you invest, how much you invest, and what rate of return you expect – to see how small changes to your savings efforts can build up over time. Ready to start saving with a TD TFSA? Use our TFSA calculator to discover its benefits.
Figure out if you're on the right financial path to retirement
The TD Retirement Calculator estimates what your monthly savings would need to be to retire with your desired income. Simply enter your age, your before-tax income, and how much you have saved for retirement already, and the tool provides you with an illustration of what your path to retirement might look like. The tool also presents you with insights on your retirement savings target, your progress, and other tips on how to get started and help ensure you're on track for retirement. Learn more by accessing the TD Retirement Calculator.
Calculate how your money can grow with a Compound Interest Calculator
Long-term investing can be a great way to save for your future. With this calculator, you can see how your savings will grow, thanks to a variety of factors including your initial contribution to a savings vehicle, regular contributions, and your annual rate of return. Once you see how your savings can grow over a set period of time, you can tweak the numbers to see how much more your savings can grow by changing the frequency and amount of your contributions. Check out the TD Compound Interest Calculator.
Automate your savings
There are a few different automated savings tools available to TD customers. With a Pre-Authorized Transfer Service (PTS) you can automatically transfer funds to your savings account on a schedule that works best for you (daily, weekly or monthly). A Pre-authorized Purchase Plan (PPP) enables you to automatically invest in TD Mutual Funds, and can be set up in person, over the phone or depending on your account, online. Finally, there's the Simply Save Program, which helps you save a little bit – between $0.50 and $5 – every time you use your TD Access Card for debit purchases or ATM withdrawals. Learn more about TD automated savings plans.
Schedule a virtual chat with an advisor
If you still have questions and would like to speak to an advisor, you can set up a virtual appointment with a TD Financial Advisor in just a few easy steps. Simply book an appointment and let us know if this is a business or personal appointment and what you'd like to talk about (e.g. investing, home financing, etc.) and we will connect you with the right advisor. It's good practice to take time every few months to re-examine your budget and financial goals with a financial advisor.