"I don't have enough money to start investing."
"I want to invest but don't know where to begin."
"I can't start investing until I've paid off all of my debt."
Do any of these statements sound familiar?
If you've never invested money before, or are just getting started with investing, chances are at least one of these thoughts has crossed your mind.
And that's okay.
"You don't need an MBA degree to be a successful investor," said Bruno Sandre, Associate Vice President of Client Education for TD Direct Investing.
"There's a certain intimidation factor that prevents people from investing or delays when they will start. It's one of my team's goals to make self-directed investing accessible for people by removing the intimidation factor, and increasing their confidence as investors."
But wait – you might be wondering what self-directed investing means.
As the name suggests, self-directed or do-it-yourself (DIY) investing is an investment approach where you manage your investments yourself, giving you autonomy and control over what investments you buy and sell and when.
There are plenty of do-it-yourself or self-directed investing platforms on the market, but the reality is that many Canadians lack the necessary knowledge and support to set, track and achieve their financial goals.
But investing with TD just got a lot easier with the launch of TD GoalAssist™1, a new mobile app designed to help investors set financial goals and then build the confidence to implement their plan to achieve those goals.
Now that you know you don't need a graduate degree to be a investor, and you know there are digital tools like TD GoalAssist to help you reach your goals, here are some tips to help you get started.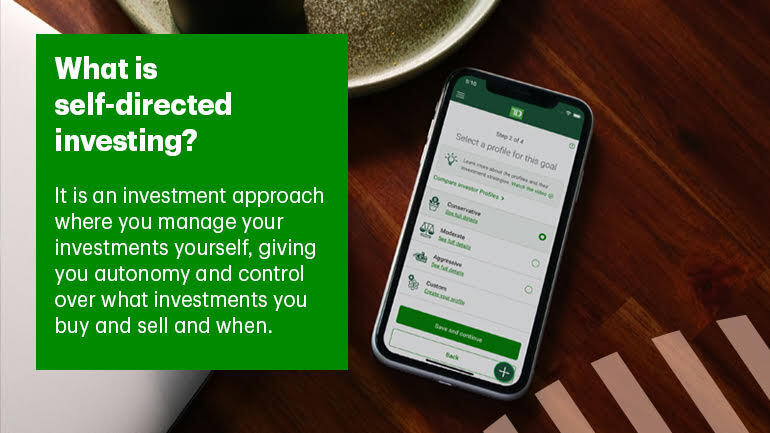 Start investing as soon as you're ready
You've probably heard this time and time again. In fact, it might be why you've landed on this article in the first place.
But why is starting to invest "as soon as you're ready" so important, and how do you know if you're ready to start investing?
"Some first-time investors jump into investing because it's something they're told they should do, or because their friend tells them about a hot new security to invest in," Sandre said.
"But before jumping right in, new investors should ensure they have the means to invest and that they're thinking ahead to their investment goals. Investing isn't risk-free, so make sure any money you're planning to invest isn't money that you'll need in the near future, or money that should be used toward paying off your credit card bill or contributing to your emergency fund."
But if you're able to pay your bills every month, have savings set aside in an emergency fund, and still have money left over, then you may be in a good position to begin investing.
Even smaller investments (less than $50 to $100 per month) are a great way to start, Sandre said, and there are many different types of low-cost investments that allow you to invest your money slowly over time, which works especially well if you're working toward long-term goals.
"One big investing myth out there is you need to invest a lot to make investing worthwhile, which is completely false," said Sandre.
"By starting to invest sooner than later, you have more flexibility down the line to adjust your contribution amounts and time horizon [the length of time you hold an investment] as needed to meet your investment goals."
Set investment goals and stick to your plan
Once you know you're ready to start investing, it's time to set your investment goals.
Investment goals are unique and specific to you, so they vary from one investor to the next. But every investor should be thinking about the end at the beginning, says Sandre.
"Setting your investment goals is really about beginning with the end in mind. You need to know where you want to be before you can determine the best path to get there."
A common misconception is that an investment goal needs to be a purchase, like a car, house, vacation, or wedding. But investing goals can also be monetary goals, such as having a regular stream of money coming in to support yourself or a loved one.
Even though goals are unique and personal, there are a few common questions you'll want to ask yourself when goal setting:
What is your time horizon?
Are your goals short (1-2 years), medium (2-5 years) or long-term (5+ years)?
Are your goals fixed or flex? (i.e. Does your goal have a fixed timeline, such as saving for your university tuition? Or is there some flexibility with your goal timeline, like saving for your dream car?)
How you answer these questions will impact how you invest.
"Different goals have different timelines and time horizons, which will impact how much risk you might consider taking," said Sandre.
"For instance, long-term goals give you the flexibility to choose more risky investments because you won't need to see the ROI [return on investment] for a longer period. You might want to invest more conservatively, however, when you're investing for a short-term goal."
There's a correlation between how much risk you have to take in order to achieve a goal within a certain timeline, so Sandre adds that it's important to be realistic with what it is you're trying to achieve and how quickly you need to achieve it.
"TD GoalAssist and the Goals feature in TD Direct Investing online trading and investing platform called WebBroker make it easy for new investors to set up and track their investment goals which can be adjusted as needed at any time," said Sandre.
"As you grow and evolve as an investor, your goals and risk tolerance will likely change over time, so it's important to use a self-directed investment tool that gives you the flexibility you need to make changes in real-time on the fly."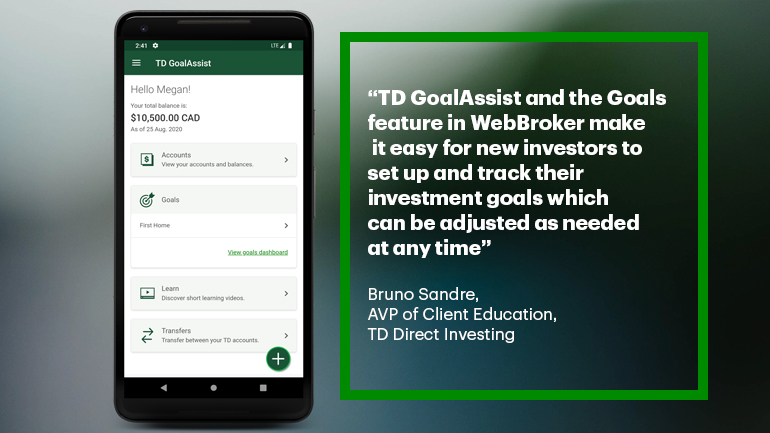 Know what kind of investor you are, even before you start investing
It is important for first-time investors to remember that investing is not risk-free. However, that doesn't mean it has to be unnecessarily risky.
"Another big myth about investing is that you have to be a risky investor to make your investments worthwhile," said Sandre.
Before you start investing, you'll want to determine your risk tolerance, which is essentially how much you can afford to lose without impacting your financial well-being, combined with how comfortable you are with taking risks in general.
"If the thought of taking risks makes you fret and/or you have a shorter time horizon, then naturally your risk tolerance would be lower than an investor with a longer time horizon and a high-risk appetite," said Sandre.
"There's no 'good' or 'bad' type of investor or risk tolerance. But it's important to know what kind of investor you are and to adjust your investment plan if needed as your risk tolerance or financial situation changes over time."
But whether you identify as a risky or low-risk investor, Sandre says it's important for all investors to remember one important word: diversify.
Diversification is an investment strategy where the investor's portfolio contains various assets which yield a high return for the least risk. A diversified portfolio contains a mix of investments (i.e. stocks, commodities, bonds) that all react differently to the same economic event.
"Every investor should diversify their investments to help mitigate risk," said Sandre.
"If you're a first-time investor, you might be testing the waters and learning about your risk tolerance in real-time. Whether you're looking to invest in individual stocks and TD ETFs, TD GoalAssist gives you the flexibility to diversify your investments based on your risk tolerance and goals."
Do your homework
Even the investing basics can be a lot for someone new to investing to take in, so Sandre recommends doing your homework first.
"There's a lot of information – and misinformation – out there when it comes to investing, which can be overwhelming for new investors to sift through the noise," said Sandre.
"Some new investors think that self-directed investing means that you're totally on your own. But that's not true, at least not at TD. Our investors are given access to free tools, webinars and live Master Classes so they can confidently invest for themselves, not by themselves."
In WebBroker, investors are provided access to the TD Direct Investing Learning Centre, which offers extensive online resources to help investors though their self-directed journey. Similarly, TD GoalAssist also features a streamlined assortment of short learning videos that are built into the experience to help investors navigate the app and build investing confidence.
"The investor is always in the driver's seat," said Sandre. "We don't offer advice, but instead we give you the resources and educational tools you need to help you have confidence in yourself."
Ready to get started? Visit TD Direct Investing for more information, learn about TD GoalAssist or sign up for a free Master Class to begin your investing journey.
---
[1] TD GoalAssistTM is a service of TD Direct Investing, a division of TD Waterhouse Canada Inc., a subsidiary of The Toronto-Dominion Bank.
Want to learn more about your money?