For Mumbi Tindyebwa Otu, Obsidian Theatre Company's newly appointed artistic director and the creator of a production called 21 Black Futures, her work explores a very important question:
"What is the future of Blackness?"
In her role, Tindyebwa Otu has commissioned 21 Black playwrights from across Canada to produce plays of their own interpretations of the question by sharing visions of what they think the future of the Black experience may be. In total, 63 actors, directors and playwrights will be involved to reflect, represent and reframe the Canadian Black experience in their own words.
"Through this project, my hope is that these stories cause a ripple effect in Canada's theater, film and media industry so that we continue to tell our own stories in place of these experiences being told by people who are unfamiliar with them," said Tindyebwa Otu.
"21 Black Futures is a culmination of incredible Black talent that exists coast-to-coast, so no longer can we use the excuse of not knowing any Black artists to hire for jobs which is sometimes the case."
Tindyebwa Otu adds that the future of Black theatre is not simply about an increase of Black representation.
"It is profoundly diverse and multifaceted. It is multigenerational, and it's my job to honour it, to help drive it, and see it come to life," she said.
The production is part of the 2021 TD Black History Month Series, sponsored by TD. Now in its 13th year, the focus of this year's series—during which the Bank will sponsor more than 90 events celebrating music, arts and culture across Canada—is to provide a platform for a breadth of Black leaders and artists to share their personal perspectives and expand Black representation.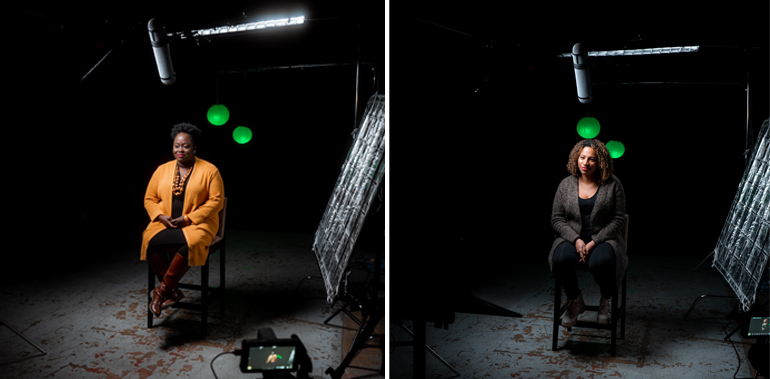 In response to the question, "What is the future of Blackness?," actress Sabryn Rock, will play the lead role in "Sensitivity," one of the 21 short, 10 minutes plays written by Lawrence Hill, author of The Book of Negros. Rock, who has appeared on stages across Canada, plays a bi-racial executive at a matchmaking app, said she is excited for the opportunity to contribute to a production that examines important topics in helping to end anti-Black racism, such as racial insensitivity, microaggressions and workplace bigotry.
Having grown up in Regina, Saskatchewan, Canada, Rock, who is also bi-racial, says she never saw a version of her story depicted in theatre or in television/films.
"I am proud to be part of this project that shares a story that so many racialized people can relate to but haven't seen represented in mainstream media," says Rock.
"My hope is people will learn about themselves and potentially identify how these biases manifest in several places in society."
According to Akosua Amo-Adem, the lead actor in "The Prescription," after the events of 2020 during which the Black Lives Matter movement spread globally, sharing Black experiences is something she believes is needed now more than ever.
"When people see their stories represented, and validated, everything changes. Black people can recognize their own potential and reimagine their future and what is possible," said Amo-Adem.
Obsidian Theatre Company is Canada's leading culturally-specific theatre company and is dedicated to the exploration, development, and production of the Black voice. TD has supported their mission to produce plays, to develop playwrights, and to train emerging theatre professionals since 2002 and is currently Lead 2021 Season Sponsor.

---
For more information about 21 Black Futures, including the lineup of actors, directors, and how to stream the production on CBC Gem, visit the TD Ready Commitment Community Calendar.