If you're like many Canadians, there's a good chance you've been cautious about spending during the pandemic, either because money was tight or because much of life was put on hold.
But as restrictions ease in certain areas, many Canadians are starting to venture out to visit the shops and services they may have avoided for much of the past two years.
In fact, according to a recent poll from Ipsos, one-third (32%) of Canadians surveyed say they plan to spend more than they normally would as they re-engage with the economy on things such as travel, dining, and entertainment.
For some, this type of increased spending is what is known as "revenge spending" - a way to overcompensate for the financial austerity of the pandemic.
"Sometimes, after going through a difficult experience or a frightening time, people will spend money more freely than they would usually, just because they want to have fun and forget about the bad times they just experienced," said Jennifer Bishop, Head of Financial Health & Education at TD.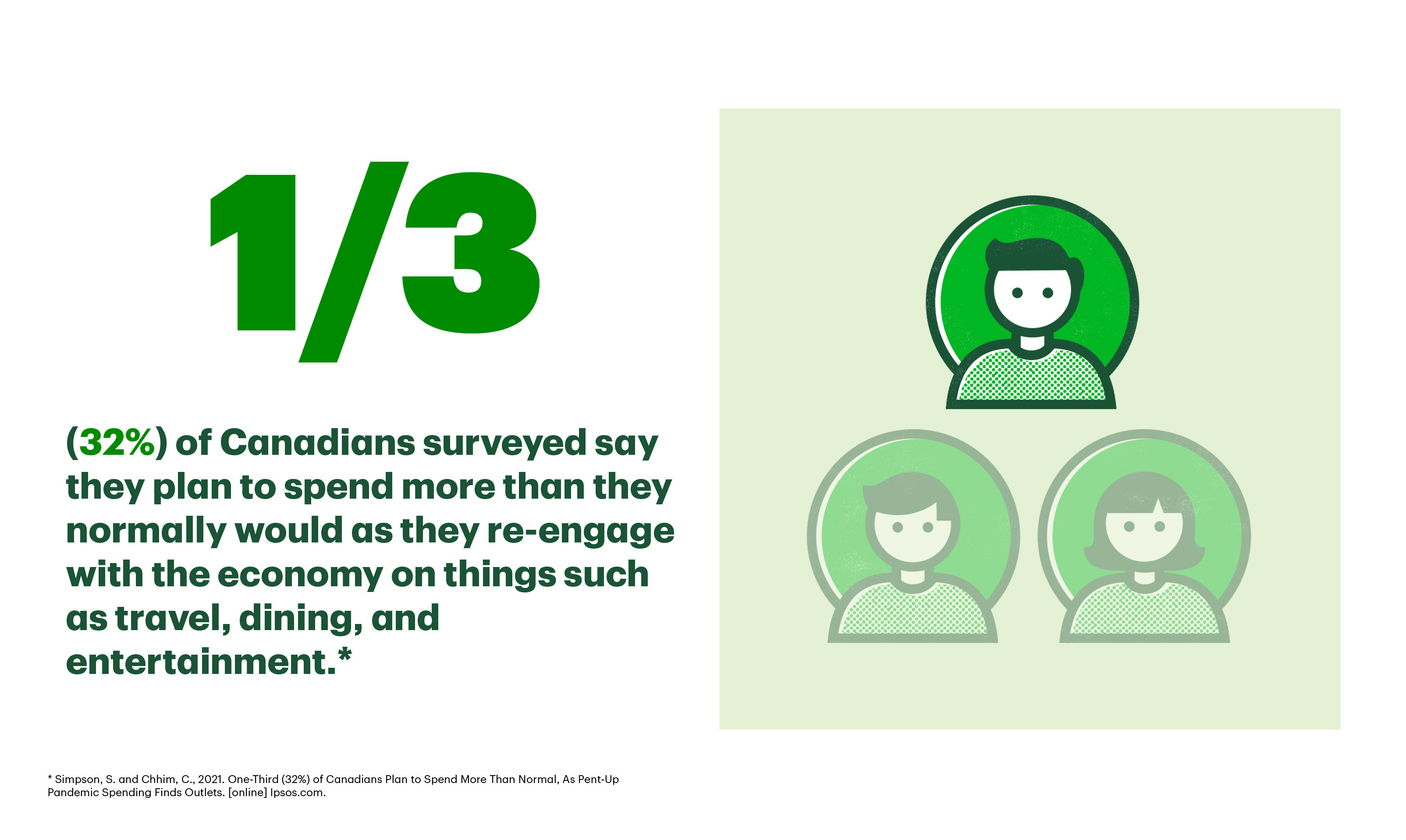 "It's almost like getting revenge on the tough times they've been through. The problem is that if you're not careful, revenge spending could lead to longer-term, bad financial habits."
Still, with a little planning ahead, you can control your "revenge spending" so that it doesn't derail your financial goals.
Why could revenge spending be a problem?
Canadians may find themselves spending more as the economy reopens. You may be returning to your pre-pandemic routine, which might come with increased costs for transportation, work attire, lunches out, and other items you might not have needed when spending so much time at home. If you postponed a major event such as a wedding or family reunion due to the pandemic, you may find yourself spending that money now as the big day finally arrives.
But if you find yourself also pulling out a credit card a lot more often as your province or city re-opens in an attempt to make up for the disruptions and difficulties of the pandemic, you could find yourself depleting your savings or taking on more debt than you can afford.
If you're buying random things just for the thrill of in-person shopping, or if your spending is driven by a fear of missing out on post-pandemic life, you might not be making the best financial decisions.
How to help avoid overspending
Once you're aware of the dangers of revenge spending, you can take steps to help avoid it. Here are a few tips that could help you rein in revenge spending and stay in control of your finances.
Make a budget and stick to it – Decide in advance how much you want to spend on categories like food, apparel, and entertainment so you aren't buying things on impulse.
Revisit your pre-pandemic spending habits – If you have records of your expenses prior to 2020—for example, receipts or data from a budgeting app—you can use them to get some perspective on your current spending habits. See how your spending this month compares with your spending in the same month before the COVID-19 pandemic. If you're buying a lot more now without a good reason, this could be a sign that you need to make a plan to cut back.
Give yourself a cooling-off period before big purchases – Commit to waiting a week before making significant spending decisions so you have time to consider whether the purchase is the best use of your money.
Create a wish list – Paste product images onto an idea board, or save them in a folder on your phone, to curate a list of things you want. Working on a wish list can help you consider purchases carefully rather than immediately buying whatever catches your eye.
Set a limit for splurges – Try and keep splurges manageable. For example, a small splurge like $15 on a surprise ice cream outing is manageable, but $400 for concert tickets is not.
Choose a long-term savings goal – Having a goal in mind can help you resist the temptation to spend.
We hope you found this helpful. Our content is not intended to provide legal, investment or financial advice or to indicate that a particular TD product or service is available or right for you. For specific advice about your unique circumstances, consider talking with a qualified professional.
Want to learn more about your money?