Many Canadians are facing challenges as a result of COVID-19 and the physical distancing and safety measures governments have put in place to help prevent the spread of the virus.
While health officials across the country are encouraging us to stay home and practice physical distancing, many Canadians are looking for ways to give back and help out people and organizations within their communities while complying with physical distancing guidelines.
"Canadians who are in a position to give back are looking for ways to help out their neighbours, local businesses and support services," said Nathan Kent, a community banking manager for TD who works with a number of community organizations in the Greater Ontario Region.
"Many Canadians are experiencing financial hardships right now, but what we've also seen is a growing number of people with the means to help looking for ways to give back in these uncertain times."
For those Canadians looking to make a positive impact in their community, Kent said there are ways people can help out while complying with physical distancing guidelines.
Help support non-profits and charities
There are many charities that are currently helping vulnerable members of communities in your area. If your finances allow for it, consider making an online donation to one or more of these charities many of which have set up specific online COVID-19 relief funds you can contribute to.
"Food banks, homeless shelters, and women's shelters are all in urgent need of donations right now," Kent said. "Many other organizations are coordinating meal programs and grocery delivery services while at the same time looking to raise funds to help support these critical services."
Some businesses are matching donations made by their employees. In Canada, TD is matching employee donations of up to $1,000 until May 21 to a trio of charitable organizations: The Frontline Fund via SickKids Charitable Giving Fund; the COVID-19 Community Response and Recovery Fund through the United Way; and the Canadian Association of Community Health Centres.
Volunteers are also in demand, with some charities seeking volunteers to offer their support from home. Check online to learn what non-profits in your area are doing and what their needs are. You may be able to volunteer to virtually check in on vulnerable people in your community or help with deliveries of groceries or medicine.
Shop local to help support independent businesses in your area
Many small businesses deemed non-essential have been forced to close or change the way they operate, while others are seeing significantly less business as a result of people staying home. But there are ways you can still eat and shop locally to help small businesses in your neighbourhood to generate some revenue while they wait for the economy to open up again.
"Many local restaurants, even those that never did before, are offering delivery and/or take out," Kent said. "By getting your dinner delivered or picking it up, you can help support the local restaurants in your area that are a key part of keeping your community vibrant."
Kent said another way to help support local retailers is to purchase gift cards from them. You could use the gift card immediately or later, once the business officially reopens, so that the retailer can benefit from getting some revenue now.
"Don't forget that many businesses are still operating online and offering free delivery or curbside pickup," Kent said. "For services that you use regularly – like yoga classes or massages – see if you can reschedule appointments or attend virtual classes rather than cancelling altogether."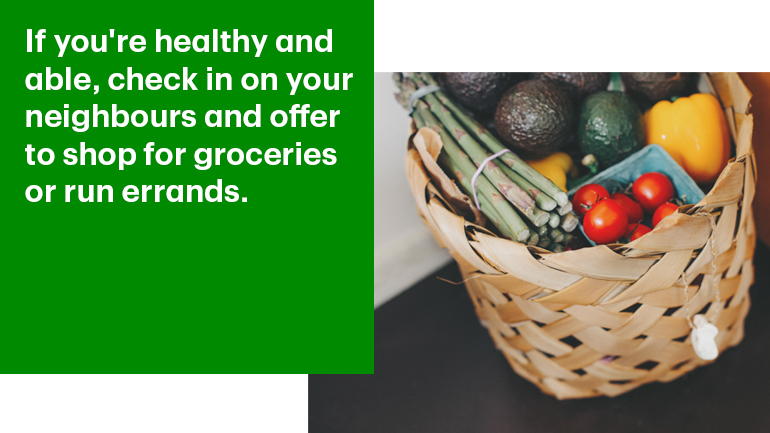 Stay connected with family and friends
Canadians everywhere are being asked by public health agencies to physically distance from one another, but that doesn't mean we shouldn't connect by reaching out to our loved ones in other ways.
Self-isolation can be a lonely experience for some people, so Kent recommends checking in on family, friends and colleagues. Call them or arrange video chats with them to see how they are and if there is anything you can do to help them.
Be a good neighbour
Seniors and other vulnerable people in your community might be on their own right now or unable to get out to shop for groceries or pick up other supplies, while maintaining physical distancing. If you're healthy and able, check in on your neighbours and offer to shop for groceries or run errands for those who could use a hand.