Like many Canadians, Kait Sullivan never imagined she'd ever find herself without a roof over her head.
So, when the pandemic hit last spring, Sullivan was blindsided by the domino effect that would take her from living and working in downtown Toronto to unemployed and homeless within a mere six months.
"After the pandemic hit Toronto, I lost everything," she said.
"I was laid off from my job and I had to leave my apartment quickly because my lease was up and I couldn't afford the new $200 rent increase – I had no savings or backup plan, I was already dealing with a host of physical and mental illness-related issues and I couldn't move back home to my parents because of previous challenges in that environment," said Sullivan.
Sullivan was able to secure a room in one of Toronto's traditional transitional housing locations but living in a co-ed shelter as a queer woman presented new struggles.
"I was grateful to have a roof over my head and a warm bed, but I didn't feel safe there." she said.
"Men in the shelter would make advances on me and when I told them I was queer they just saw me as even more of a 'challenge' and the harassment got worse," she added.
So when Friends of Ruby Home, Canada's first custom-built transitional housing facility for LGBTQ2+ youth, opened its doors in December 2020, it couldn't have come at a better time for Sullivan.
Many Canadian LGBTQ2+ youth at risk of homelessness
Lucy Gallo, Director of youth services and housing at Friends of Ruby Home, is all too familiar with stories like Sullivan's.
"Only 5% to 10% of the general population identifies as LGBTQ2+, yet between 25% and 40% of homeless youth identify as LGBTQ2+," Gallo said.
"Almost one in four young people experience homelessness, or precariously housed living within this demographic, which means that there's an overrepresentation of LGBTQ2+ youth in the shelter system where they are likely to experience bullying and harassment."
Statistics Canada reports that LGBTQ2+ Canadians (a high proportion of which are youths aged 15-24) are among those disproportionately affected by job loss during the pandemic. Findings indicate that since this population has generally lower incomes than their cisgender, heterosexual counterparts, they are more likely to experience financial insecurity and may be at greater risk of losing access to safe and secure housing.
"In many ways, the pandemic has shed light on the homelessness crisis of LGBTQ2+ youth in Canada," said Gallo.
"Due to disproportionately high rates of family rejection, violence and trauma, all related to their identity, many LGBTQ2+ youth have now lost their jobs and along with that the ability to live independently, and many do not have the option to move back home since it's often an unsafe environment."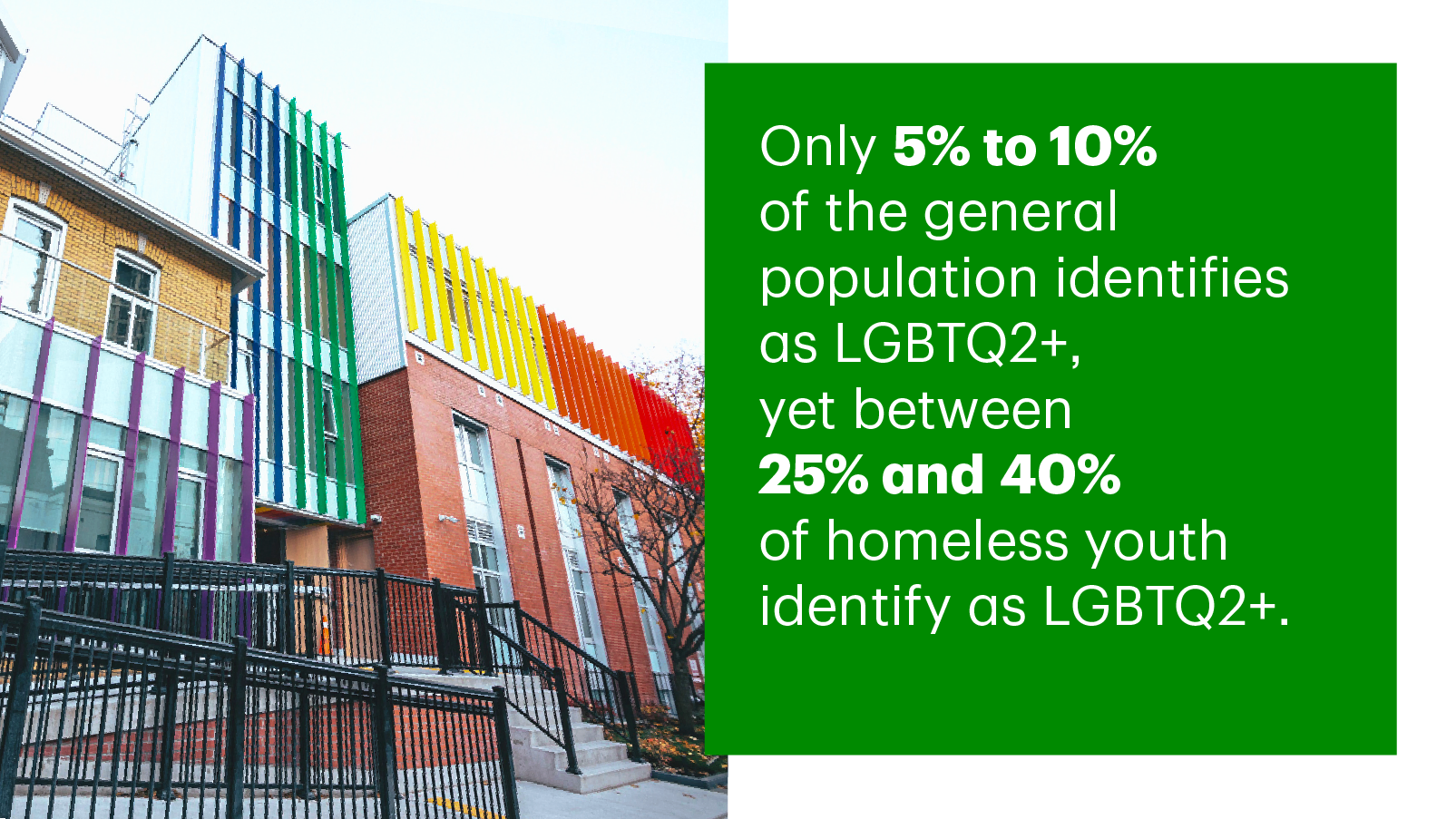 Building a foundation for independence
Friends of Ruby Home offers a solution to this complex issue. Designed to provide essential housing for youth aged 16-29, the Home offers mental health and social services to help residents build a new foundation for their independence within a community, or chosen family, of likeminded people.
"Friends of Ruby Home is a unique transitional housing option because it was designed in consultation with the community it was built to serve," said Gallo.
"We have programs and services tailored to residents' specific needs, including immediate crisis support and long-term life goal planning, as well as private rooms and bathrooms and even couples rooms: our goal is to help these youth get their feet under them again so they can live healthy, independent, happy lives."
Sullivan was lucky enough to be accepted as one of the first cohorts of youth to live at Friends of Ruby Home and only a few months after moving in, Sullivan feels that the Home has already had a profound impact on her life.
"I feel safe and supported here," she said.
"I can hang my pride flag without fear of being bullied and it really feels like a big family of folks living under one roof. With the help of the support staff I've been able to establish a daily routine of taking my meds, brushing my teeth, learning how to cook and eating healthy food, and taking care of my health to the point where I finally have the stability and energy to start job hunting again or even consider going back to school."
A history of care for brighter futures
After five long years of hard work raising funds, designing the space in consultation with LGBTQ2+ youth, and then renovating a historic Toronto building, Friends of Ruby Home is now a reality: but it was only made possible by long-forged relationships of charitable care.
Friends of Ruby Home was made possible thanks in part to support from The TD Ready Commitment – the Bank's global corporate citizenship platform – and TD Securities' Underwriting Hope charitable initiative, which provides funds to help benefit children and youth-related organizations across TD Securities' footprint in North America.
Between 2014 and 2020, TD Securities' Underwriting Hope campaign donated more than $250,000 to Egale Canada, the founder of Friends of Ruby Home. Since 2015, Friends of Ruby Home has been receiving ongoing funding support through the TD Ready Commitment.
"We have a long history with TD – they were one of our earliest supporters when this project was first initiated, and continued to support us through charitable donations from both the Bank and its employees all the way up to our grand opening," said Gallo.
"We even have TD employees who volunteer with us. The level of support has been overwhelming and Ruby House would not be a reality without TD."
As for Sullivan's new reality, her life has taken a full 180-degree turn.
"With the support from my counsellor and the staff at Ruby Home, I can now apply for ODSP (Ontario Disability Service Program) to help me get back on my feet again," she said.
"But it's also the little things, like having new friends who took the time to celebrate my birthday in February – that's what makes this transitional house a real home." Sullivan added.
"I never cared about my future, or even thought I had much of one. I still don't know what my future holds yet, but thanks to Friends of Ruby Home, I'm finally in a place where I'm excited to find out."