The COVID-19 pandemic has threatened people's health, caused significant distress, and forced almost every sector of the economy to rethink "business as usual."
It's also made achieving financial goals much more difficult or less of a priority for many Canadians. In fact, according to an Ipsos poll conducted on behalf of TD earlier this year, more than one in three (35%) Canadians reported that the pandemic has impacted their savings and retirement plans, while one quarter (25%) of those affected said they needed to cut back on saving or stop altogether.
It's completely understandable if the pandemic has impacted your ability to add to your savings recently. And if you're still struggling, you might not be ready to focus on saving money right now.
But if you're starting to find your footing and want to begin building a nest egg or to replenish funds you tapped into over the past two years, these tips can help you get started or re-started.
Create a new budget
The COVID-19 pandemic has been incredibly disruptive to almost every aspect of our lives, and there's a good chance it upended some of your financial habits. For some, the lack of spending has led to an increase in disposable income. But for many others, income may have gone down, housing costs might have changed, and your expenses may have fluctuated as you dealt with the crisis. To help determine if you can start saving again, you need to revisit your budget and bring it up to date by looking at your current monthly earnings and expenses.
Check your subscriptions
Subscriptions to services like video streaming platforms, meal kits, personal care items and online fitness classes surged in popularity as people stayed home during the pandemic lock-down. But as in-person activities start to open in many areas, you may decide you no longer want to keep paying a monthly fee for some of those services. Make a list of your active subscriptions: consider which ones to keep and which ones you could cancel. Remember to review your credit card and online payment statements so you don't overlook any subscriptions on auto-pay. If you decide to cancel a subscription, consider setting up a recurring transfer to direct that money into savings instead.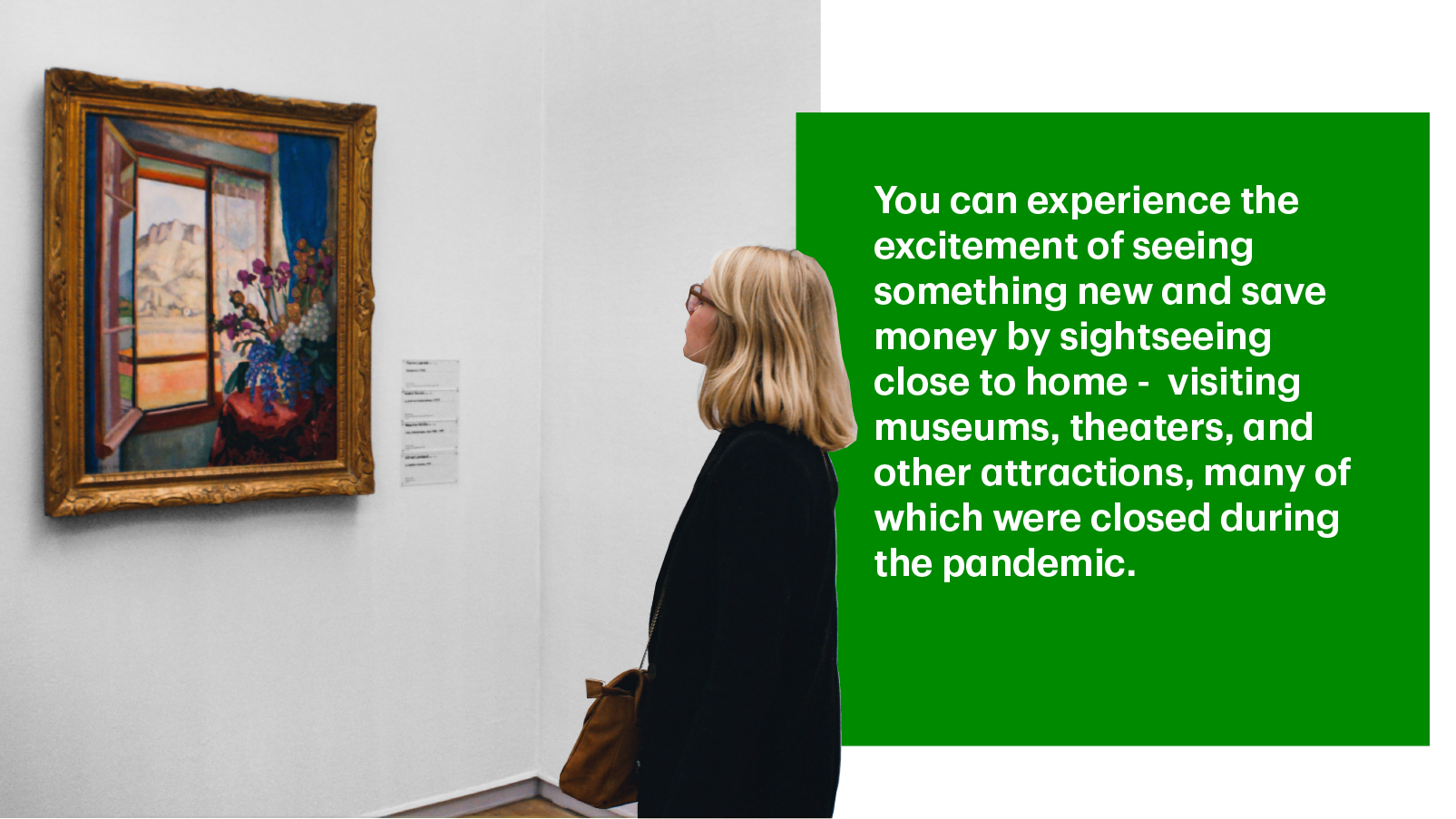 Make your next vacation a staycation
While you are likely not ready for international travel just yet, you can still experience the excitement of seeing something new and save money at the same time by doing some sightseeing close to home - visiting museums, theaters, and other attractions that were closed during the pandemic lockdown but may now be opening up. You may not need to go far; look for public parks in your neighbourhood that may offer free or pay-what-you-can concerts, events or other performances. You can also explore local hiking trails and any other natural spaces that may be close by to you.
Shop second hand
Many people bought large items like furniture, camping gear, kitchen appliances and exercise equipment during the pandemic, and some may be ready to resell those things. Therefore, if you are looking for these types of items, try exploring yard sales, garage sales, and online marketplaces to see if you can find gently used products at potentially low prices.
Finally, don't feel discouraged if you aren't able to reach all your savings goals quickly. Keep these tips in mind and see which ones work best for you.
We hope you found this article helpful. Our content is not intended to provide legal, investment or financial advice or to indicate that a particular TD product or service is available or right for you. For specific advice about your unique circumstances, consider talking with a qualified professional.
Want to learn more about Budget?